Enclosure Mounts & Hardware
ABM-1 Annunciator Blank Module
The ACS-Series Annunciator and Control System provides arrays of LEDs to indicate point status, zone status, system status, and ability to perform system reset, silence, acknowledge and drill
Overview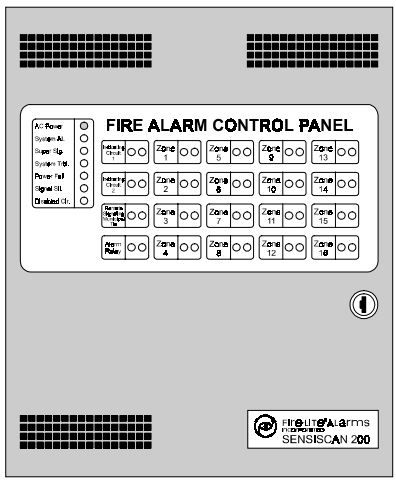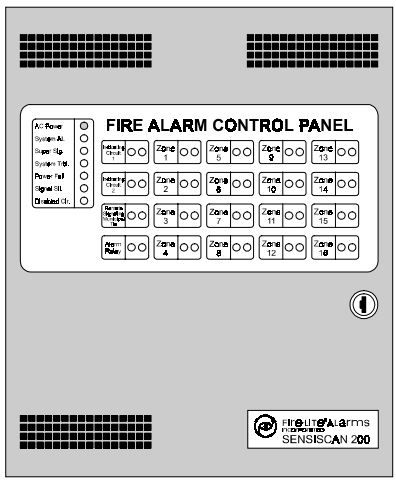 The ACS Series provides a modular line of products for annunciation and control of the FireLite intelligent and legacy addressable fire control panels. The ACS provides arrays of LEDs to indicate point status, zone status, system status, and in some versions the ability to perform system reset, silence, acknowledge, and drill. These ACS units use a serial interface and may be located at distances of up to 6,000 feet (1,828.8 m) from the panel.
Features & Benefits:
Alarm/Circuit On and Trouble LED per-point option or Alarm-only option.
Touch-pad control switch option for remote control of silence, acknowledge, reset, and drill.
LEDs may be programmed to display status of indicating circuits or control relays as well as system status conditions.
System Trouble LED indicator.
On-Line/Power LED indicator.
Alarm and trouble resound with flash of new conditions.
Local sounder for both alarm and trouble conditions with silence/acknowledge button (program options).
May be powered by 24 VDC from the panel or by remote power supplies.
Slip-in custom labels, lettered with standard typewriter or label program.
Plug-in terminal blocks for ease of installation and service.
Certifications:
UL Listed: S2424
ULC Listed: S2424
MEA: 120-06-E Vol. 2
CSFM: 7120-0075:0199
FM Approved
Data Sheet
Name
Description
File Size
Date
Size
ACS Series Annunciators ACM-AEM-16ATF, ACM-AEM-32AF Data Sheet
application/pdf 130.2 KB
8/16/2022
130.2 KB
AFM-AFM-X Series Annunciator Fixed Modules Data Sheet
application/pdf 683.49 KB
8/16/2022
683.49 KB
Name
Description
File Size
Date
Size
ACS Series Annunciators ACM-AEM-16ATF, ACM-AEM-32AF Data Sheet
130.2 KB
8/16/2022
130.2 KB
AFM-AFM-X Series Annunciator Fixed Modules Data Sheet
683.49 KB
8/16/2022
683.49 KB
Name
Description
File Size
Date
Size
ACS Series Annunciators ACM-AEM-16ATF, ACM-AEM-32AF Data Sheet
130.2 KB
8/16/2022
AFM-AFM-X Series Annunciator Fixed Modules Data Sheet
683.49 KB
8/16/2022
SKUs

ABM-1
ABM-1 Annunciator Blank Module

ABM-1
ABM-1 Annunciator Blank Module