Switchsockets
MK Essentials Switchsocket Outlet
MK essentials switchsocket outlets are 13A Single Pole Switched Sockets with a screwless design and high-gloss finish offering quality, reliability and style.
Overview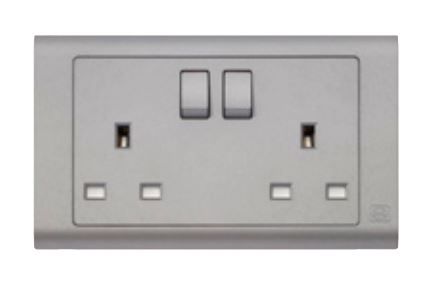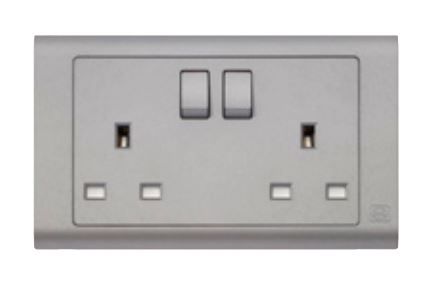 MK Essentials available in White and 5 stylish budget colours to complement any modern interior design theme. MK Essentials offers a range of wiring devices, including 1 and 2 gang sockets with integrated USB ports, LED dimming, a hotel pack, as well as multiple switch and socket options. Essential features like backed out and captive screws, ensure installation is both easy and convenient. A perfect fit every time. Widely available and distributed nationally, every MK Essentials device comes with a screwless front plate. Simply clip on the surround to conceal any paint splatter or abrasions.
MK Essentials Switchsocket Outlets are 13A Single Pole Switched Sockets. A screwless design and a high-gloss finish of MK Essentials switchsockets gives contemporary look and feel. Clean, simple and uncomplicated which offers quality, reliability and style.
Features & Benefits:
High gloss finish : Moulded in polycarbonate, delivering a tough robust product
Tool free clip-on surround fixing and removal : Quick and secure, conceal any paint splatter or abrasions, resulting in a clean and simple design
Backed by MK's 25 year guarantee : Quality comes as standard, with the reliability and performance you'd expect from MK
Terminal markings : Clearly moulded markings on rear of modules
Captive and backed out terminal screws : Pre-engaged in terminal for fast and easy installation
Dual earth terminals : Offering total user safety for high integrity earthing applications
Others
Brand
Current Rating
Material
Gangs
Current Rating : 13 ampere

MV2747CHA
MK essentials switchsocket Outlet, Flush, 13 AMP, 2 gang Single Pole, Dual earth terminals, 86x146mm, Charcoal

MV2747CHM
MK essentials switchsocket Outlet, Flush, 13 AMP, 2 gang Single Pole, Dual earth terminals, 86x146mm, Champagne

MV2747DPCHA
MK essentials switchsocket Outlet, Flush, 13 AMP, 2 gang double pole, Dual earth terminals, 86x146mm, Charcoal

MV2747DPCHM
MK essentials switchsocket Outlet, Flush, 13 AMP, 2 gang double pole, Dual earth terminals, 86x146mm, Champagne

MV2747DPMBK
MK essentials switchsocket Outlet, Flush, 13 AMP, 2 gang double pole, Dual earth terminals, 86x146mm, Matte black

MV2747DPPRL
MK essentials switchsocket Outlet, Flush, 13 AMP, 2 gang double pole, Dual earth terminals, 86x146mm, Pearl

MV2747DPTTA
MK essentials switchsocket Outlet, Flush, 13 AMP, 2 gang double pole, Dual earth terminals, 86x146mm, Titanium

MV2747MBK
MK essentials switchsocket Outlet, Flush, 13 AMP, 2 gang Single Pole, Dual earth terminals, 86x146mm, Matte black

MV2747PRL
MK essentials switchsocket Outlet, Flush, 13 AMP, 2 gang Single Pole, Dual earth terminals, 86x146mm, Pearl

MV2747TTA
MK essentials switchsocket Outlet, Flush, 13 AMP, 2 gang Single Pole, Dual earth terminals, 86x146mm, Titanium

MV2747CHA
MK essentials switchsocket Outlet, Flush, 13 AMP, 2 gang Single Pole, Dual earth terminals, 86x146mm, Charcoal

MV2747CHM
MK essentials switchsocket Outlet, Flush, 13 AMP, 2 gang Single Pole, Dual earth terminals, 86x146mm, Champagne

MV2747DPCHA
MK essentials switchsocket Outlet, Flush, 13 AMP, 2 gang double pole, Dual earth terminals, 86x146mm, Charcoal

MV2747DPCHM
MK essentials switchsocket Outlet, Flush, 13 AMP, 2 gang double pole, Dual earth terminals, 86x146mm, Champagne

MV2747DPMBK
MK essentials switchsocket Outlet, Flush, 13 AMP, 2 gang double pole, Dual earth terminals, 86x146mm, Matte black

MV2747DPPRL
MK essentials switchsocket Outlet, Flush, 13 AMP, 2 gang double pole, Dual earth terminals, 86x146mm, Pearl

MV2747DPTTA
MK essentials switchsocket Outlet, Flush, 13 AMP, 2 gang double pole, Dual earth terminals, 86x146mm, Titanium

MV2747MBK
MK essentials switchsocket Outlet, Flush, 13 AMP, 2 gang Single Pole, Dual earth terminals, 86x146mm, Matte black

MV2747PRL
MK essentials switchsocket Outlet, Flush, 13 AMP, 2 gang Single Pole, Dual earth terminals, 86x146mm, Pearl

MV2747TTA
MK essentials switchsocket Outlet, Flush, 13 AMP, 2 gang Single Pole, Dual earth terminals, 86x146mm, Titanium