Switch Modules
Wide Rocker 20A Switch
Wide Rocker 20A Switch with 4 Gang SP, One / Two Way Switching are used to Essential switches and sockets to complement all interiors.
Overview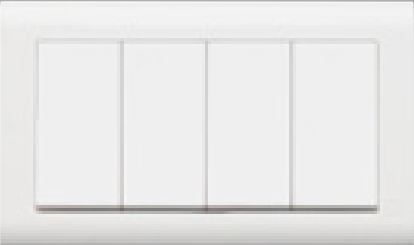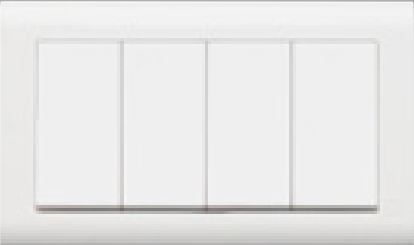 The MK Essentials offers a wide range of sockets, including 13A Single and Double Pole Sockets, Switched Sockets with and without Neon's, and those with Integral USB Ports, plus Round Pin 5A and 15A variations. MK Essentials LED Universal Dimmers are available in 1 and 2 gang.
MK Essentials Switches are available in 1, 2, 3 and 4 gang, with standard or wide rockers. Expand the MK Essentials range with Grid Frontplates and MK's Grid Plus Modules. With over 100 modules to choose from there's a solution for all your project needs. Euro Frontplates and Modules are also available for Data, Voice and USB.
Features & Benefits:
High Gloss Finish: Moulded in polycarbonate, delivering a tough robust product
Tool Free Clip-On Surround Fixing And Removal: Quick and secure, conceal any paint splatter or abrasions, resulting in a clean and simple design
Terminal Markings: Clearly moulded markings on rear of modules
Captive And Backed Out Terminal Screws: Pre-engaged in terminal for fast and easy installation
Dual Earth Terminals: Offering total user safety for high integrity earthing applications
Certifications:
Others
Minimum Mounting Box Depth
Fixing Centers
Current Rating
Brand
High Current
Poles
Gangs
Others
Minimum Mounting Box Depth
Minimum Mounting Box Depth : 35 millimetre
Fixing Centers : 120.6 millimetre
Current Rating : 20 ampere
High Current : Yes ampere
Please sign in to activate purchase options
MV4790CHA
Wide Rocker 20A Switch, 4 Gang, SP, Two-Way, Charcoal
MV4790CHM
Wide Rocker 20A Switch, 4 Gang, SP, Two-Way, Champagne
MV4790MBK
Wide Rocker 20A Switch, 4 Gang, SP, Two-Way, Matte Black
MV4790PRL
Wide Rocker 20A Switch, 4 Gang, SP, Two-Way, Pearl
MV4790TTA
Wide Rocker 20A Switch, 4 Gang, SP, Two-Way, Titanium
MV4790W1CHA
Wide Rocker 20A Switch, 4 Gang, SP, One-Way, Charcoal
MV4790W1CHM
Wide Rocker 20A Switch, 4 Gang, SP, One-Way, Champagne
MV4790W1MBK
Wide Rocker 20A Switch, 4 Gang, SP, One-Way, Matte Black
MV4790W1PRL
Wide Rocker 20A Switch, 4 Gang, SP, One-Way, Pearl
MV4790W1TTA
Wide Rocker 20A Switch, 4 Gang, SP, One-Way, Titanium

MV4790CHA
Wide Rocker 20A Switch, 4 Gang, SP, Two-Way, Charcoal

MV4790CHM
Wide Rocker 20A Switch, 4 Gang, SP, Two-Way, Champagne

MV4790MBK
Wide Rocker 20A Switch, 4 Gang, SP, Two-Way, Matte Black

MV4790PRL
Wide Rocker 20A Switch, 4 Gang, SP, Two-Way, Pearl

MV4790TTA
Wide Rocker 20A Switch, 4 Gang, SP, Two-Way, Titanium

MV4790W1CHA
Wide Rocker 20A Switch, 4 Gang, SP, One-Way, Charcoal

MV4790W1CHM
Wide Rocker 20A Switch, 4 Gang, SP, One-Way, Champagne

MV4790W1MBK
Wide Rocker 20A Switch, 4 Gang, SP, One-Way, Matte Black

MV4790W1PRL
Wide Rocker 20A Switch, 4 Gang, SP, One-Way, Pearl

MV4790W1TTA
Wide Rocker 20A Switch, 4 Gang, SP, One-Way, Titanium