Honeywell Security
MAXPRO® NVR Hybrid Xpress Edition
MAXPRO® NVR Hybrid XE (XPress Edition) is an ideal solution for entry into Hybrid (IP and analog) video surveillance systems.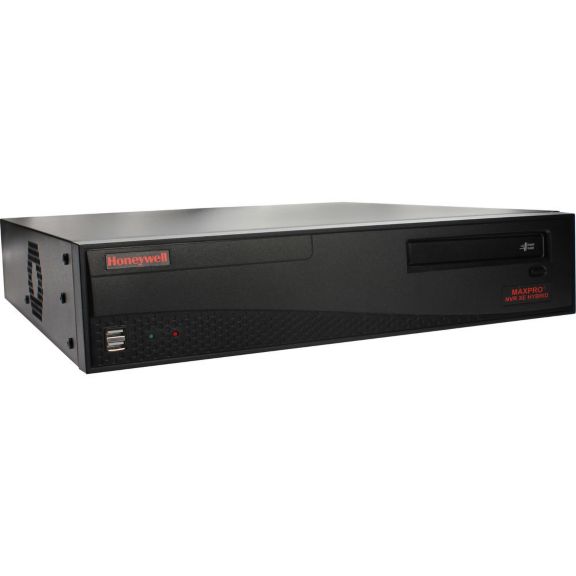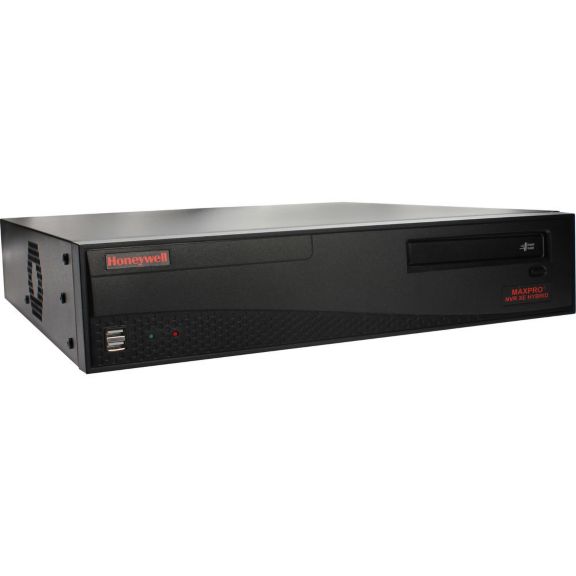 MAXPRO® NVR Hybrid XE (XPress Edition) is an ideal solution for entry into Hybrid (IP and analog) video surveillance systems. MAXPRO NVR Hybrid XE utilizes Honeywell's HD cameras to offer a powerful high definition IP recording and security monitoring system for small installations that also supports analog cameras. MAXPRO NVR Hybrid XE offers the advantage of HD quality IP video but is as easy as a DVR to setup and operate for a seamless transition from analog to IP.
MAXPRO NVR Hybrid XE integrates the full line of Honeywell IP cameras and HVE encoders and supports ONVIF Profile S and Profile G, PSIA, real-time streaming protocol (RTSP) standards. It also offers native device integrations supporting equIP® Series cameras' new features: 4K resolution, H.265 video compression codec, 3D PTZ control, 360° camera and multi-imager camera support, and intelligence events.
MAXPRO NVR Hybrid XE comes pre-installed with all required software and pre-licensed for 16 channels with no extra channel license costs. Simple and logical configuration pages make setup a breeze even for the novice installer. These NVRs support simultaneous recording, live monitoring, search and system management for 16 channels - any combination of either IP cameras (including high definition formats) or analog cameras with easy-to-use clients. Intelligence events from cameras can be viewed at the alarm panel, and trigger recording on MAXPRO NVRs can be used for further investigation. Common, feature-rich user experience across the MAXPRO NVR Family and MA XPRO VMS/Viewer provides familiarity across a broad range of Honeywell products, saving training costs.
The continual growth of cost-effective IP networks and the demand for HD video offered by IP cameras have led to the need for entry level hybrid surveillance solutions. This has resulted in a strong demand for a hybrid (IP and analog) end-to-end security system deployment. MAXPRO NVR Hybrid XE provides an easy entry into IP-based systems and the operational power to address the needs of a wide variety of applications including healthcare clinics, small commercial and retail, property management, and many other applications. When the need is for an easy to install, simple to use, and feature rich entry level hybrid network video recorder, the solution is MAXPRO NVR Hybrid XE.
Features & Benefits:
Easy 3-click wizard to live video for auto configuration - quick and efficient IP system install
Easy to use desktop clients, web client and mobile apps
Integration with Honeywell WIN-PAK® and Pro-Watch® access control systems providing an integrated access control, intrusion, and video solution
Provides the processor, analog video inputs and storage enclosure in one chassis, resulting in both space and cost savings
Small desktop type footprint suitable for small spaces and 3U rack-mount form factor (rack ears included) with internal fixed drives, SATA hard drives used for operating system partition and video storage
Dual one GB NICs are optimized to separate record and viewing data to ensure 100% recording and smooth playback even with multiple client connections
Archival support of 16 channels at 4 Mbps bitrate each/64 Mbps total archival throughput capacity per MAXPRO NVR Hybrid XE, with outgoing archival storage throughput of 200Mbps
Multi-stream support with maximum 128 streams per MAXPRO NVR Hybrid XE; support for configuring one preferred stream for continuous recording and one preferred stream for live video/motion based recording per camera
Analog cameras support with 16 looping inputs, 16 IOs and 1 analog PTZ control port on the unit. Looping outputs support with accessory cables
Certifications:
Emissions: FCC Part 15, Subpart B; EN55022:2010
Immunity: EN50130-4:2011
Safety: ANSI/UL 60950-1; CAN/CSA C22.2 60950-1; EN60950-1: 2006 + A11: 2009 + A12: 2011 + A1:2010

HHXE16C1608T
MAXPRO NVR Hybrid Xpress Edition, 8TB, 16 Analog/IP Channels, with 16 Analog at 480CIF

HHXE16C1606T
MAXPRO NVR Hybrid Xpress Edition, 6TB, 16 Analog/IP Channels, with 16 Analog at 480CIF

HHXE16C1604T
MAXPRO NVR Hybrid Xpress Edition, 4TB, 16 Analog/IP Channels, with 16 Analog at 480CIF

HHXE16C1602T
MAXPRO NVR Hybrid Xpress Edition, 2TB, 16 Analog/IP Channels, with 16 Analog at 480CIF

HHXE16C1601T
MAXPRO NVR Hybrid Xpress Edition, 1TB, 16 Analog/IP Channels, with 16 Analog at 480CIF

HHXE16C1616T
MAXPRO NVR Hybrid Xpress Edition, 16TB, 16 Analog/IP Channels, with 16 Analog at 480CIF

HHXE16C1603T
MAXPRO NVR Hybrid Xpress Edition, 3TB, 16 Analog/IP Channels, with 16 Analog at 480CIF

HHXE16C1612T
MAXPRO NVR Hybrid Xpress Edition, 12TB, 16 Analog/IP Channels, with 16 Analog at 480CIF