PLCs
PCD3.M6893 - CPU base units for 4 plug-in I/O modules
The PCD3.M series by Saia Burgess Controls are high performance CPUs, fast processor and increased system resources provide the high power CPU with sufficient power reserves to process the most demanding control and communication tasks.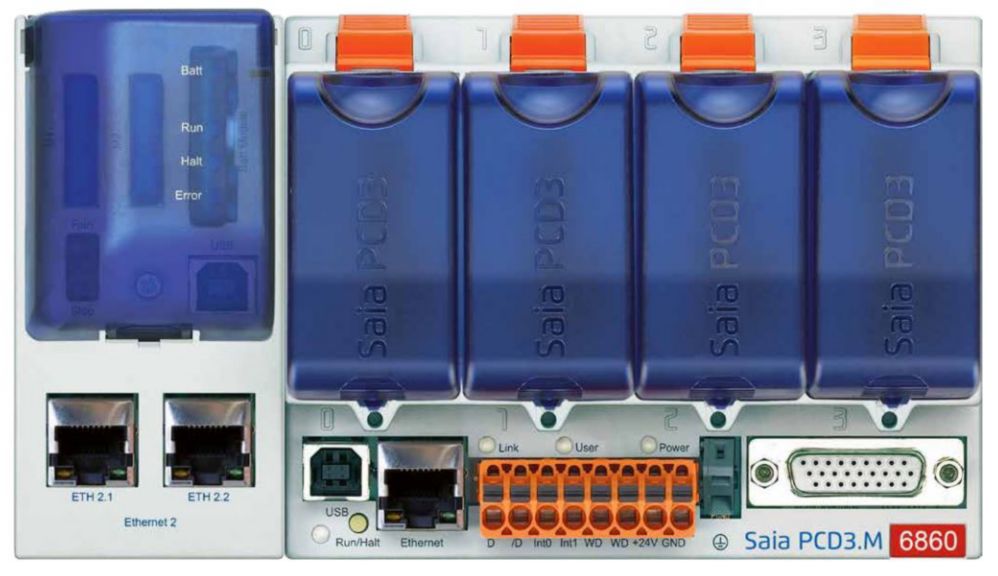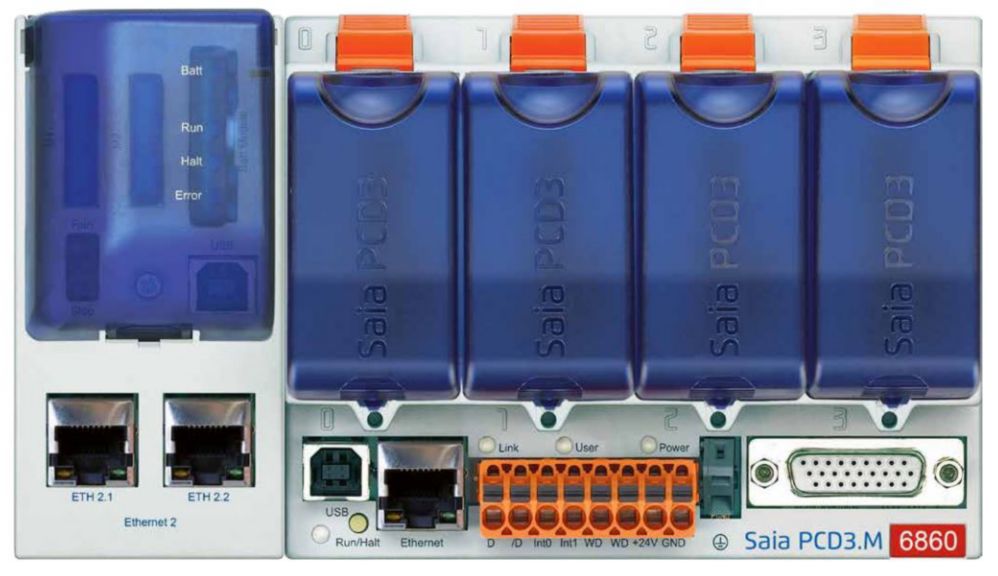 The powerfull PCD3.M6893 is a cyber secure PLC and programmable in accordance with IEC 61131-3.
The high-level language for structured text (ST) according to IEC61131-3, has a strong syntax and supports object-oriented methods. The most recent cyber security level (ANSI ISA62443 – SL3 / SL4) enables the use in mission critical and IoT / Cloud applications. This modular PLC offers integrated USB, Ethernet, RS-485
and CAN bus interfaces. It is compatible with the modular and robust I / O system of the SBC PCD3 family.
With the PCD3.M6893 controllers, redundant automation solutions can be achieved. This helps to ensure uninterrupted operation of systems and processes
Features & Benefits:
CPU base unit for 4 plug-in I/O modules
PCD3 controller without battery with 1 GByte RAM and 4 GByte Flash for operating system and user program,
1 Socket for user data micro-SD card, max. 32 GByte,
2 Ethernet, 1 RS-485, 1 socket for PCD7.F1xxS communication modules,
1 USB Device port for programming and service, 1 USB host, 1 CAN port (20a and 20b)
2 interrupt inputs, 1 watch dog relay, extendable up to 1023 I/O.
I/O Extension for:
Slot 4 to 7 PCD3.C200,
Slot > 7 PCD3.C100, PCD3.C200 as usual
Supported PCD3 I/O Modules:
Starting with firmware 3.0.0: PCD3.Ax, PCD3.Ex, PCD3.W2x, PCD3.W3x, PCD3.W6x, PCD3.W745
Certifications:
CE This system is developed according to the international standard EN/IEC61131-2:2007 and so complies with European directives concerning EMC Directive 2014/30/EU, Low voltage Directive 2014/35/EU and Restricted of Hazardous substances (ROHS) 2011/65/EU.I:I
UL Listed File 2D85
EAC Mark of Conformity for Machinery Exports to Russia, Kazakhstan or Belarus
UAE RoHS EASY certification
Cyber security level (ANSI ISA62443 – SL3 / SL4)
Programmable according to the IEC 61131-3 industrial standard
Others
Brand

Saia Burgess Controls SBC
Others
Brand

Saia Burgess Controls SBC
Brand : Saia Burgess Controls SBC

PCD3.M6860
CPU, 1023 I/O slots, 2MB Program Memory, 1MB User Memory, 24V DC, 15 W, 1-3 years Data Backup

PCD3.M6860Z05
PCD3 Isolierte Montage 2Ether