Enclosure Mounts & Hardware
D4 Series Cabinet
D4 Series Cabinets are designed to house Gamewell-FCI's, E3 Series® Classic Emergency Voice Evacuation AA Series amplifiers, Honeywell Power Products' Chassis Power Supplies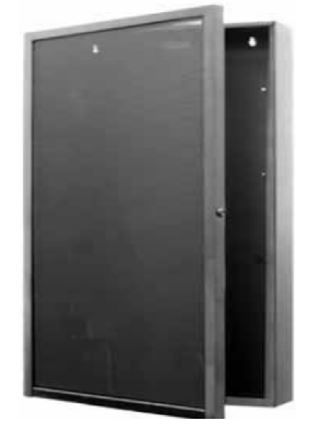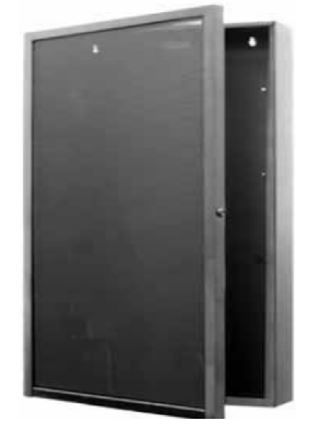 D4 Series Cabinets are designed to house Gamewell-FCI's, E3 Series® Classic Emergency Voice Evacuation AA Series amplifiers, Honeywell Power Products' Chassis Power Supplies. These cabinets are constructed from 16-gauge steel. The cabinet assembly consists of two parts: a backbox and a solid, locking door. The key-locked door includes a pin-type hinge, two keys and hardware that are used to mount the door to the backbox. The door offers optional right or left hinges to simplify the installation. The cabinet knockouts are positioned at numerous points, so that the Installer can bring a conduit into the enclosure. The cabinets are available in black and red. This selection provides a stylish and a classic accent to the décor of the facility lobby and the reception areas. The flexible backbox design allows you to easily install and maintain the cabinets in a variety of building options.
Features & Benefits:
Constructed of 16- gauge steel backbox with integral trough offset
Includes a slotted quarter-turn latch and key lock
Offers a 90Deg opening door with zero clearance; 180° opening door with full clearance
Contains the backbox and the door ground studs provide positive ground
Provides removable doors with zinc die-cast hinges
Certifications:
Brand : NOTIFIER|Gamewell-FCI

DR-D4R
Door, Lock & Keys. Accepts 4 Chassis, Red.

DR-D4B
Door, lock and key for SBB-D4, Black

DR-D4BR
Door: lock and key for SBB-D4: Red

DR-D4
Door, Lock & Keys. Accepts 4 Chassis, Black.