Interface Cards
Honeywell FocalPoint Mobile Workstation
FocalPoint Mobile Workstation is a military spec tablet PC that is designed to survive in harsh conditions. The tablet displays fire alarm control panel network events in real time, in both text and graphic modes.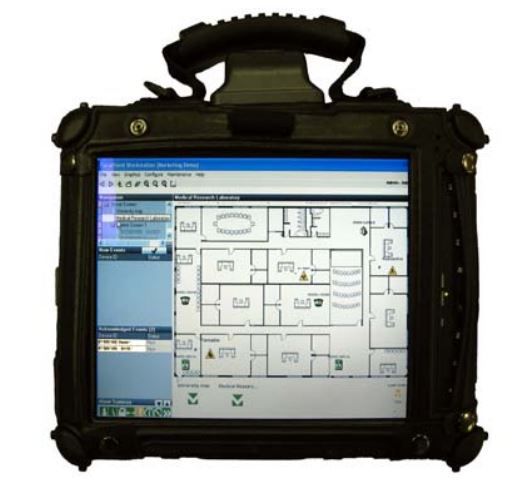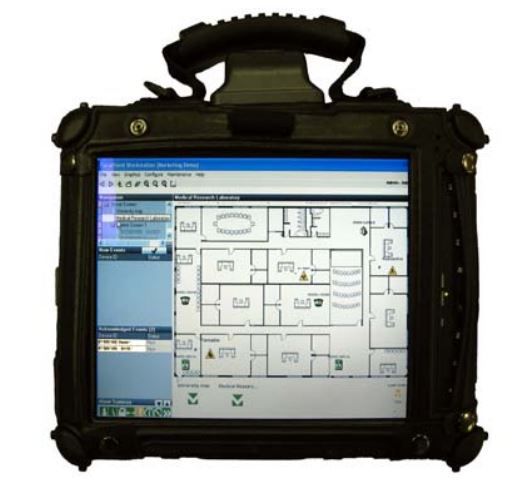 FocalPoint Mobile Workstation is a Tablet PC-based graphic user interface that connects to the 7200, 7100, E3 Series®, and 600 Series product lines of fire alarm control panels via the Gateway interface It can be connected to a proprietary or shared TCP/IP network
The FocalPoint workstation supports a broad scope of commercial, industrial and institutional applications. The workstation can be configured to monitor multiple systems installed in remote locations to meet facility requirements of multi-building complexes
The workstation is designed as a mobile decision support tool by facilities management, security and emergency responders. This workstation uses graphic images to display information that allows personnel to quickly evaluate the emergency and make prompt and informed decisions.
Features & Benefits:
Rated as a heavy duty military spec tablet PC
Connects to the FocalPoint Network by 802.11 Wi-Fi or EVDO cellular signals
User friendly setup - import floor plans as Windows® graphic bitmaps or Windows graphic met files. Secure access - security profiles provide multiple levels of access to different users
Improved system maintenance - reports and logs trouble events
Automatic screen navigation - (selectable for each device) that locates and zooms to the device related to an alarm event, based on the priority of the event
Information labels - Identify hazardous material (HAZMAT) and handicapped accessible areas using fully linked multimedia
Certifications:

E3-FOCALPOINT-KIT
E3 FocalPoint Kit including SLP-BLK, RPT-E3- UTP, SLC-PM and FPT-GATE-3. Used to connect a network of E3/S3 panels to the FocalPoint Workstation.