Annunciators & Keypads
MAXPRO Video Management System
Honeywell's MAXPRO video management system controls multiple sources of video subsystems to collect, manage and present video in a clear and concise manner.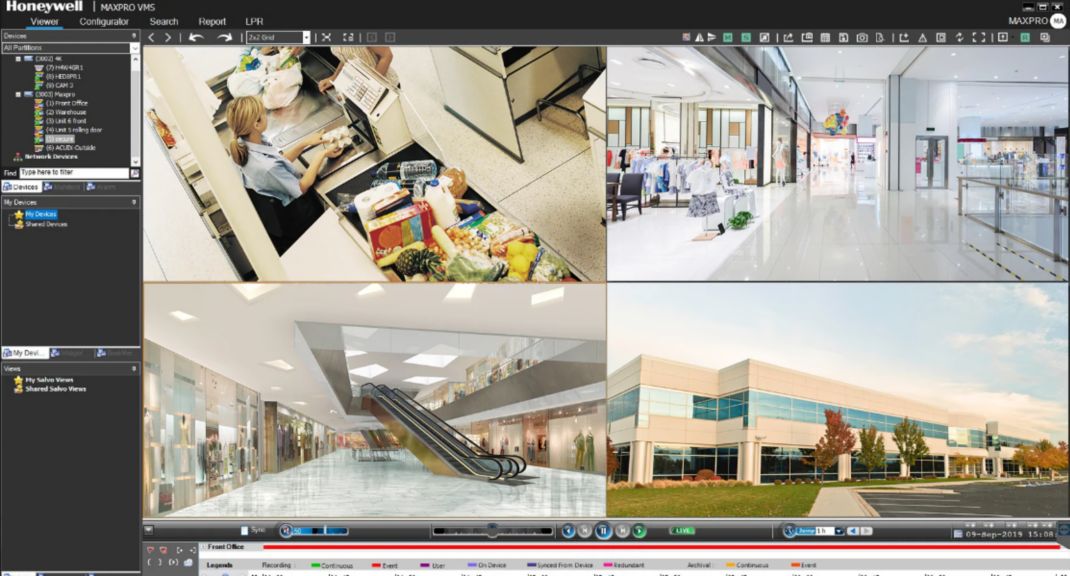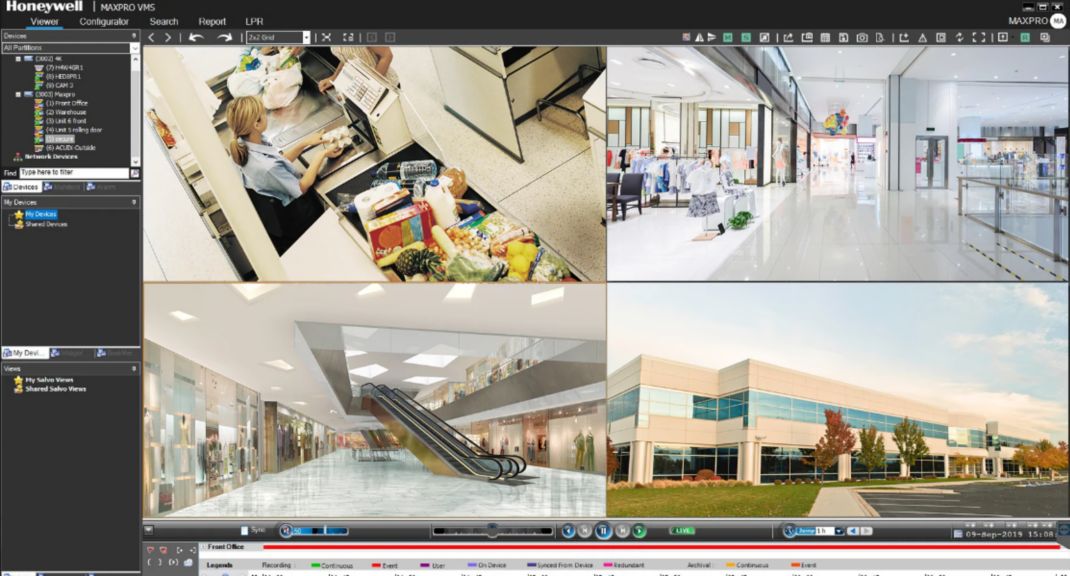 Honeywell's MAXPRO video management systems (VMS) controls multiple sources of video subsystems to collect, manage and present video in a clear and concise manner. MAXPRO VMS intelligently determines the capabilities of each subsystem across various sites, allowing video management of analog or digital video devices through a unified configuration and viewer. The subsystems can be analog matrix switches or digital/network video recorders allowing both analog or digital input to be viewed on an analog or digital monitor. Users can benefit from using traditional analog systems and IP-network systems at the same time to ensure maximum use of their initial investments. These subsystems range from Honeywell matrix switchers, DVR/NVRs and 3rd party systems. MAXPRO VMS supports emerging technologies in the industry, like 4K resolution, H.265 smart video compression codec, multiimager cameras and fisheye cameras. Customers can fully utilize the advantages of superb video quality with 4 times the details over 1080p HD, 30%~50% less storage expense (when compared to H.264 compression), and seamless 180° and 360° surrounding surveillance.
MAXPRO supports the native integration with Honeywell equIP® series IP cameras. The advanced camera features, like "click & drag" 3D PTZ control, license plate recognition, intelligence events and bounding boxes on objects detected by specific video analytics, help surveillance operators to efficiently protect people, property and services. MAXPRO has database redundant and 1+1/N+M NVR failover features for unforeseen/maintenance scenarios in enterprise and critical infrastructure applications. Once there is a failure on NVR equipment, system database or network, the redundant and failover feature can continue to support the system functions with minimal interruption. Incidents will be reported in a system log for future auditing and reporting.
Control of MAXPRO VMS can be through a traditional joystick controller, mouse or even through third party interface. The extremely powerful rules engine (Macro's) allows customization of the system to respond and control in the best possible manner for the application. MAXPRO video management systems are highly scalable so users can easily expand their video surveillance network from small to medium single instances to enterprise level supporting thousands of devices. Additionally, MAXPRO VMS includes integration with Honeywell's Pro-Watch® security management system, Active Alert® and people counter video analytics, as well as other Honeywell products and solutions.
Features & Benefits:
Scalable Security System for Flexible Deployment
Open Integrated Platform for End-to-End Solution
Redundant Server and Recorder Failover for 24/7 Operational Continuity
Smart Search, Playback and Clip Export for Efficient Forensic Investigation
Intelligent Analytics for Proactive Threat Detection and Operation Efficiency Boost
Powerful Desktop Clients for Enhanced Monitoring and Fast Response
Intuitive Graphical User Interface for Efficient Site Management
Effective Privacy Protection Options for Data Privacy Compliance
Sort
Reference Guides
Document Title
File Size
Date Added
Asset Language
Content Type
Others
Document Title
File Size
Date Added
Asset Language
Content Type
Sales Sheet
Document Title
File Size
Date Added
Asset Language
Content Type
Brochure
Document Title
File Size
Date Added
Asset Language
Content Type
Manuals and Guides
Document Title
File Size
Date Added
Asset Language
Content Type
Data Sheet
Document Title
File Size
Date Added
Asset Language
Content Type
Catalog
Document Title
File Size
Date Added
Asset Language
Content Type
Case Study
Document Title
File Size
Date Added
Asset Language
Content Type
Document Title
File Size
Date Added
Asset Language
Content Type

VMS
Video Management System: 1 Gbit/sec Or Greater Network Connection: 16 GB System Memory (RAM): Intel Core i7-8700: 3.2 GHz Processor