Smoke Detectors
i³™ Series 4-Wire Smoke Detector with Fixed Thermal Sensor
i³™ Series 4-wire smoke detectors with fixed thermal sensors represent significant advancement in conventional detection. The i³ family is founded on three principles: installation ease, intelligence, and instant inspection.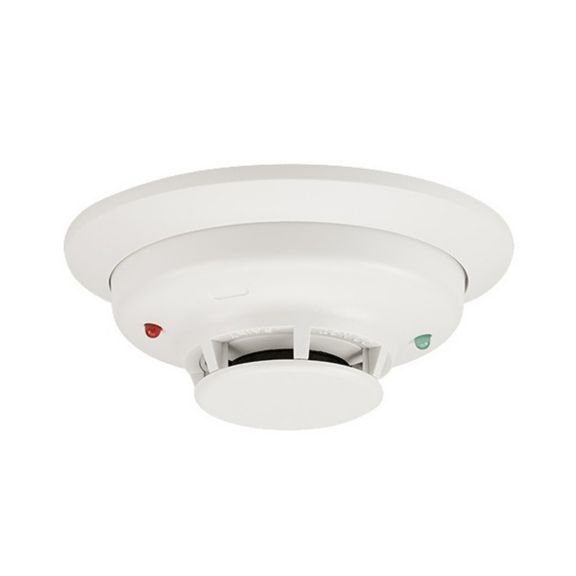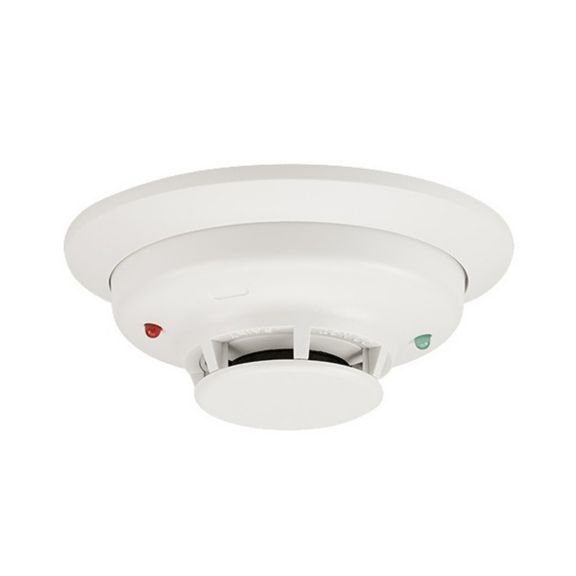 The i³ line redefines installation ease with its plug-in design. This allows an installer to pre-wire bases (included with heads). The large wire entry port and in-line terminals provide ample room for neatly routing the wiring inside the base. The base accommodates a variety of backbox mounting methods as well as direct mounting with drywall anchors. To complete the installation, i³ heads plug into the base with a simple Stop-Drop 'N Lock™ action.
i³ detectors offer a number of intelligent features to simplify testing and maintenance. Drift compensation and smoothing algorithms are standard with the i³ line to minimize nuisance alarms. 4-wire i³ detectors can generate a remote LED indicated maintenance signal when connected to the 2W-MOD2 loop test/maintenance module or a panel equipped with the i³ protocol.The SENS-RDR, a wireless device, displays the sensitivity of i³ detectors in terms of percent-per-foot obscuration.
i³ Series provides a wide-angle, red and green LED indicator for instant inspection of the detector's condition: normal standby, out-of-sensitivity, alarm, or freeze trouble. When connected to the 2W-MOD2 loop test/maintenance module or a panel with the i³ protocol, the EZ Walk loop test feature is available on 4-wire i³ detectors. This feature verifies the initiating loop wiring by providing LED status indication at each detector.
Features & Benefits:
Plug-in detector line, mounting base included
Large wire entry port
In-line terminals with SEMS screws
Mounts to octagonal and single-gang backboxes, 4-square backboxes, or direct to ceiling
Stop-Drop 'N Lock attachment to base
Removable detector cover and chamber
Built-in remote maintenance signaling
Drift compensation and smoothing algorithms
Simplified sensitivity measurement
Wide-angle, dual color LED indication
Loop testing via EZ Walk feature
Built-in test switch
Certifications:
UL Listed S911
FM Approved 3011446
CSFM Listing 7272-1653:152
MEA Approved 290-01-E
MSFM Approved 2093
C4WT-BA: ULC Listed
Others
Maximum Operating Humidity
Minimum Operating Humidity
Maximum Standby Current
Brand
Detection Sensor Type
Conventional or Addressable
Others
Maximum Operating Humidity

Minimum Operating Humidity

Conventional or Addressable
Detection Sensor Type : Photoelectric
Conventional or Addressable : Conventional
Maximum Operating Humidity : 95 Percentage
Minimum Operating Humidity : 0 Percentage
Maximum Standby Current : 50 µA
Installation Instructions
User Manuals
Data Sheet
Others
Name
Description
File Size
Date
Size