Emergency Lighting
ExiLED Emergency Light
ExiLED Emergency Lights are stylish and practical exit light. They have modern aluminum frame in silver and black. They are suitable for use in offices, hotels, shopping malls, warehouses, in stores.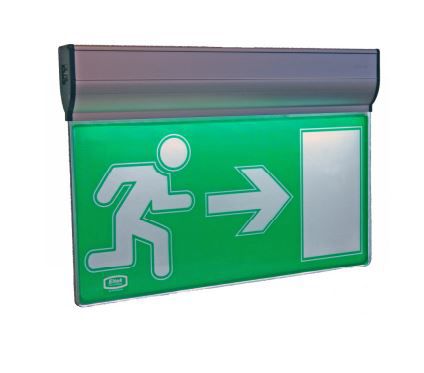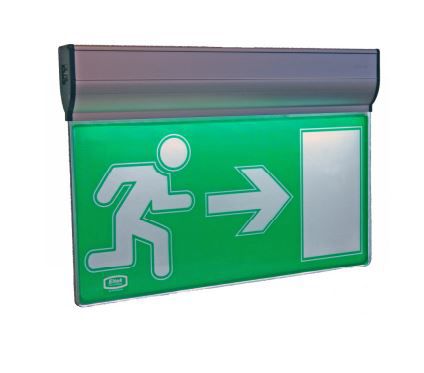 ExiLED Emergency Lights can be set to always work as well mains-operated or battery-operated on battery power (during a power outage). Unique raster technology creates a smooth and to the soft light distribution sign. ExiLED Emergency Lights are designed for use as well as new renovation projects.
Features & Benefits:
LED-based marker light with dimming
Delivered as a decentralized self-test luminaire
Easy installation and maintenance
Addressable option with module for wireless, elBus, DALI
IP 40 - dustproof luminaire
Reading distance 44 meters
Life expectancy of LED> 100,000 hours
Easy installation and maintenance
Certifications:
EN 60598-1 Certified
EN 60598-2-22 Certified
EN 55015 Certified
EN 61547 Certified
EN 61000-3-2 Certified
EN 61000-3-3 Certified.
Others
Displayed Messaging or Image
Brand
Others
Displayed Messaging or Image
Displayed Messaging or Image : Exit Sign
Document Title
File Size
Date Added

290133
ExiLED Emergency Light: 44m: M ST LED: 230V: 1t: IP40: 456x53x322mm: Sentralisert

290130.7
ExiLED Emergency Light, 44m, Single Sided Y, Sign Up

290130.1
ExiLED Emergency Light, 44m, Double Sided A, Arrow Down

290131
ExiLED Emergency Light, 44m, M ST LED, 230V, 1t, IP40, 456x53x322mm

290130.4
ExiLED Emergency Light, 44m, Single Sided A, Sign Down

290130.2
ExiLED Emergency Light, 44m, Double Sided O, Sign Plate Right

290130.6
ExiLED Emergency Light, 44m, Single Sided V, Sign Left

290130.5
ExiLED Emergency Light, 44m, Single Sided O, Signpost Right

290130.3
ExiLED Emergency Light, 44m, Double Sided Y, Sign Up

290130.61
ExiLED Emergency Light, 44m, Single Sided V, Sign Left, Pictogram HC, V Pill, Handicap Symbol