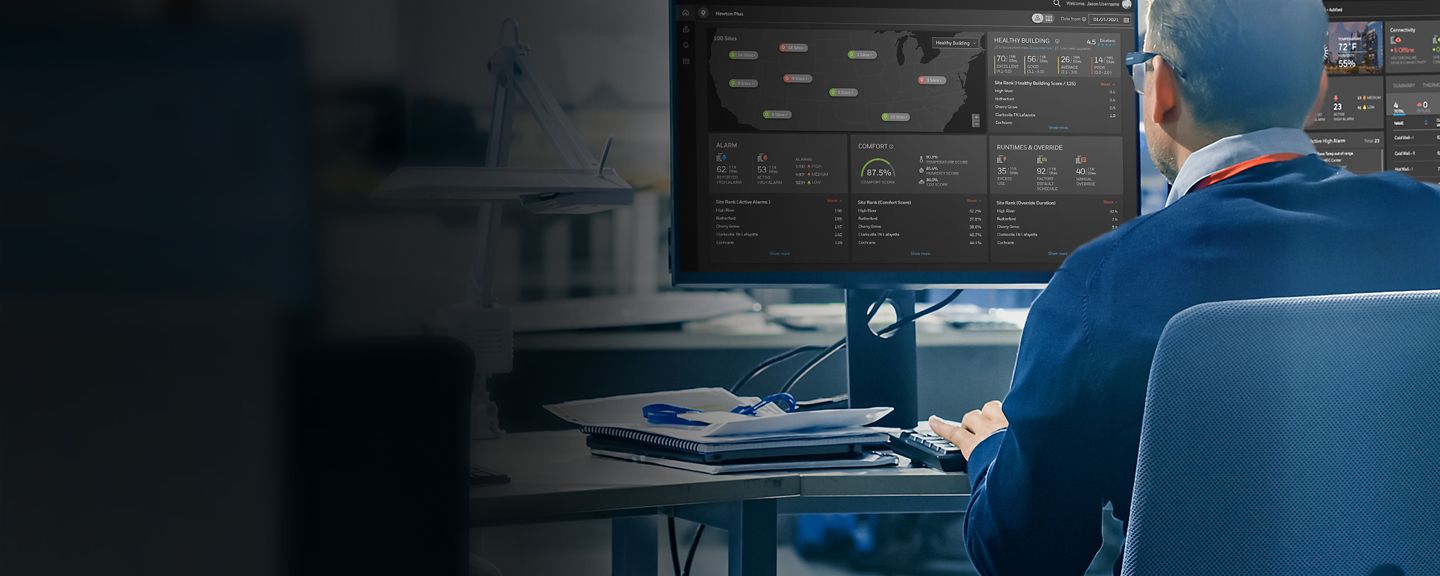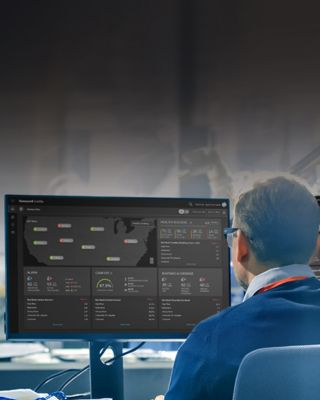 Multisite building management made easy.
The Honeywell Small and Medium Building Administrator simplifies remote management of small and medium-sized buildings with smart, modular capabilities powered by Honeywell Forge.
Modular, scalable comfort and savings
The Honeywell Small and Medium Building Administrator is an affordable, cloud-based platform that scales with your organization – because when you operate multiple sites, you need a simple yet reliable way to remotely track and optimize energy use.
Sustainable Buildings
Measure, manage and optimize energy usage across your portfolio to identify and correct inefficient sites, using an intuitive dashboard that highlights alerts and trends.

Profitable Buildings
Remote monitoring and management help prevent unexpected breakage, damage and downtime. Unobtrusive installation and simple maintenance support ongoing business continuity. Intuitive dashboards showing alerts and trends means you'll optimize operational efficiencies.​
Healthy Buildings
With the increased demand to demonstrate building health, proper monitoring and control features can help make sure your building is in good health and that employees, visitors, and occupants are more protected. Monitor air quality with the Honeywell Healthy Building Dashboard.
Benefits
Reduce energy with automatic HVAC control based on machine learning to optimize setpoints.
Remote monitoring allows you to see your locations and troubleshoot remotely reducing service calls 30%.
Improve occupant comfort and customer satisfaction up to 10%.
Employee productivity is increased through temperature, humidity and air quality up to 10%.
LISTEN NOW
Learn how the Honeywell Small and Medium Building Administrator can help your Convenience store portfolio.
Video - how it works
Monitor your sites via a secure, cloud-based dashboard that analyzes data from our modular ecosystem of wireless devices and sensors to track KPIs such as occupant comfort, operational productivity and portfolio management.
Interest in learning more? Let's connect.
Not all small and medium buildings are the same.
Honeywell Small and Medium Building Administrator enables your building portfolio across many industry applications.
Convenience Store
Proactive alarming reduces the loss of perishables with awareness of high and/or low temperatures while remote monitoring allows you to see the sites and trouble shoot remotely reducing service calls.

Light Medical
Improve occupant comfort to optimize performance and operational productivity.
Retail
Reduce customer complaints through increased temperature, humidity and air quality control.
Quick Service Restaurants
Provide a comfortable, healthier and safer environment for employees and customers.
Restaurant
Ensure uninterrupted service is critical to maintaining profitability.
Hospitality
Maintain ideal temperature and humidity to all customers who have various needs.
Banking
Increase visibility of your entire portfolio in one dashboard. Manage one location or 100.
Fitness Center
Optimize customer comfort while managing HVAC usage.
Childcare
Easy to install and maintain energy management system allows you to do more with less.