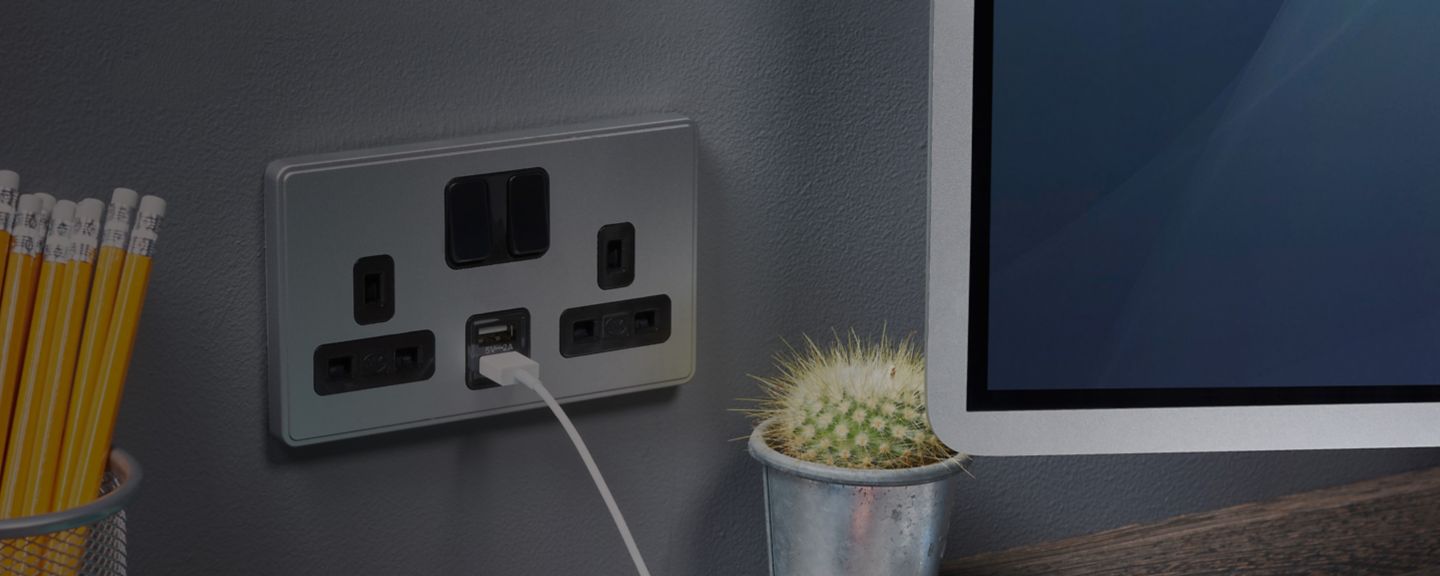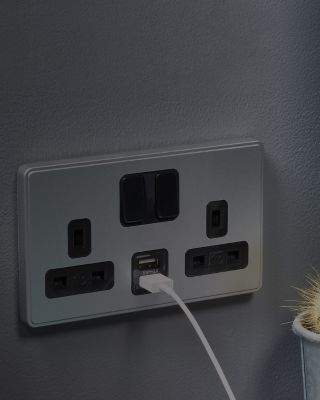 MK DIMENSIONS
Wealth of expertise starts here.
For over 100 years, MK Electric has led the market in electrical wiring devices. Engineering excellence and manufacturing expertise ensures quality, reliability and safety come as standard.
Inspiration starts here.
We've made MK Dimensions truly flexible, so you can pick a style to suit any contemporary space. Choose from nine metal and synthetic frontplate finishes and select a black or white functional module to complement. A bespoke solution is also available.
When a design is screwless, it's flawless.
Our Dimensions designers wouldn't let screws detract from the clean, modern beauty of any of the eight standard finishes. They're made to blend seamlessly with any contemporary space.
They even look beautiful to installers.
The clip-on frontplate and functional module are separate. Order them according to your build schedule. You get a flawless finish after interior decoration and avoid fit out damage.
Protect your frontplate during construction.
A recyclable cover plate shields the final clip-on frontplate from paint splatter, sanding abrasions and scratches. The module stays fully operational, so you can get the job done.
Finishes for today's décor. And tomorrow's.
Eight finishes, including metals and synthetics, enable design scalability within different parts of a building. Frontplates can be changed to keep pace with new design trends.
It's designed to be safe, too.
MK Dimensions 3-pin operated "child-resistant shutter system" helps prevent access to electricity unless all 3 pins of a standard British 13A plug are in position.
Backed by a 20-year guarantee.
When you use the finest materials and manufacturing processes, you can offer a guarantee that lasts two decades. It gives total peace of mind to you and your customers.
First we give you quality. Then we give you choice.
We have a wide selection of products from which to choose. So take some time to browse around. We're pretty sure you'll find something that fits your application perfectly.
Finishes flexible enough to suit any contemporary space.
Synthetic finishes framed in white.
White Frame
Matte Black
Light Silver
Dark Silver
Champagne
Synthetic finishes framed in black.
White Frame
Matte Black
Light Silver
Dark Silver
Champagne
Metal finishes framed in white.
Satin Steel
Satin Brass
Brush Stainless Steel
Bronze
Metal finishes framed in black.
Satin Steel
Satin Brass
Brush Stainless Steel
Bronze
Some of the many places you'll find our products.
HOSPITALITY
As hotels move away from traditional, they're moving toward MK Dimensions.
For many hoteliers, modern is in. MK Dimensions offers a sleek, contemporary design with frontplates that can be changed as trends evolve.
PREMIUM COMMERCIAL
Let your finishes reflect a forward thinking company.
Our range features clean lines and modern finishes that blend seamlessly into your workplace. Yet, say volumes about your company.
RESIDENTIAL
If your walls could talk, they'd say "Beautiful frontplates."
High end devices will add style and character to any home. Touch operated dimmers and switches can be the envy of every guest who visits. 
There's more to explore.
Additional MK Dimensions details are a download away.
Speak to an expert.
We're happy to help. Let us know if you need any specification support, technical advice, or would like to speak to a salesperson. Just fill in the form and we'll be in touch shortly.