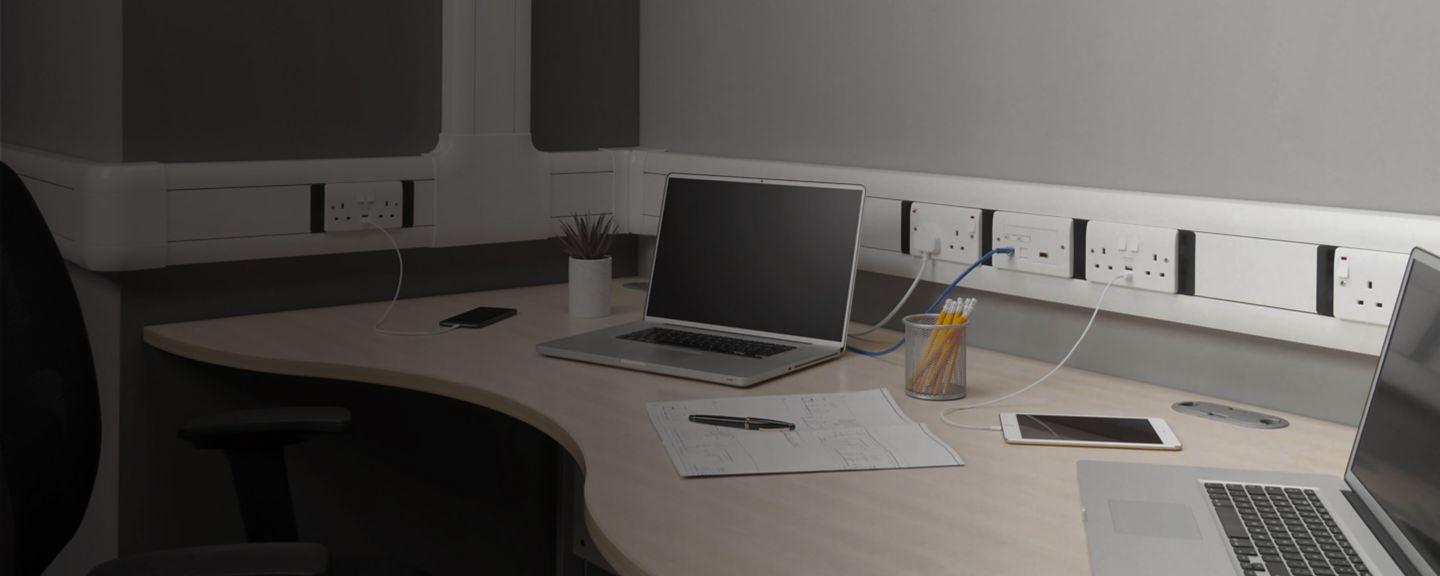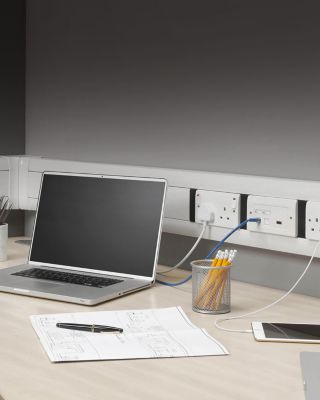 The right wiring can connect your buildings with the future.
We make wiring devices that meet your immediate power and data distribution needs. But they're also designed to easily change and evolve as you usher your building into the future.
For us, inventing the future began 100 years ago.
Today, our portfolio of functional yet stylish products is trusted by customers across the UK, Middle East and the Asia Pacific region. And over 80% of our products are made where we started all those years ago. Right here in the UK.
Wiring devices that will take us into our next century.
It's about quality. Our sockets are tested to over 1,000,000 plug insertions. And our products undergo up to 200 safety tests. It's the MK way.
Let's talk about the difference our wiring device expertise can make.
We'll show you how our wiring devices can make your building more efficient, productive and safer. Let's get started.
The reasons for choosing MK are as numerous as our products.
We can talk about setting the standard in quality and reliability since 1919. Or that our child resistant shutter system makes our sockets one of the safest around. And that we manufacture to ISO 9001 certification. But there are even more reasons.
Buying MK is good for the UK.
Over 80% of our products sold in UK are made in UK. That's good for Great Britain and the Earth. Because when we don't have to ship from far away, it reduces our carbon footprint.
We don't say it's reliable. We prove it.
Our switches, for example, are tested to over 1,000,000 on-offs. British standards only require 20,000. And all our products are safety tested. Then they're certified by region.
Before "MK" goes on it, safety goes into it.
Some of our materials have inherent antimicrobial properties. Our switches have double pole switching to help prevent incorrect wiring. And short circuit protection safeguards users.
Easy installation makes for an easy choice.
Our sockets feature inline terminals with backed out captive screws for an easy install. A patented, revolutionary "Rapid Fix" technology reduces install time by as much as 25%.
A bright future powered by innovation.
For over a century, we've been busy innovating. From the first modern light switch in 1919. To today, with our new Echo switches that power themselves without wires or batteries.
Meet our range of wiring devices.
We'd like to introduce you to the products that make up our wiring device portfolio. They're designed to meet all your wiring needs safely and conveniently.
WHITE MOULDED
Logic Plus™
This range has our class leading antibacterial and antiviral properties plus our 30-year* product guarantee to give you confidence. 

*Excludes electronic products 
MK BASE
We have the strap. Made right. Priced right.
With our MK Base, quality, safety and prudent budgets can co-exist. It's made to be inherently antimicrobial and antiviral.  
MK ESSENTIALS
Strap is designed for value.
We designed MK Essentials for those who want a high gloss, screwless frontplate design.
CEILING ACCESSORIES
A focus on variety and safety.
Within our wide range of ceiling accessories are our "shock guard" lampholders with a shutter that closes until a lamp is replaced.
Decorative
ELEMENTS
Switch on to style, simplicity and innovation.
Our Elements collection helps bring your vision to life. Beautifully. With finishes that range from warm, earthy tones to cool, modern lines. 
ASPECT
The Aspect range brings style to any interior.
Under Aspect's screwless, 4mm slim frontplate, available in 8 modern finishes, is our signature quality, reliability and safety.
EDGE
Our Edge™ range features an ultra slim profile.
We can match the frontplates to almost any RAL color. At only 1.5mm slim, they're the perfect complement to today's interiors.
MK DIMENSIONS
Finishes for today's décor. And tomorrow's.
Eight finishes allow design scalability within different parts of a building. Change frontplates to keep pace with new design trends.
ALBANY PLUS
Our Albany Plus™ line has classically good looks. And is treated to stay that way.
This beautiful line is available in three tarnish resistant finishes.
Surface Mounted and Modular
METALCLAD PLUS
Metalclad Plus™ is tough. The choice is easy.
Our surface mounted accessories are made from heavy gauge steel and are impact resistant for demanding environments.
MASTERSEAL PLUS
Masterseal Plus protects sockets from dust and water.
Whether your Logic Plus devices are located indoors or outdoors, count on Masterseal to protect them from dust and water ingress to IP66.
GRID PLUS
Grid Plus extends our wiring device choices even further.
This range includes a vast selection of multi-gang grid plates (from 1-24g) and easy fit modules.
INGRESS PROTECTED
Commando takes an impact. While its features make an impact.
Commando Safety Switches are made for maximum impact resistance. Interlocked lids prevent cover removal when switch is on. Also water resistant.
PLUGS & ADAPTORS
With a name like Duraplug, you know it's going to be rugged.
Duraplug extension leads are impact resistant, thanks to polycarbonate and rubber construction. Retaining lugs prevent accidental disconnection.  
SELF-POWERED SWITCHES
Echo™ switches have no wires, batteries or competition.
Instead of using conventional power, our Echo switches get their power by harvesting tiny amounts of ambient energy. Only we have them.
SENSORS
MK Sensors
Our sensors can detect when a room isn't occupied. And adjust lights. And our high power Dimmers handle up to 1000W dimming output per unit.
OTHER ACCESSORIES
Boxes and other accessories you might need.
We have flush and surface mounted boxes, antimicrobial boxes, frames and accessories like switches, terminal blocks and outlets.
Speak to an expert.
We're happy to help. Let us know if you need any specification support, technical advice, or would like to speak to a salesperson. Just fill in the form and we'll be in touch shortly.