Rotary Actuators
N10 Series 10Nm Non-Fail-Safe Damper Actuator
N10 series damper actuators are used for all types of quarter turn applications, such as air dampers and ball valves.
Overview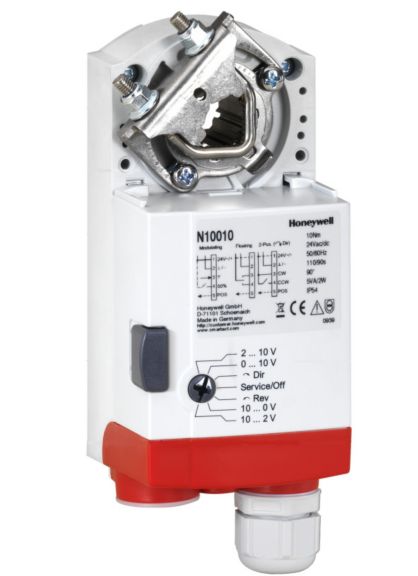 N10 series non-spring return direct-coupled actuators provide 0..10Vdc, 3-P floating, and 2-P on/off with 10Nm torque for quarter turn applications. VAV units, air handling unit dampers, ventilation dampers, with reliable control of air dampers up to 2 m2.
Declutch for manual adjustment, adjustable mechanical end limits, removable access cover for direct wiring, mountable in any orientation, rotation direction selector with service-off switch.
Others
Name
Description
File Size
Date
Size
Name
Description
File Size
Date
Size

N10010
Modulating Direct Coupled Actuator, 24Vacdc, 10Nm, 90s

N10010-SW2
Modulating Direct Coupled Actuator, 24Vacdc, 10Nm, 90s, 2 Aux Switches

N10230-2POS
2-Point Direct Coupled Actuator, 230Vac, 10Nm, 110s

N1024
2-Point 3-Point Direct Coupled Actuator, 24Vacdc, 10Nm, 110s

N1024-SW2
2-Point 3-Point Direct Coupled Actuator, 24Vacdc, 10Nm, 110s, 2 Aux Switches

N10010
Modulating Direct Coupled Actuator, 24Vacdc, 10Nm, 90s

N10010-SW2
Modulating Direct Coupled Actuator, 24Vacdc, 10Nm, 90s, 2 Aux Switches

N10230-2POS
2-Point Direct Coupled Actuator, 230Vac, 10Nm, 110s

N1024
2-Point 3-Point Direct Coupled Actuator, 24Vacdc, 10Nm, 110s

N1024-SW2
2-Point 3-Point Direct Coupled Actuator, 24Vacdc, 10Nm, 110s, 2 Aux Switches