Electrical Energy Meters 
SBC AAE3 Series 3-Phase Energy Meter
AAE3 with 65Amps compact 3-phase energy meters for primary and secondary energy metering the three-phase current meters 3 × 230/400V AC 50 Hz, 10 (65) A and 7-digit display for 1 or 2 tariffs.
Overview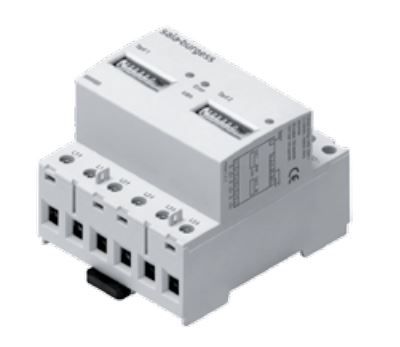 The AAE3 is a modern, electronic, 3-phase energy meter. It is very economical on space, but also highly accurate in registering energy consumption: accuracy class 1 (according to standard EN62053-21) or accuracy class B (according to standard EN50470-3). Since this meter has a high quality counter, it can be snapped onto DIN rail at any angle, without problem. A return stop ensures exact accounting. The counter can be read at any time, even without any current feed. It is possible to connect 1, 2 or 3 external conductors. With the dual tariff meter, tariffs can be switched externally.
Features & Benefits:
3-phase
Single and dual tariff
Direct measurement
Class 1 according to EN62053-21
Class B according to EN50470-3
MID approval
S0+/S0– output with100 pulses/kWh
Nom. current In = 10 A,
Max. current Imax = 65A per phase
Starting current ISt = 40 mA
Mounting type: Surface mount, for snapping onto DIN rail, 35 mm
Counting capacity: 0…999˙999.9
Display: Mechanical, 4 mm high digits, decimal place red
Nominal voltage: 3×230/400 VCA; 50 Hz; P ≤ 2 W
Function control: Red LED flashing, Intelligent error display
Environment: Mechanical M2, Electromagnetic E2Single and dual tariff.
Please sign in to activate purchase options
AAE3D5F10PR3A00
3-Phase Energy Meter, S0 Output, 1 Tariff, MID Directive, 65A, 400V AC, 100 Imp.Kwh
AAE3D5F10PR3C00
Three-phase Energy Meter 7E3684000010, 10 (65)A, 3x230400V AC, 1 tariff, S0 pulse output 100 ImpkWh

AAE3D5F10PR3A00
3-Phase Energy Meter, S0 Output, 1 Tariff, MID Directive, 65A, 400V AC, 100 Imp.Kwh

AAE3D5F10PR3C00
Three-phase Energy Meter 7E3684000010, 10 (65)A, 3x230400V AC, 1 tariff, S0 pulse output 100 ImpkWh

AAE3D5F11PR3A00