Rotary Valves
V5431 Series 3-Way Mixing Valves PN6
V5431 Series 3-way mixing valves are used especially in boiler return and supply water mixing applications, regulating the water temperature on the application supply line.
Overview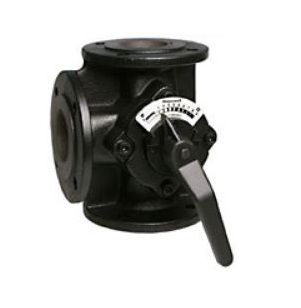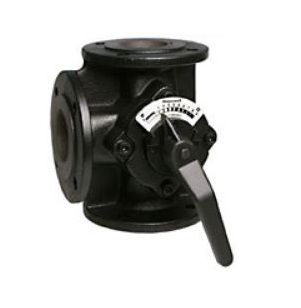 V5431 series rotary mixing valves are designed for accurate mixing control of supply water temperature in heating and air conditioning systems. Its sturdy construction ensures a long and reliable operating life, and is used in combination with M6061 and M7061 series actuators.
The valve controls the mixing water temperature with a rotating plug. The plug adjusts the water flow of two inputs and one common outlet, with two control curves. The required water temperature is reached by adding a proportion of return water to the boiler hot water.
Chrome-plated plug for long life, optimized characteristic for supply water temperature control, and is protected against corrosion and blocking. Wide range of flow rates are available, with PN6 pressure class.
Others
Brand

Saia Burgess Controls (SBC)

Angle of Rotation
Nominal Pressure
Valve Series
Application

For supply water, heating and air conditionin

glycol water mixture 50%.

hot/cold water quality VDI203
Others
Brand

Saia Burgess Controls (SBC)

Application

For supply water, heating and air conditionin

glycol water mixture 50%.

hot/cold water quality VDI203
Brand : Saia Burgess Controls (SBC)
Angle of Rotation : 90° degree
Nominal Pressure : PN6 bar (air pressure)
Application : For supply water, heating and air conditionin|glycol water mixture 50%.|hot/cold water quality VDI203
SKUs

V5431A1025
3-Way Mixing Rotary Valve, Internal Thread Connection, PN6, KVs 4, DN15

V5431A1033
3-Way Mixing Rotary Valve, Internal Thread Connection, PN6, KVs 6.3, DN20

V5431A1041
3-Way Mixing Rotary Valve, Internal Thread Connection, PN6, KVs 10, DN25

V5431A1058
3-Way Mixing Rotary Valve, Internal Thread Connection, PN6, KVs 16, DN32

V5431A1066
3-Way Mixing Rotary Valve, Internal Thread Connection, PN6, KVs 25, DN40

V5431F1032
3-Way Mixing Rotary Valve, Flanged Connection, PN6, KVs 6.3, DN20

V5431F1040
3-Way Mixing Rotary Valve, Flanged Connection, PN6, KVs 10, DN25

V5431F1057
3-Way Mixing Rotary Valve, Flanged Connection, PN6, KVs 16, DN32

V5431F1065
3-Way Mixing Rotary Valve, Flanged Connection, PN6, KVs 25, DN40

V5431F1073
3-Way Mixing Rotary Valve, Flanged Connection, PN6, KVs 40, DN50

V5431A1025
3-Way Mixing Rotary Valve, Internal Thread Connection, PN6, KVs 4, DN15

V5431A1033
3-Way Mixing Rotary Valve, Internal Thread Connection, PN6, KVs 6.3, DN20

V5431A1041
3-Way Mixing Rotary Valve, Internal Thread Connection, PN6, KVs 10, DN25

V5431A1058
3-Way Mixing Rotary Valve, Internal Thread Connection, PN6, KVs 16, DN32

V5431A1066
3-Way Mixing Rotary Valve, Internal Thread Connection, PN6, KVs 25, DN40

V5431F1032
3-Way Mixing Rotary Valve, Flanged Connection, PN6, KVs 6.3, DN20

V5431F1040
3-Way Mixing Rotary Valve, Flanged Connection, PN6, KVs 10, DN25

V5431F1057
3-Way Mixing Rotary Valve, Flanged Connection, PN6, KVs 16, DN32

V5431F1065
3-Way Mixing Rotary Valve, Flanged Connection, PN6, KVs 25, DN40

V5431F1073
3-Way Mixing Rotary Valve, Flanged Connection, PN6, KVs 40, DN50