USB Charging Sockets
Logic Plus™ 30W Power Delivery (PD) Fast Charging USB Type-C Sockets
Logic Plus 2 Gang DP Switchsocket Outlet Module with Type A+C USB PD 30W Fast Charging Ports and Dual Earth Terminals
Overview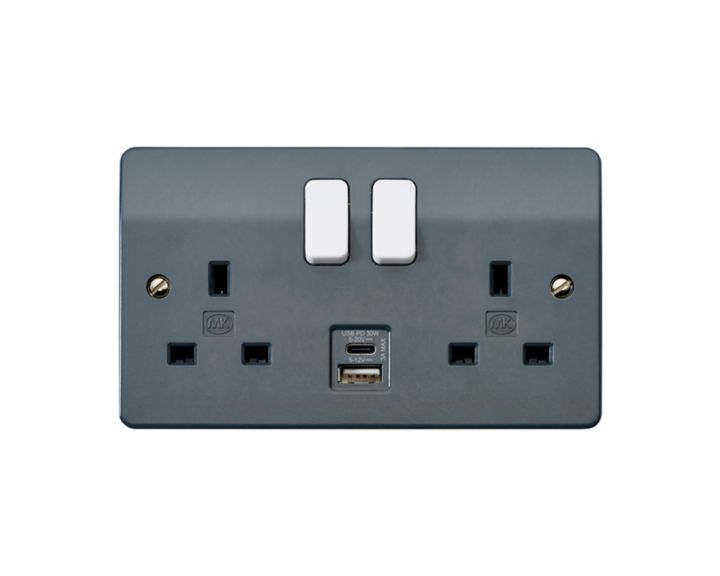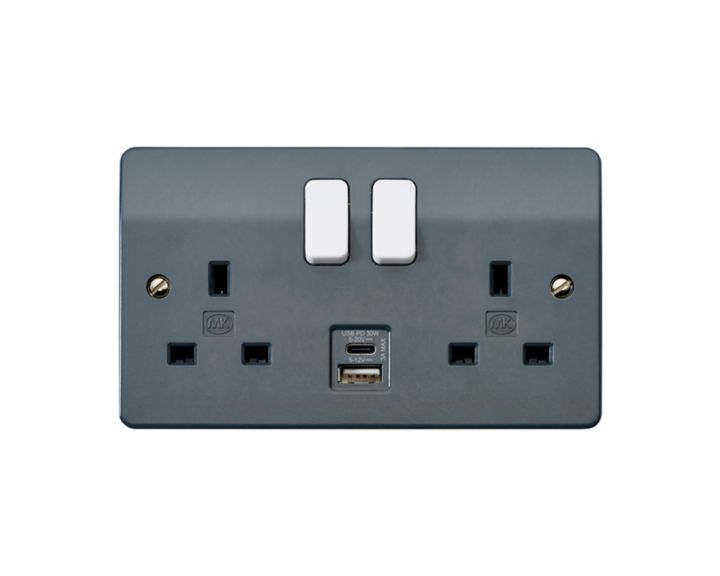 Logic Plus USB sockets are a extensive range of sockets offering additional USB charging capability. Options available to charge Type A and C devices and now includes a 30W fast-charging USB solution.
The new 30W USB Type A+C charger features GaN technology and
Power Delivery (PD) protocol, to provide fast charging in a compact size.
Smart efficient charging can deliver power to a wide range of electronic
devices and charges them quickly.
They are manufactured from urea formaldehyde, a high grade thermoset material with inherent antibacterial and antiviral properties.
All the sockets have double pole switching as standard.
Products are suitable for a wide array of applications, as they are available in 2 Gang form factors, all with dual earth capability.
Choose from our classic white or graphite grey finish, each with a
double pole, dual earth design and covered by a 5-year MK guarantee
Features & Benefits:
1. POWER DELIVERY (PD) PROTOCOL
• The charger will communicate with connected electronic devices using PD protocol to negotiate charging parameters (current/voltage), in order to optimize charging speed and also protect the battery health
• One 30W universal USB PD will be able to power a wide variety of electronic devices
• Charge mobiles to 50% within 30mins
2. GAN TECHNOLOGY
• GaN device is smaller, reducing device size
• Higher power efficiency
3. SUSTAINABLE
• Eco design, standby power<100mW
• Adopt Type-C to drive e-waste reduction following new EU regulation
4. 25MM BACKBOX
3. Electronically protected against an overload or short circuit on either USB outlet.
4. 3 Pin "child resistant" safety shutter stystem on 13A socket outlets inhibits access to power unless all 3 pins of a BS plug are inserted. 5. Manufactured from urea formaldehyde, a high grade thermoset material with inherent antibacterial and antiviral properties. Independently tested to the latest standard ISO 22196:2011, results show kill rates of over 99.99%. MK offers the most widely tested wiring devices available.
6. Backed out, in line terminals for easier installation.
7. Double Pole Switching with additional electrical safety from the neutral pole contact "makes first" & "breaks last" after the live contact.
8. Dual earth terminals for added user safety.
9. Printed terminal markings on grey rear moulding for clearer identification.
10. 5 year guarantee.
Certifications:
SKUs

K2766GRA
Logic Plus 2 Gang DP Switchsocket Outlet Module with Type A+C USB PD 30W Fast Charging Ports and Dual Earth Terminals

K2766RPWHI
Logic Plus 2 Gang DP Switchsocket Outlet Module with Type A+C USB PD 30W Fast Charging Ports and Dual Earth Terminals

K2766WHI
Logic Plus 2 Gang DP Switchsocket Outlet Module with Type A+C USB PD 30W Fast Charging Ports and Dual Earth Terminals

K2766GRA
Logic Plus 2 Gang DP Switchsocket Outlet Module with Type A+C USB PD 30W Fast Charging Ports and Dual Earth Terminals

K2766RPWHI
Logic Plus 2 Gang DP Switchsocket Outlet Module with Type A+C USB PD 30W Fast Charging Ports and Dual Earth Terminals

K2766WHI
Logic Plus 2 Gang DP Switchsocket Outlet Module with Type A+C USB PD 30W Fast Charging Ports and Dual Earth Terminals