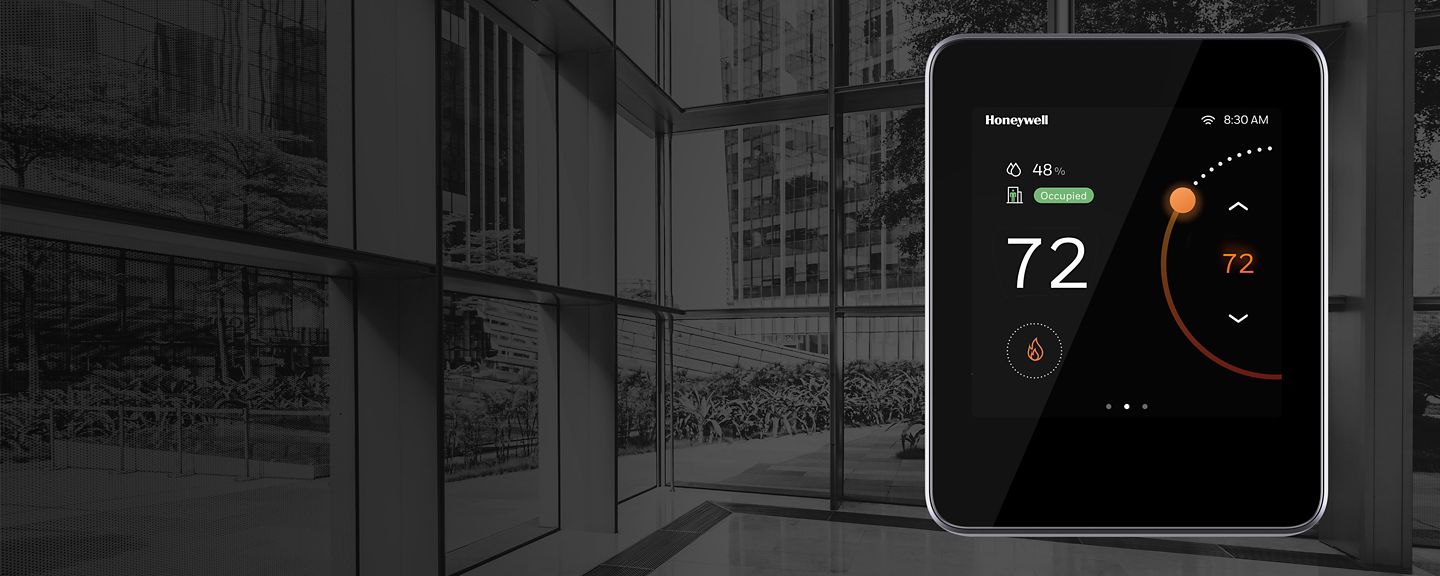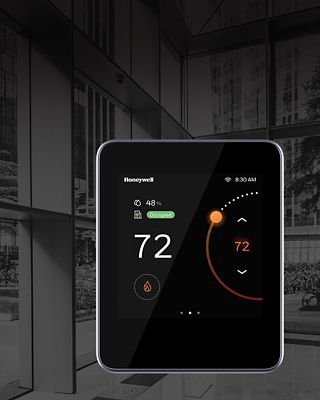 All business, no compromises: The TC500 Commercial Thermostat
This is not the thermostat you grew up with. Versatile connectivity, rapid commissioning, end-user convenience: The TC500 Commercial Connected Thermostat is a sleek control center, built for business.
Commercial thermostats have a lot of needs to fill
Wi-Fi and a touchscreen aren't enough. A true commercial thermostat needs to be easy for many users. It should be smart at saving energy. It has to be fast for pros to install. And one thermostat does it all with style: The TC500 Commercial Thermostat.
COMMISSIONING
Ready to go: Fast, flexible installation
Intuitive commissioning through on-screen setup wizard, Honeywell Connect mobile app, or Niagara TC500 BACnet Configuration Wizard.
ENERGY EFFICIENCY
Made to save: Smarter energy efficiency
Embedded economizer functionality and system performance Delta-T monitoring for maximum energy savings and code compliance.
USER EXPERIENCE
Easy to use: Modern, intuitive design
With a mobile app and a configurable display, the interface makes it easy to provide quick, convenient control to multiple types of users.
CYBERSECURITY
Secure by design: Data protection is automatic
Made to keep settings and data safe, from built-in cybersecurity to multi-level user protection and physical security.
Designed specifically for small and medium commercial buildings
See why the Honeywell TC500 offers an exceptional, intuitive user experience with mobile connectivity, flexible configuration, and BMS integration capabilities. It's the perfect balance of energy efficiency and ease of use – and it looks good too.
FOR USERS
The Honeywell Connect Me occupant app
Remotely monitor sites. Schedule settings or override controls. Add and configure devices, manage users and more – all from a mobile device.
FOR CONTRACTORS
The Honeywell Connect Mobile deployment app
Easily configure devices, manage users and more – including an intuitive setup wizard to save time with group commissioning.
E-LEARNING COURSE
TC500 technical training
From advanced configurations to terminal assignments, this comprehensive technical session is for contractors who want to gain expertise on the TC500 Commercial Thermostat.
WHITEPAPER
Thermostats for commercial applications
With so many affordable, user-friendly home thermostats, many building managers have considered installing them at their own sites. Learn why this can lead to unexpected problems.
AWARD
Red Dot Product Design 2022 Winner
The Red Dot Design Award is one of the biggest design competitions in world. The distinction "Red Dot" is an internationally recognized seal of excellent design and innovation. Honeywell's TC500 Thermostat was selected as one of the 2022 winners for the product design category.
AWARD
IF Design Award 2021 Winner
To tackle the challenges of our world innovatively, courageously and with our eyes directed to the future, we need brilliant minds that drive us forward. The IF Design Award recognizes design innovation, and how inspiring architecture can be in 2021.
A FEW SITES
Easily control single or smaller sites
For single sites and smaller operations, each TC500 connects to the cloud to be managed locally from the app (no data storage or analytics).
MULTIPLE SITES
The Small and Medium Building Administrator
For scalability with 5 or more small to medium buildings, manage all thermostats centrally, with dashboards, data storage, and analytics.
Speak to an expert
The TC500 Connected Thermostat is designed for you, and your end users. Get more details, pricing, or a custom quote from one of our Buildings experts.