Thermostats
TC500A Commercial Thermostat
The TC500A Commercial Connected Thermostat automatically monitors and controls indoor comfort. It controls and monitors RTU, Heat Pump equipment, and their configurations.
Overview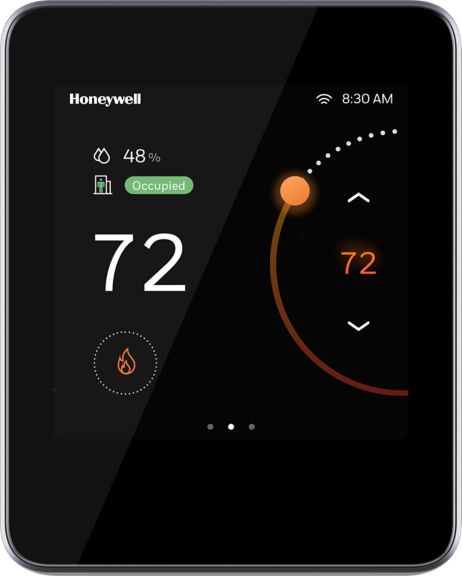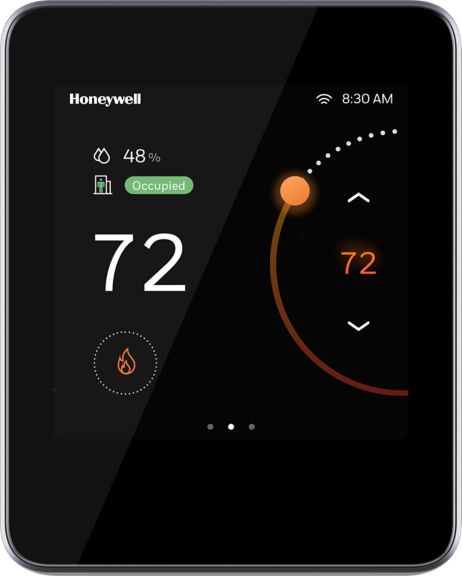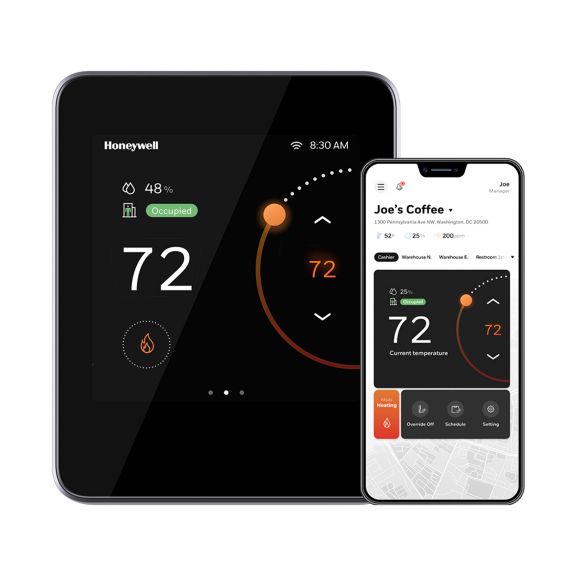 The TC500A-N Smart thermostat is an advanced, highly configurable, connected device designed for the unique needs of commercial buildings. It is suitable for conventional and heat pump applications both with or without economizer.
The TC500A-N supports remote wireless control via Honeywell's ConnectMe mobile app allowing occupants and facility managers to perform remote monitoring, control, and scheduling. Configuration and scheduling are also supported using BAS integration via BACnet IP or BACnet MS/TP. Superior energy efficiency, comfort, and maximum system performance are achieved via advanced scheduling, differential temperature monitoring, internal/external economizer integration, and open ADR (automated demand response) compatibility.
The device is easily configured in three different ways including: intuitive user guided set-up, mobile Honeywell ConnectMobile app, or via BAS and TC500 Niagara Tool.
Features & Benefits:
Smart commercial application thermostat with flexible customization and highly intuitive user interface
Supports RTU/AHU applications 5H/3C heat pump or 3H/4C conventional plus modulating heating and/or cooling for conventional systems and select FCU applications.
Provides modulating cooling output for inverter type or CopelandTM digital scroll compressor controllers
Premium color touch screen interface (edge-to-edge glass) with auto sleep mode and 3 color operating status indicator bar
Wireless and wired communication via Wi-Fi, Bluetooth, BACnet IP, BACnet MS/TP, and Sylk
Multiple, configurable levels of user privilege access such as setpoint limits, reminders, and scheduling with lockouts for advanced configurations
Fast and simple contractor commissioning through Honeywell Connect Mobile App, TC500 guided menu, or via Niagara BACnet tool
Flexible, configurable universal inputs/outputs, including (2) inputs and (2) inputs/outputs to support a wide variety of applications
Integrated economizer function with fault detection and predictive differential temperature monitoring for easy troubleshooting.
Advanced level functionality including contractor service mode, demand response, packaged economizer support, cybersecurity, freeze protection, and more
Weekly, holiday, and special event scheduling flexibility
Others
Analog Output Signal
Supply Voltage

24 voltage alternating current

Minimum Shipping & Storage Temperature

-40 degree Fahrenheit

-40 degree Celsius

Maximum Shipping & Storage Temperature

150 degree Fahrenheit

65.5 degree Celsius

Overall Height

113.7 millimetre

4.469 inch

Overall Width

3.594 inch

91.2 millimetre

Overall Depth

0.937 inch

23.8 millimetre

Brand
Thermostat Switch Positions
Supply Voltage Frequency
Network Communications

BACnet IP over Wi-Fi

BACnet MS/TP

Wi-Fi 802.11 b/g/n

Electrical Connection
Digital Output Signal

Relay Dry Contact (AUX) voltage alternating current

Relay Output (G, Y1, Y2, Y3, W1, W2, W3) voltage alternating current

Regulatory Approvals

CE ; FCC ; ICES ; UL/cUL ; RoHs ; REACH ; Title 24 (coming soon) ; BTL (coming soon) Watt

Changeover Method
Program Schedule
Occupancy Sensor
User Interface

4 inch diagonal, 480x480 pixel capacitive touch panel inch

Sensor Element
Mounting Type
Analog Inputs

2 UIOs and 2 Uis (10K NTC type II, 10K NTC type III, 20K NTC, 0-10 Vdc)

For Use With

Indoor/Outdoor Air Temp Sensor ; Discharge or Supply air sensor ; CO2 sensor ; Mixed air sensor ; Occupancy sensor ; Dirty filter ; Proof of airflow ; Proof of waterflow ; Sylk Sensor Bus devices (TR40 series and C7400S) volt

Includes

2 UIOs, 2 UIs, 8 DOs (G, Y1, Y2, Y3, W1, W2, W3, Aux) voltage alternating current

Stages

3 Heat / 3 Cool Conventional

5 Heat / 3 Cool Heat Pump
Others
Supply Voltage

24 voltage alternating current

Minimum Shipping & Storage Temperature

-40 degree Fahrenheit

-40 degree Celsius

Maximum Shipping & Storage Temperature

150 degree Fahrenheit

65.5 degree Celsius

Overall Height

113.7 millimetre

4.469 inch

Overall Width

3.594 inch

91.2 millimetre

Overall Depth

0.937 inch

23.8 millimetre

Thermostat Switch Positions

Network Communications

BACnet IP over Wi-Fi

BACnet MS/TP

Wi-Fi 802.11 b/g/n

Digital Output Signal

Relay Dry Contact (AUX) voltage alternating current

Relay Output (G, Y1, Y2, Y3, W1, W2, W3) voltage alternating current

Regulatory Approvals

CE ; FCC ; ICES ; UL/cUL ; RoHs ; REACH ; Title 24 (coming soon) ; BTL (coming soon) Watt

User Interface

4 inch diagonal, 480x480 pixel capacitive touch panel inch

Analog Inputs

2 UIOs and 2 Uis (10K NTC type II, 10K NTC type III, 20K NTC, 0-10 Vdc)

For Use With

Indoor/Outdoor Air Temp Sensor ; Discharge or Supply air sensor ; CO2 sensor ; Mixed air sensor ; Occupancy sensor ; Dirty filter ; Proof of airflow ; Proof of waterflow ; Sylk Sensor Bus devices (TR40 series and C7400S) volt

Includes

2 UIOs, 2 UIs, 8 DOs (G, Y1, Y2, Y3, W1, W2, W3, Aux) voltage alternating current

Stages

3 Heat / 3 Cool Conventional

5 Heat / 3 Cool Heat Pump
Analog Output Signal : 2 UIOs (0-10 Vdc)
Supply Voltage : 24 voltage alternating current
Minimum Shipping & Storage Temperature : -40 degree Fahrenheit|-40 degree Celsius
Maximum Shipping & Storage Temperature : 150 degree Fahrenheit|65.5 degree Celsius
Overall Height : 113.7 millimetre|4.469 inch
Overall Width : 3.594 inch|91.2 millimetre
Overall Depth : 0.937 inch|23.8 millimetre
Thermostat Switch Positions : HEAT-OFF-COOL-AUTO
Supply Voltage Frequency : 50 hertz|60 hertz
Network Communications : BACnet IP over Wi-Fi|BACnet MS/TP|Wi-Fi 802.11 b/g/n
Electrical Connection : 18-22 AWG Solid Wire
Digital Output Signal : Relay Dry Contact (AUX) voltage alternating current|Relay Output (G, Y1, Y2, Y3, W1, W2, W3) voltage alternating current
Regulatory Approvals : CE ; FCC ; ICES ; UL/cUL ; RoHs ; REACH ; Title 24 (coming soon) ; BTL (coming soon) Watt
Changeover Method : Auto or Manual
Occupancy Sensor : PIR Ready
User Interface : 4 inch diagonal, 480x480 pixel capacitive touch panel inch
Sensor Element : Humidity|Temperature
Mounting Type : Wall inch
Analog Inputs : 2 UIOs and 2 Uis (10K NTC type II, 10K NTC type III, 20K NTC, 0-10 Vdc)
For Use With : Indoor/Outdoor Air Temp Sensor ; Discharge or Supply air sensor ; CO2 sensor ; Mixed air sensor ; Occupancy sensor ; Dirty filter ; Proof of airflow ; Proof of waterflow ; Sylk Sensor Bus devices (TR40 series and C7400S) volt
Includes : 2 UIOs, 2 UIs, 8 DOs (G, Y1, Y2, Y3, W1, W2, W3, Aux) voltage alternating current
Stages : 3 Heat / 3 Cool Conventional|5 Heat / 3 Cool Heat Pump
Sort
Others
Reference Guides
Installation Instructions
Installation Manual
2.72 MB
Manuals and Guides
White Paper
Part Number
Description
Add to list
TC500A-N
COMMERCIAL TSTAT, WIRELS -ROW, RTU, TOUC

TC500A-N
COMMERCIAL TSTAT, WIRELS -ROW, RTU, TOUC