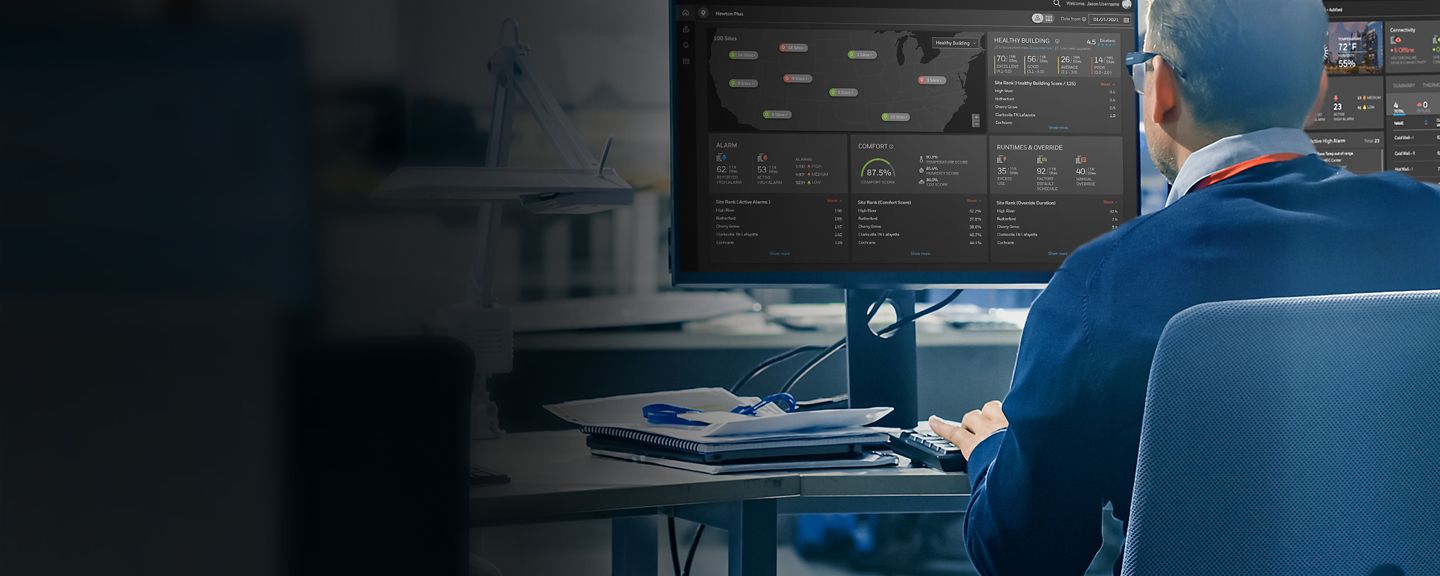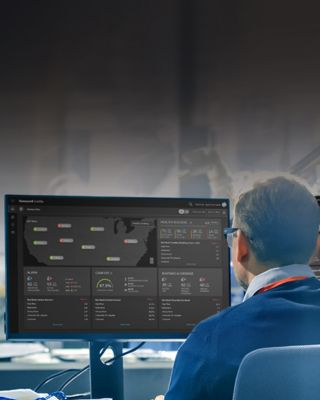 Multisite building management made easy.
The Honeywell Small and Medium Building Administrator simplifies remote management of small and medium-sized buildings with smart, modular capabilities powered by Honeywell Forge.
Modular, scalable comfort and savings
The Honeywell Small and Medium Building Administrator is an affordable, cloud-based platform that scales with your organization – because when you operate multiple sites, you need a simple yet reliable way to remotely track and optimize energy use.
OCCUPANT COMFORT
Optimize comfort anytime, anywhere
Comfort is easy to control from any mobile device: Set global schedules to optimize comfort settings and then let your system maintain them.
ENERGY SAVINGS
Maintain operational productivity
Measure, manage and optimize energy usage across your portfolio to identify and correct inefficient sites, using an intuitive dashboard that highlights alerts and trends.
REMOTE MANAGEMENT
Manage your entire portfolio
Stay connected to all of your buildings from anywhere, with intuitive centralized or regional building management that scales from tens to thousands of sites.
Video - how it works
Monitor your sites via a secure, cloud-based dashboard that analyzes data from our modular ecosystem of wireless devices and sensors to track KPIs such as occupant comfort, operational productivity and portfolio management.
Built to serve a wide range of businesses like yours
Manage regionally or centrally. Monitor every location around the world or drill down on one site. Whatever your process, the Small and Medium Building Administrator is easy to filter and customize so you can readily visualize the insights you need.
Mobile app for seamless device configuration

Honeywell Connect Mobile is a mobile app to intuitively design, configure and commission the devices supported by the system – such as gateways, IO modules, thermostats and sensors. Just search for "Honeywell Connect Mobile" in your app store.
Monitor indoor air quality with optional Healthy Building Dashboard integration
With the increased demand to demonstrate building health, proper monitoring and control features can help make sure your building is in good health. Learn how the optional Honeywell Healthy Building Dashboard integration can help minimize risks by providing real-time indoor air quality data.
Complete HVAC system control across multiple sites, from anywhere
Simple to install, configure and deploy with little to no down time. Choose what to measure at each site, and tie in other systems. Enabled by a Smart Edge Gateway, you can easily add additional sensors, devices, and locations as you grow.
SOFTWARE SUPERVISOR
Cloud-based web interface
Users can easily manage sites via scheduling, alerts, and real-time monitoring, tracking KPIs such as energy savings from reduced operating costs and extended asset life cycles.
SMART DEVICES
Touchscreen color thermostat
Our smart thermostat automatically monitors and controls indoor comfort. It connects directly to the rooftop unit (RTU) – an all-in-on air-handling unit, chiller and boiler.
SMART DEVICES
Smart IO module
This IO module makes it easy to integrate other wired sensors and devices as needed and connects to the system's gateway wirelessly via Wi-Fi or Bluetooth®.
SMART DEVICES
Wireless sensors
Further optimize a building's savings and comfort with precise monitoring from our broad range of wireless sensors for temperature and humidity, lighting, liquid levels and more.
Let's simplify your multisite management
Don't settle for the "one size fits none" ideas of an earlier era. Get the capabilities that matter for you and scale them as needed. Contact us to find out how the Honeywell Small and Medium Business Administrator shapes itself to your organization.