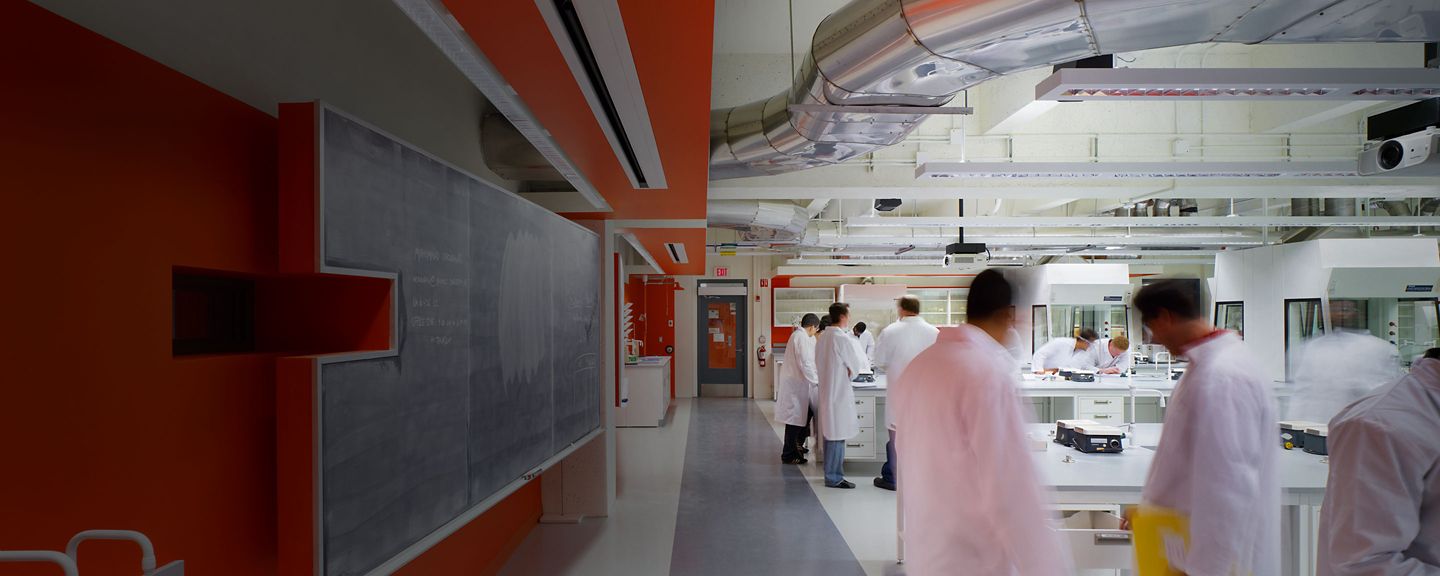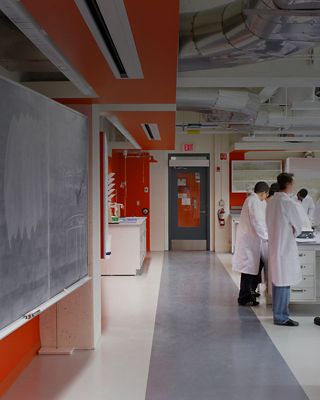 Safe, reliable, energy-efficient solutions
Phoenix Controls provides safe, reliable and energy efficient solutions for intensive, high-level containment facilities, protecting researchers and safeguarding the integrity of research environments while offering optimum energy efficiency.
Leveraging the proven accuracy, stability and reliability of the Phoenix Controls venturi valve, we deliver:
Precision ventilation and pressurization control over wide flow ranges
Mechanical pressure independence
Unmatched speed of response
Inlet and outlet insensitivity
Zone balance, temperature, occupancy, humidity and mode control
Flexible, feature-rich solutions
Seamless integration
Wet Chemistry Fume Hood Labs
In wet chemistry labs, accuracy and speed of response are critical to achieving proper containment, air change rate and directional airflow. Whether the need is hood density, supply air diversity, sophisticated temperature control sequences or energy savings, Phoenix Controls provides the best solution.
Pharmaceutical Manufacturing Facilities
Pharmaceutical cleanroom suites require 10 to 150 air changes per hour, differential pressure control cascaded from one space to the next, and stable accurate control to ensure high-quality, repeatable production. These demanding environments are ideal applications for Progressive Offset Control (POC), superior pressure, temp and humidity control that only Phoenix Controls can provide.
High Level Biocontainment Spaces
Precise airflow control is required due to ratio of large air change rates and small offset values based on the architectural tightness of construction. From Biosafety cabinets to entire suites with switchable holding rooms, Phoenix Controls helps you maintain proper directional airflow and space pressurization.
See Phoenix Controls healthcare solution in action, in person. Details on our "demo tour" page.
From venturi valves to Vision CE, look to Phoenix Controls to be your product provider. Click links for more information:
Phoenix Controls Venturi Valve
Phoenix Controls High Speed Venturi Valves
Vista Monitor
General Exhaust, Supply and Return Valves
PCI8000
Routers for the Integration Configuration Tool (ICT)
Sentry Fume Hood Display
Temp and Humidity Sensors
Vista pressure monitor
Valve Upgrade Kits
Vision CE
APM Room Monitor
Fan Static Reset Kits
Room Manager (RMM)
Zone Presence Sensor
Sash Sensors
APM II Monitor
View Room Displays