Software
WIN-PAK Central Station
Honeywell's new WIN-PAK™ PRO Central Station access control product provides a cost effective and easy-to-manage security solution for businesses, while providing security dealers with multiple recurring revenue streams.
Overview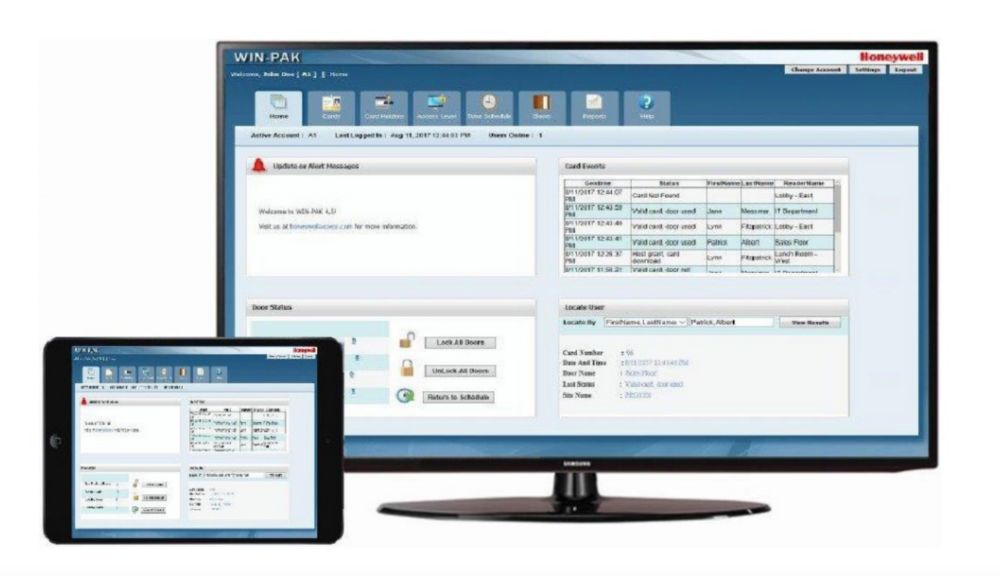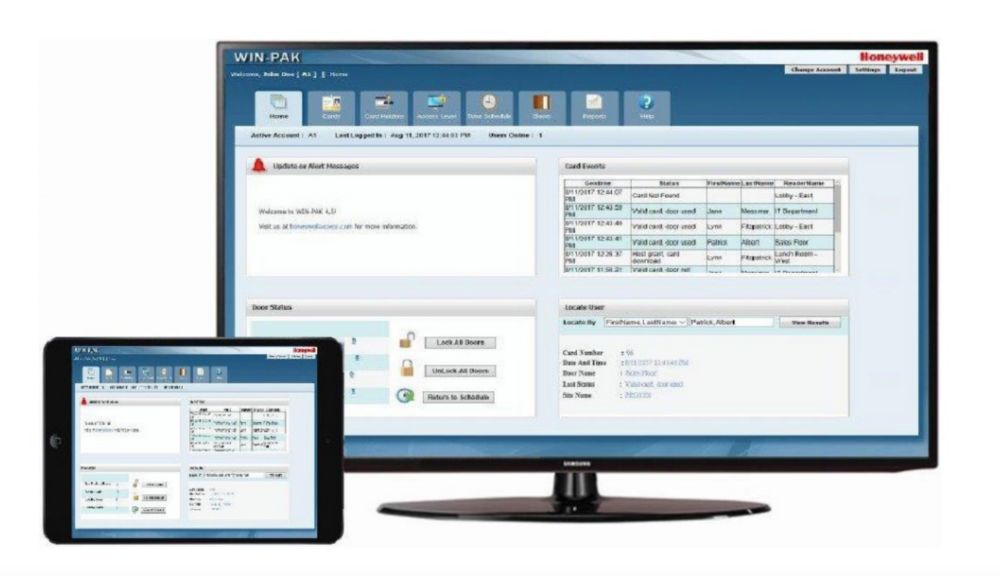 Sustaining growth and staying ahead of the competition are the greatest challenges facing security dealers today. Honeywell has listened to these concerns, and in response has designed a fresh approach to meeting the security, video and access control needs of our dealers.
WIN-PAK PRO Central Station is a departure from traditional access control systems. WIN-PAK PRO Central Station removes the hassle of installing software, managing operating systems, computer compatibility problems and dealing with virus protection. The total cost of ownership is reduced to a manageable service fee, which results in a higher closing rate and more recurring revenue.
While meeting the needs of customers, WIN-PAK PRO Central Station also provides an opportunity for dealers to increase their monthly recurring revenue. WIN-PAK PRO Central Station includes options like remote digital video monitoring and access control management functions.
Features & Benefits:
Access Control Alarm and Event Monitoring

Monitor alarms and events real-time
Special response messages per account/per alarm or event
99 priority levels of alarms/events
Control and response, including acknowledge, clear, annotate, live video and recorded video
Manual override, lock and unlock doors, shunt/bypass zones and input points
Live floor plan views

Remote Digital Video Monitoring using Honeywell Rapid Eye, Rapid Eye LT and Fusion DVR's

Record and playback events
Multiple camera control, including pan, tilt & zoom
Alarm video pop-up
Prevent unauthorized access with Video Verification
View video from up to 16 accounts at a time

Central Station Operator Controls

Monitor alarms & events real-time
Remote digital video monitoring
Operator event claiming
Account specific access
Fast keyboard shortcuts
Alarm or event routing by operator

Customized Reporting

Create customized reporting options by account
Email report options
Send detailed reports to BlackBerry®, cell phone, fax, email
Specialized reports like card frequency and attendance

User Web Interface

Access from any web browser
Run or schedule predefined reports
Add/remove users
Upload employee photos
Manage time schedules and access levels

Photo-ID Badging Management

Recurring revenue opportunity
Lost card replacement
Increased customer value
Upload images via web interface
Data Sheet
Name
Description
File Size
Date
Size
WIN PAK 4.9 Datasheet - UK - EN
application/pdf 235.37 KB
12/20/2021
235.37 KB
Name
Description
File Size
Date
Size
WIN PAK 4.9 Datasheet - UK - EN
235.37 KB
12/20/2021
235.37 KB
Name
Description
File Size
Date
Size

UWCS01
Software Upgrades WCS0, WPP45, WPP46, WPP47 to WCS1

UWCS12
Software Upgrades WCS1 to WCS2

UWCS23
Software Upgrades WCS2 to WCS3

UWCS34
Software Upgrades WCS3 to WCS4

WCS1-49
WIN-PAK CS 4.9 - 50 Account

WCS2-49
WIN-PAK CS 4.9 - 100 Account

WCS3-49
WIN-PAK CS 4.9 - 250 Account

WCS4-49
WIN-PAK CS 4.9 - 500 Account

WCS5-49
WIN-PAK CS 4.9 - 1000 Account

WCS6-49
WIN-PAK CS 4.9 - 2500 Account

UWCS01
Software Upgrades WCS0, WPP45, WPP46, WPP47 to WCS1

UWCS12
Software Upgrades WCS1 to WCS2

UWCS23
Software Upgrades WCS2 to WCS3

UWCS34
Software Upgrades WCS3 to WCS4

WCS1-49
WIN-PAK CS 4.9 - 50 Account

WCS2-49
WIN-PAK CS 4.9 - 100 Account

WCS3-49
WIN-PAK CS 4.9 - 250 Account

WCS4-49
WIN-PAK CS 4.9 - 500 Account

WCS5-49
WIN-PAK CS 4.9 - 1000 Account

WCS6-49
WIN-PAK CS 4.9 - 2500 Account