Linear Actuators
ML7420/ML7425/ML8824 Series 600N Linear Valve Actuators
ML7420, ML7425, and ML8824 series linear valve actuators are used with control valves in sizes ranging from DN15 to DN80 connection size, with 20mm stroke. They are used in a variety of applications where where control accuracy is critical.
Overview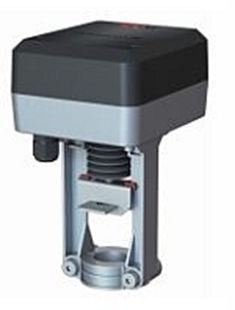 ML7420 and ML7425 series provide 0/2...10Vdc control of 20mm stroke control valves; ML8824 has universal control signal of 0/2...10Vdc, 4...20mA, and 3-P floating control. ML7420 and ML8824 are standard, and ML7425 offers spring return safety function. ML7425A6008 offers DIN EN 14597 district heating certification together with V5016A/V5025A/V5049/V5328 series of control valves.
Varieties include 24Vac/dc , manual operation, 30s or 60s runtime (ML7420), 108s drive / 15s spring return runtime (ML7425), and ML8824 is configurable. Manual operation available on ML7420 and ML8824. Feedback available on most models.
Actuators are rated at 600N linear force and IP54 protection class. High temperature kits available as accessory
Others
Minimum Operating Ambient Temperature
Maximum Operating Ambient Temperature
Supply Voltage Frequency
Supply Voltage
Stroke Length
Brand
Maximum Operating Humidity
Feedback Included
Actuator Motion
Actuator Type
Others
Minimum Operating Ambient Temperature

Maximum Operating Ambient Temperature

Maximum Operating Humidity
Minimum Operating Ambient Temperature : -10 °C
Maximum Operating Ambient Temperature : 50 °C
Supply Voltage Frequency : 50; 60 Hz
Maximum Operating Humidity : 95 % Percentage
Others
Name
Description
File Size
Date
Size
Name
Description
File Size
Date
Size

ML7420A3055
Linear Valve Actuator, 24V AC 50/60Hz, 7VA, Run time at 60Hz is 1min, IP54

ML7420A3063
Linear Valve Actuator, 24V AC 50/60Hz, 7VA, Run time at 60Hz is 0.5min, IP54

ML7420A6009
Modulating Linear Valve Actuator, 24Vac, 20mm stroke, 600N, 60s

ML7420A6009T
Modulating Linear Valve Actuator, 24Vac, 20mm stroke, 600N, 60s, for use with Trend IQ3 and IQ4 controllers

ML7420A6017
Modulating Linear Valve Actuator, 24Vac, 20mm stroke, 600N, 30s

ML7420A6017T
Linear Valve Actuator, 24V AC 5060Hz, 7VA, Run time at 50Hz is 0.5min, Medium Valve Temperature 150C, IP54, NSR

ML7420A6025
Modulating Linear Valve Actuator, 24Vac, 20mm stroke, 600N, 60s, without manual operation

ML7420A6025T
Modulating Linear Valve Actuator, 24Vac, 20mm stroke, 600N, 60s, for use with Trend IQ3 and IQ4 controllers, No manual operation

ML7421A1032
Linear Valve Actuator, 405lbf, 60Hz, 95sec

ML7421B1023
Linear Valve Actuator, 405lbf, 60Hz, 175sec

ML7420A3055
Linear Valve Actuator, 24V AC 50/60Hz, 7VA, Run time at 60Hz is 1min, IP54

ML7420A3063
Linear Valve Actuator, 24V AC 50/60Hz, 7VA, Run time at 60Hz is 0.5min, IP54

ML7420A6009
Modulating Linear Valve Actuator, 24Vac, 20mm stroke, 600N, 60s

ML7420A6009T
Modulating Linear Valve Actuator, 24Vac, 20mm stroke, 600N, 60s, for use with Trend IQ3 and IQ4 controllers

ML7420A6017
Modulating Linear Valve Actuator, 24Vac, 20mm stroke, 600N, 30s

ML7420A6017T
Linear Valve Actuator, 24V AC 5060Hz, 7VA, Run time at 50Hz is 0.5min, Medium Valve Temperature 150C, IP54, NSR

ML7420A6025
Modulating Linear Valve Actuator, 24Vac, 20mm stroke, 600N, 60s, without manual operation

ML7420A6025T
Modulating Linear Valve Actuator, 24Vac, 20mm stroke, 600N, 60s, for use with Trend IQ3 and IQ4 controllers, No manual operation

ML7421A1032
Linear Valve Actuator, 405lbf, 60Hz, 95sec

ML7421B1023
Linear Valve Actuator, 405lbf, 60Hz, 175sec