Contrôleurs d'installation et d'intégration
Contrôleur EAGLEHAWK NX
EAGLEHAWK NX est la solution idéale pour les contrôles CVC combinant applications d'éclairage, d'ombrage, de contrôle d'accès et sécurité. Il offre une efficacité énergétique unique grâce à l'utilisation d'une vaste bibliothèque d'applications CVC.
Aperçu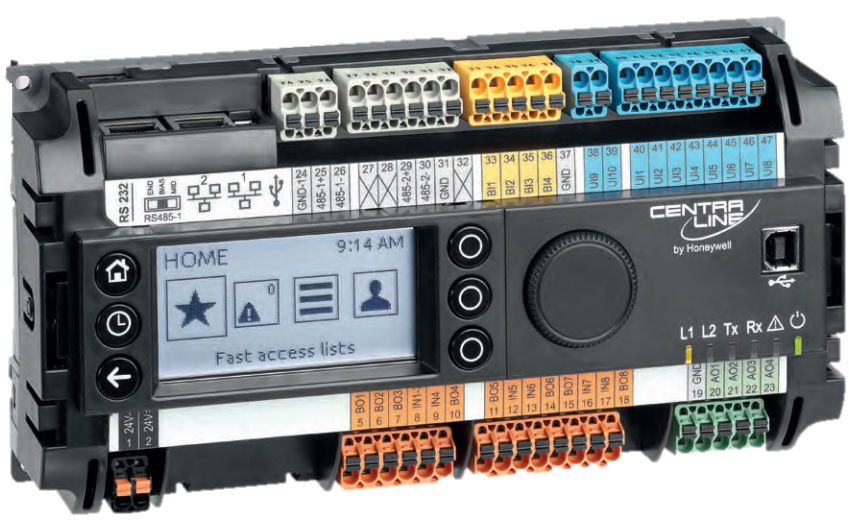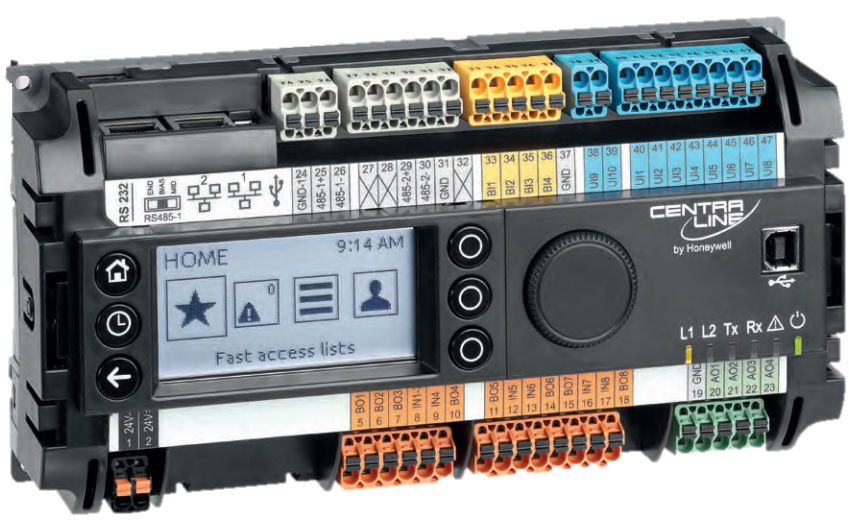 EAGLEHAWK NX Controllers is a BACnet-compliant heating, ventilation, air conditioning building controller. It runs the CentraLine Niagara NX framework, integrating all trades in a building.
EAGLEHAWK NX Controllers enables uniform graphical operation, control, data logging, alarming, scheduling, and network management functions for HVAC and non-HVAC applications. Through its integrated web server, it allows real-time access to all information through web-based graphical views .
It supports full remote engineering, including changes to the control program and the graphical user interface. This greatly supports reduction of life cycle and maintenance cost.
EAGLEHAWK NX Controllers is freely programmable using the graphic COACH NX Engineering Tool and is thus ideal for all Integration, Building Control, and Building Management tasks.
EAGLEHAWK NX Controllers allows the definition of a large number of user levels with defined read and write rights. Several users with individual passwords can be defined for each user level. And different views can be assigned to the individual users
Features & Benefits:
Reduced total installed cost
Reduced life cycle cost
Universal operation: Via Internet browser
Multiple international communication standards are supported
Datapoints can be trended and historical values stored and viewed
Embedded QNX ensures reliable, independent, and secure operation
Embedded e-mail alarming: Configurable e-mail alarming options allow alarms to be sent
Optional SMS alarming: SMS alarming via GSM
Easy Mounting onto wall or onto panel back wall, into panel door, onto panel rail
Direct 24 VAC power supply
Certifications:
ISO 16484-5, 14908
EN 1434-3
EN 13321-1
UL916
IEEEC 802.3.
Autres
Brand
Management Applications
Mounting Type

In panels; In fuse boxes conforming with standard DIN43880, and having a slot height of maximum 45 mm; In panel front doors (using accessory MVC-80-AC2); on walls (using accessory MVC-80-AC1) inch
Autres
Mounting Type

In panels; In fuse boxes conforming with standard DIN43880, and having a slot height of maximum 45 mm; In panel front doors (using accessory MVC-80-AC2); on walls (using accessory MVC-80-AC1) inch
Management Applications : ARENA NX
Mounting Type : In panels; In fuse boxes conforming with standard DIN43880, and having a slot height of maximum 45 mm; In panel front doors (using accessory MVC-80-AC2); on walls (using accessory MVC-80-AC1) inch
Autres
Fiche Technique
Nom
La description
Taille du fichier
Date
Taille
Nom
La description
Taille du fichier
Date
Taille