Logiciel
NVR+ programmable à distance iFT
ADPRO iFT est le modèle d'entrée de gamme. Il offre jusqu'à 32 canaux IP pouvant évoluer jusqu'à 16 canaux IP avec 16 canaux analytiques. Cette plateforme vidéo IP multi-services exécute le puissant système d'exploitation XO Security+*.
Aperçu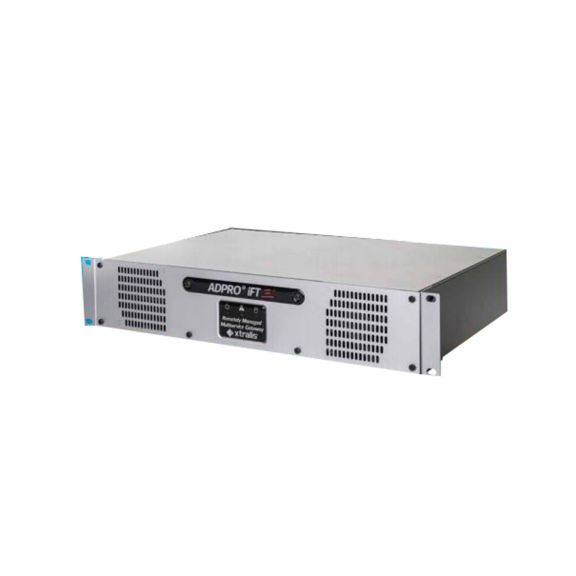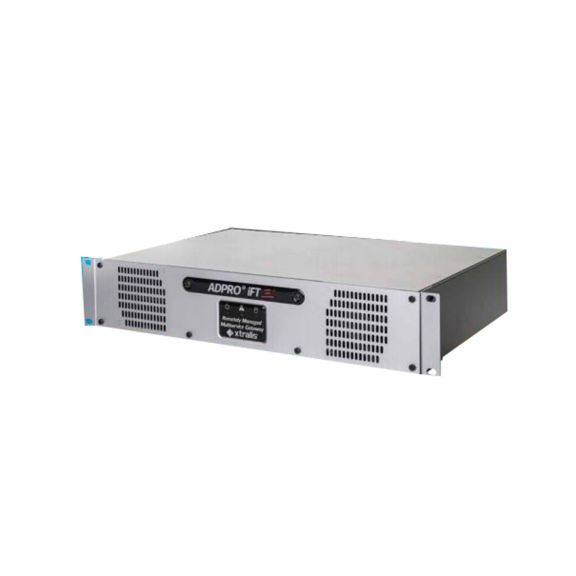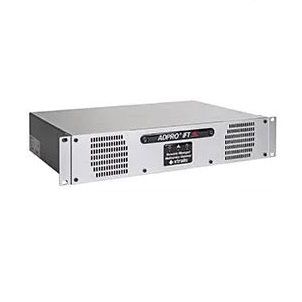 ADPRO® iFT and iFT-E NVR+ platforms deliver high-quality IP recording and monitoring with unbreakable transmission of alarms to remote monitoring locations. The iFT Series manages CCTV output, perimeter protection, video analytics, audio, lighting, door, and HVAC control. Our unique iTrace application (available for iOS and Android) remotely connects to the iFT Series and delivers vital incident views to first responders, business owners, and manned guards. Enabled with the XO 4 Security+ Operating System Software that is easy to download, update and manage, the iFT Series delivers a range of fantastic features that provide simple access to historical CCTV viewing and management.
Base units provide 8 IP Channels, 6 TB storage and 8 alarm inputs; capacity can be built to 32 IP channels – 40 TB storage and 156 alarm inputs. The iFT Series offers a comprehensive range of highly acclaimed video analytics available for intrusion, loiter, and smoke verification remotely enabled via license. Analytics that are purchased are interchangeable across channels and units. The operating system software delivers management and viewing of all "live" camera views as well as a user friendly and highly effective recorded CCTV viewing tool. The iFT Series supports Honeywell equIP®, Performance, and HDZ IP cameras as well as other IP camera manufacturers.
Features & Benefits:
Competitive cost per channel solution
Guaranteed alarm reception within 6 seconds using site pulse life check
Ships with analytics licenses that can be remotely managed via Xchange
360° camera support and de-warping function across all supported cameras
IP camera discovery tool for easily adding supported IP cameras
2-way audio enables "live" communication with remote site that delivers warnings and information
ONVIF® Profile S for easy IP camera connection
iTrace mobile application provides both camera view and remote manipulation to zoom and pan (not compatible with O2)
Pixilation mode provides privacy protection when a CMS monitors the site
Camera tunnel provides static routing on eth1 which allows access to cameras in other networks behind routers/firewalls
Autres
Overall Height
Overall Width
Overall Depth
Brand
Number of Supported Camera Channels
Regulatory Approvals
Compatible Analytics

Basic Motion Detection (VMD)

Compatible Cameras
Video Resolution
Operating System

ADPRO® XO™ Security Operating System, Linux based

Software Media
Mobile Client
Application
Web Client
Autres
Number of Supported Camera Channels

Compatible Analytics

Basic Motion Detection (VMD)

Operating System

ADPRO® XO™ Security Operating System, Linux based
Overall Height : 88 Millimeter-PRD
Overall Width : 441 Millimeter-PRD
Overall Depth : 305 Millimeter-PRD
Number of Supported Camera Channels : 32
Regulatory Approvals : i-LIDS Watt
Compatible Analytics : Basic Motion Detection (VMD)
Video Resolution : Up to HD/MP pixel
Operating System : ADPRO® XO™ Security Operating System, Linux based
Software Media : CMS; VMS
Mobile Client : iTrace; iPIR
Application : Loitering detection
Reference Guides
Nom
La description
Taille du fichier
Date
Taille
NDAA Compliant Products QRG
application/pdf 1.22 MB
5/11/2023
1.22 MB
Brochure
Nom
La description
Taille du fichier
Date
Taille
ADPRO iFT Series Brochure
application/pdf 473.56 KB
5/11/2023
473.56 KB
ADPRO XO4 Brochure
application/pdf 1.3 MB
5/11/2023
1.3 MB
ADPRO XO4 Security+ Operating System Software Brochure
application/pdf 2.64 MB
5/11/2023
2.64 MB
ADPRO XO 4 Security+ Operating System Software Brochure
application/pdf 2.64 MB
5/11/2023
2.64 MB
ADPRO iFT Series NVR+ Crib Sheet
application/pdf 163.97 KB
5/11/2023
163.97 KB
ADPRO iFT Brochure
application/pdf 473.56 KB
5/11/2023
473.56 KB
ADPRO XO 4 Brochure
application/pdf 2.64 MB
5/11/2023
2.64 MB
Fiche Technique
Nom
La description
Taille du fichier
Date
Taille
HeiTel Event Management System Data Sheet
application/pdf 814.1 KB
3/9/2023
814.1 KB
ADPRO iFT-E Data Sheet
application/pdf 236.12 KB
5/14/2023
236.12 KB
ADPRO iFT Data Sheet
application/pdf 236.72 KB
5/14/2023
236.72 KB
HeiTel Event Management System (EMS) Data Sheet
application/pdf 814.1 KB
5/14/2023
814.1 KB
Nom
La description
Taille du fichier
Date
Taille
Nom
La description
Taille du fichier
Date
Taille
NDAA Compliant Products QRG
1.22 MB
5/11/2023
ADPRO iFT Series Brochure
473.56 KB
5/11/2023
ADPRO XO4 Brochure
1.3 MB
5/11/2023
ADPRO XO4 Security+ Operating System Software Brochure
2.64 MB
5/11/2023
ADPRO XO 4 Security+ Operating System Software Brochure
2.64 MB
5/11/2023
ADPRO iFT Series NVR+ Crib Sheet
163.97 KB
5/11/2023
ADPRO iFT Brochure
473.56 KB
5/11/2023
ADPRO XO 4 Brochure
2.64 MB
5/11/2023
HeiTel Event Management System Data Sheet
814.1 KB
3/9/2023
ADPRO iFT-E Data Sheet
236.12 KB
5/14/2023
ADPRO iFT Data Sheet
236.72 KB
5/14/2023
HeiTel Event Management System (EMS) Data Sheet
814.1 KB
5/14/2023
Part Number
Description
Add to list
60021310
ADPRO iFT 8 IP 2 To 8 E4 S
60041610
ADPRO iFT 16 IP 6 To 8 E4 S
60041810
ADPRO iFT 16 IP 10 To 8 E4 S
63021510
ADPRO iFT-E 8 IP 4 To 8 E4 S
63041610
ADPRO iFT-E 16 IP 6 To 8 E4 S
63041810
ADPRO iFT-E 16 IP 10 To 8 E4 S

60021310
ADPRO iFT 8 IP 2 To 8 E4 S

60041610
ADPRO iFT 16 IP 6 To 8 E4 S

60041810
ADPRO iFT 16 IP 10 To 8 E4 S

63021510
ADPRO iFT-E 8 IP 4 To 8 E4 S

63041610
ADPRO iFT-E 16 IP 6 To 8 E4 S

63041810
ADPRO iFT-E 16 IP 10 To 8 E4 S