Motion Detectors
Motion Detectors, ADPRO by Xtralis Perimeter Detection, ADPRO PRO E PIR Detector
Overview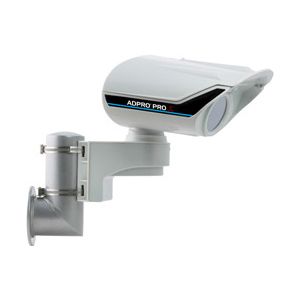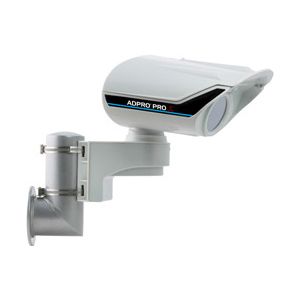 ADPRO PRO E-Passive Infrared (PIR) Perimeter Intrusion Detectors (PID) for outdoor surveillance. Using passive infrared technology, combined with high-precision mirror optics, advanced digital signal processing (DSP) and environment-adaptive algorithms, ensures the highest detection reliability while minimising false alarms.
Features & Benefits:
360° protect
Extremely low false alarm rate
Decentralised configuration via RS 485
Wall and pole mounting
Concealed cable routing.
Sort
Document Title
Document Type
File Size
SKUs

CH10023001
PRO E-45, PIR-PID, CUR, 50x3.3m, AA3.8 , BSS CMB HDPE filter

CH10023101
PRO E-45H, PIR-PID, CUR, 60x3.9m, AA3.8, BSS, CMB, heater, SIWA filter

CH10033001
PRO E-100, PIR-PID, CUR, 120x2.7m, AA1.3 , BSS CMB HDPE filter

CH10033101
PRO E-100H, PIR-PID, CUR, 150x3.3m, AA1.3, BSS, CMB, heater, SIWA filter

CH10053001
PRO E-18W, PIR-PID, VOL, 21x24m, AA90, CMB, HDPE filter

CH10053101
PRO E-18WH, PIR-PID, VOL, 27x30m, AA90, BSS, CMB, heater, SIWA filter

CH10055001
PRO E-18, PIR-PID, VOL, 24x21m, AA50 , BSS CMB HDPE filter

CH10055101
PRO E-18H, PIR-PID, VOL, 30x27m, AA50 , BSS, CMB, heater, SIWA filter

CH10063001
PRO E-30, PIR-PID, VOL, 30x20m, AA50 , BSS CMB HDPE filter

CH10073001
PRO E-40, PIR-PID, VOL, 40x10m, AA15 , BSS CMB HDPE filter

CH10023001
PRO E-45, PIR-PID, CUR, 50x3.3m, AA3.8 , BSS CMB HDPE filter

CH10023101
PRO E-45H, PIR-PID, CUR, 60x3.9m, AA3.8, BSS, CMB, heater, SIWA filter

CH10033001
PRO E-100, PIR-PID, CUR, 120x2.7m, AA1.3 , BSS CMB HDPE filter

CH10033101
PRO E-100H, PIR-PID, CUR, 150x3.3m, AA1.3, BSS, CMB, heater, SIWA filter

CH10053001
PRO E-18W, PIR-PID, VOL, 21x24m, AA90, CMB, HDPE filter

CH10053101
PRO E-18WH, PIR-PID, VOL, 27x30m, AA90, BSS, CMB, heater, SIWA filter

CH10055001
PRO E-18, PIR-PID, VOL, 24x21m, AA50 , BSS CMB HDPE filter

CH10055101
PRO E-18H, PIR-PID, VOL, 30x27m, AA50 , BSS, CMB, heater, SIWA filter

CH10063001
PRO E-30, PIR-PID, VOL, 30x20m, AA50 , BSS CMB HDPE filter

CH10073001
PRO E-40, PIR-PID, VOL, 40x10m, AA15 , BSS CMB HDPE filter