Zone & Unitary Controllers
VLC-1600 Monitoring Device
The Alerton® BACtalk® VLC-1600 is a high-performance, fully programmable input monitoring device.
Overview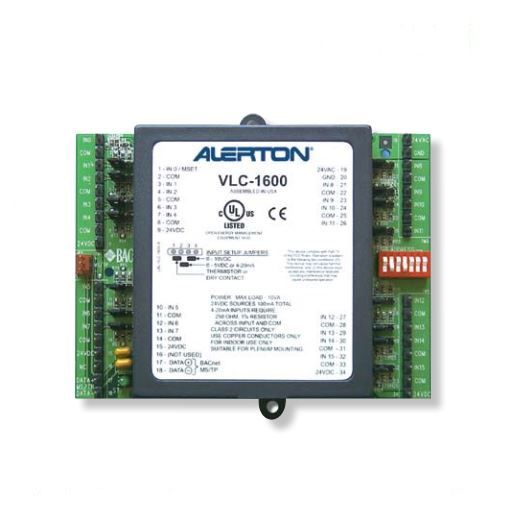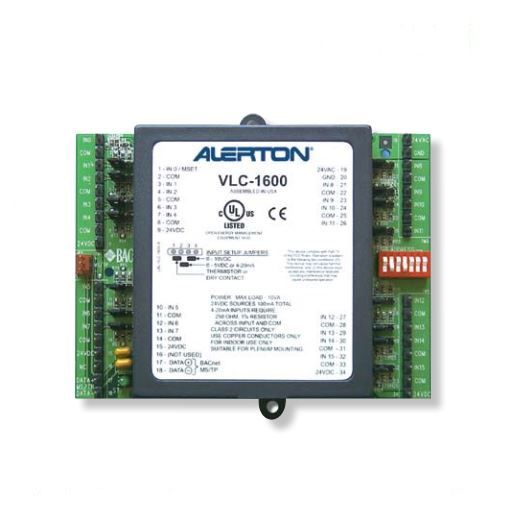 With 16 high-resolution inputs, it is perfectly suited for applications with high input density, where it can augment the input capabilities of other controllers. The VLC-1600 has no control outputs. As a native BACnet controller, it integrates seamlessly with your BACnet system, communicating on a BACnet MS/TP LAN at up to 76.8 Kbps.
Features & Benefits:
Capable - Four 10-bit inputs and five binary outputs.
Interoperable-Fully BACnet-compliant on MS/TP LAN at up to 76.8 Kbps.
Versatile-Downloadable operating code to allow for future software improvements.
Reliable-Extensive on-board filtering, withall program data backed up in nonvolatile flash memory.
Certifications:
Others
Minimum Operating Humidity

0 (Non-Condensing) Percentage

Maximum Operating Humidity

95 (Non-Condensing) Percentage

Brand
Number of 24V DC Auxiliary Outputs
Number of Thermistor Inputs
Number of Universal Inputs
Communications Protocol
Control Functions

Programmable Logic Controller

Smoke Control

Power Source
Application
Others
Minimum Operating Humidity

0 (Non-Condensing) Percentage

Maximum Operating Humidity

95 (Non-Condensing) Percentage

Number of 24V DC Auxiliary Outputs

Number of Thermistor Inputs

Number of Universal Inputs

Control Functions

Programmable Logic Controller

Smoke Control
Minimum Operating Humidity : 0 (Non-Condensing) Percentage
Maximum Operating Humidity : 95 (Non-Condensing) Percentage
Number of 24V DC Auxiliary Outputs : 3
Number of Thermistor Inputs : 15
Number of Universal Inputs : 16
Communications Protocol : BACnet MS/TP LAN
Control Functions : Programmable Logic Controller|Smoke Control
Power Source : Power Supply Watt
Application : Central Plant Systems
Others
Name
Description
File Size
Date
Size
VLC系列 现场控制器 用户手册
application/pdf 301.14 KB
11/16/2022
301.14 KB
Name
Description
File Size
Date
Size
VLC系列 现场控制器 用户手册
301.14 KB
11/16/2022
301.14 KB
Please sign in to activate purchase options
VLC-1600
Monitoring Device, With 16 Input
VLC-1600
Monitoring Device, With 16 Input

VLC-1600
Monitoring Device, With 16 Input

VLC-1600
Monitoring Device, With 16 Input