Control Modules
Flashscan Intelligent Addressable Control Module
Addressable Control Module
Overview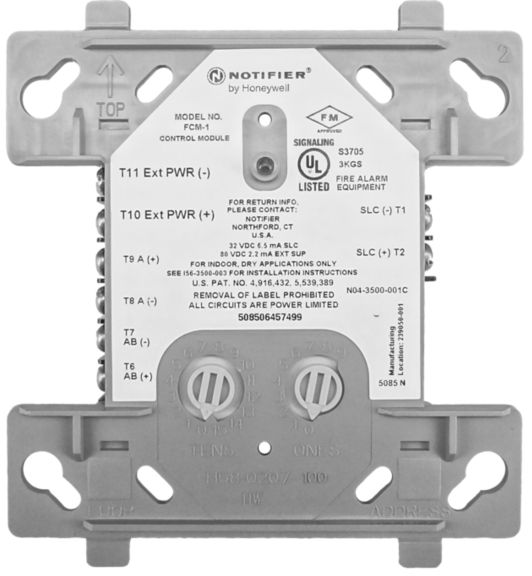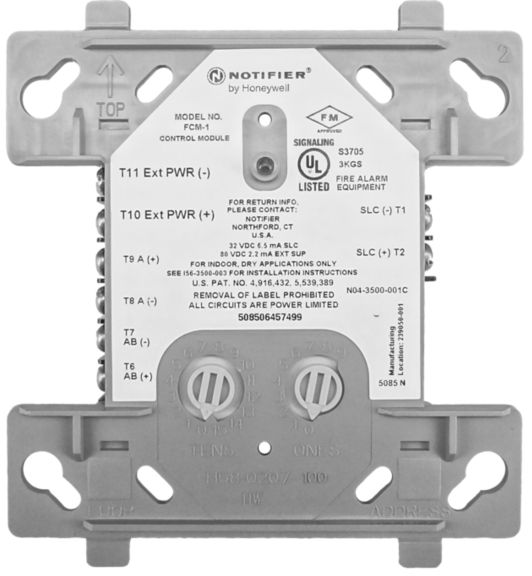 FCM-1 Addressable Control Module provides Notifier intelligent fire alarm control panels a circuit for Notification Appliances (horns, strobes, speakers, etc). Addressability allows the FCM-1 to be activated, either manually or through panel programming, on a select (zone or area of coverage) basis.
Features & Benefits:
FCM-1 uses one of 159 possible module addresses on a SLC loop (99 on CLIP loops). It responds to regular polls from the control panel and reports its type and status, including the open/normal/short status of its Notification Appliance Circuit (NAC). The LED blinks with each poll received. On command, it activates its internal relay. The FCM-1 supervises 2-wire or 4-wire notification or control circuits. Upon code command from the panel, the FCM-1will disconnect the supervision and connect the external power supply in the proper polarity across the load device. The disconnection of the supervision provides a positive indication to the panel that the control relay actually turned ON. The external power supply is always relay isolated from the communication loop so that a trouble condition on the external power supply will never interfere with the rest of the system. FCM-1 is used to switch 24 VDC audible/visual power, high-level audio (speakers).
Note: The listings and approvals below apply to the module specified in this document. In some cases, certain modules or applications may not be listed by certain approval agencies, or listing may be in process. Consult factory for latest listing status.
Certifications:
SAI Global : License SMKH25312
New Zealand Equipment Register. Listing #NI/615
Others
Name
Description
File Size
Date
Size
Monitor, Interface Control and Relay Modules Datasheet (FMM-1, FMM-101, FZM-1, FCM-1, FRM-1 Series)
application/pdf 146.03 KB
5/30/2023
146.03 KB
FCM-1 Monitor Module Installation Manual
application/pdf 578.81 KB
5/30/2023
578.81 KB
Name
Description
File Size
Date
Size
Monitor, Interface Control and Relay Modules Datasheet (FMM-1, FMM-101, FZM-1, FCM-1, FRM-1 Series)
146.03 KB
5/30/2023
146.03 KB
FCM-1 Monitor Module Installation Manual
578.81 KB
5/30/2023
578.81 KB
Name
Description
File Size
Date
Size
Monitor, Interface Control and Relay Modules Datasheet (FMM-1, FMM-101, FZM-1, FCM-1, FRM-1 Series)
146.03 KB
5/30/2023
FCM-1 Monitor Module Installation Manual
578.81 KB
5/30/2023
SKUs

FCM-1-AUS
Addressable Control Module

FCM-1-AUS
Addressable Control Module