Zone Modules
Flashscan Intelligent Addressable Zone Module, Two-Wire Detectors
Addessable Zone Monitor Module, Two-Wire Setectors
Overview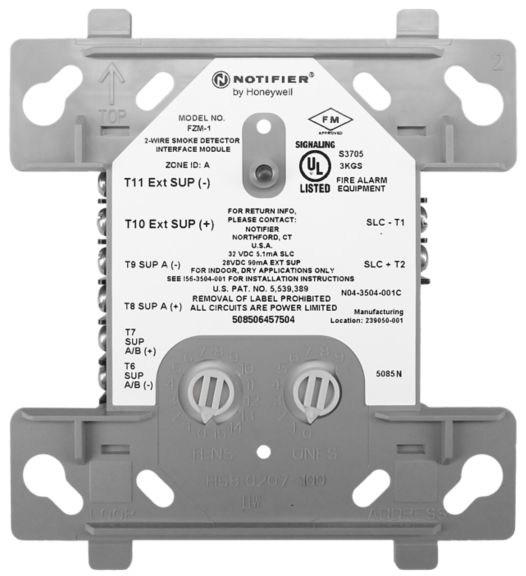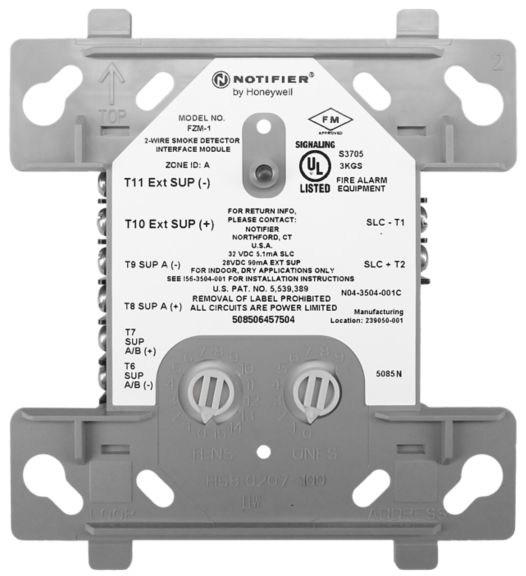 FZM-1 Interface Module is a standard-sized module that monitors and supervises compatible two-wire, 24 volt, smoke detectors on a circuit
Features & Benefits:
The FZM-1 Interface Module is intended for use in intelligent, addressable systems, where the individual address of each module is selected using built-in rotary switches. This module allows intelligent panels to interface and monitor two wire conventional smoke detectors. It transmits the status (normal, open, or alarm) of one full zone of conventional detectors back to the control panel. All two-wire detectors being monitored must be compatible with the module.
FZM-1 is used to monitor a zone of two wire smoke detectors. The monitored circuit may be wired as an typical 2-wire initiating circuit configuration or 4-wire fault tolerant initiating circuit configuration. A 3.9 k Ohm End-of-Line Resistor (provided) terminates the end of the S circuit (maximum IDC loop resistance is 25 Ohms). Install End-of-Line Resistor across terminals 8 and 9 for application.
Note: The listings and approvals below apply to the module specified in this document. In some cases, certain modules or applications may not be listed by certain approval agencies, or listing may be in process. Consult NOTIFIER for the latest listing status.
Certifications:
AS7240.18: 2015 ; SAI Global certificate # SMKH25312
New Zealand Equipment Register. Listing #NI/608
Others
Name
Description
File Size
Date
Size
Monitor, Interface Control and Relay Modules Datasheet (FMM-1, FMM-101, FZM-1, FCM-1, FRM-1 Series)
application/pdf 146.03 KB
5/30/2023
146.03 KB
FZM-1 Monitor Module Installation Manual
application/pdf 1.5 MB
8/18/2023
1.5 MB
Name
Description
File Size
Date
Size
Monitor, Interface Control and Relay Modules Datasheet (FMM-1, FMM-101, FZM-1, FCM-1, FRM-1 Series)
146.03 KB
5/30/2023
146.03 KB
FZM-1 Monitor Module Installation Manual
1.5 MB
8/18/2023
1.5 MB
Name
Description
File Size
Date
Size
Monitor, Interface Control and Relay Modules Datasheet (FMM-1, FMM-101, FZM-1, FCM-1, FRM-1 Series)
146.03 KB
5/30/2023
FZM-1 Monitor Module Installation Manual
1.5 MB
8/18/2023
SKUs

FZM-1-AUS
Addessable Zone Monitor Module, two-wire detectors

FZM-1-AUS
Addessable Zone Monitor Module, two-wire detectors