Smoke Detectors
FSP-851 Photoelectric Smoke Detectors
FSP-851(A) Series intelligent plug-in smoke detectors with integral communication provide features that surpass conventional detectors.
Overview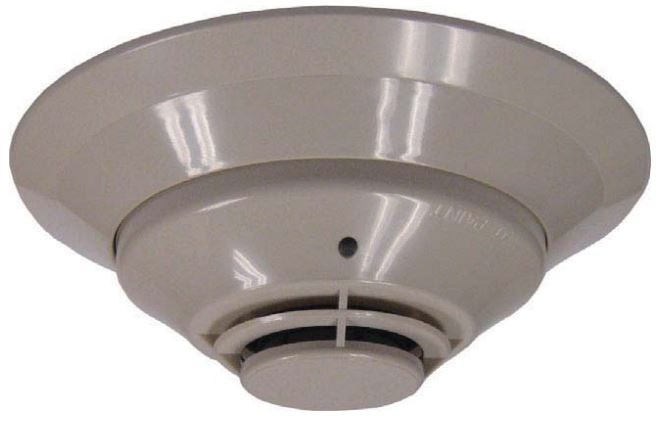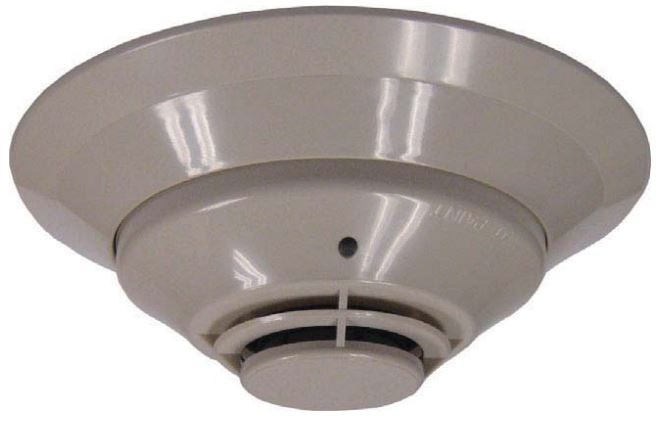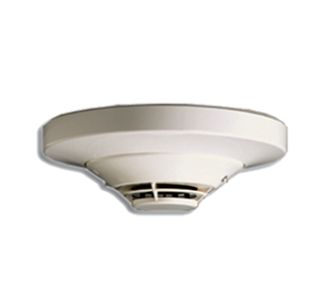 Series 851 Series Photoelectric detector's unique optical sensing chamber is engineered to sense smoke produced by a wide range of combustion sources. Intelligent detectors include point ID capability that enable each detector address to be set with rotary address switches to provide exact detector locations.
The sensitivity can be programmed using the control panel software to suit the environment. In addition, detector sensitivity is continually monitored and reported to the panel.
Features & Benefits:
Photoelectric smoke detection
Analog communications
Low standby current
Rotary address switches
Dual LEDs for 360° visibility
Specifications
Voltage Range: 15-32 volts DC peak
Standby Current (max. avg.): 300µA @ 24V DC (one communication every five seconds with LED enabled)
LED Current (max.): 6.5mA @ 24V DC ('ON')
Certifications:
UL Listed: S1115
MEA Listed: 225-02-E
FM Approved
CSFM: 7272-0028:0206
Others
Minimum Operating Ambient Temperature
Minimum Operating Humidity
Maximum Operating Humidity
Maximum Operating Voltage
Maximum Standby Current
Maximum Alarm Current
Operating Current
Overall Height
Alarm Current
Conventional or Addressable
Regulatory Approvals

AS7240.7: 2018ActivFire certificateNew Zealand Equipment Register Listing #NI/304ISO9001FS 520324 ampere
Others
Minimum Operating Ambient Temperature

Minimum Operating Humidity

Maximum Operating Humidity

Maximum Operating Voltage

Conventional or Addressable

Regulatory Approvals

AS7240.7: 2018ActivFire certificateNew Zealand Equipment Register Listing #NI/304ISO9001FS 520324 ampere
Minimum Operating Ambient Temperature : -10 degree Celsius
Minimum Operating Humidity : 10 Percentage
Maximum Operating Humidity : 93 Percentage
Maximum Operating Voltage : 32 TBP
Maximum Standby Current : 360 TBP
Maximum Alarm Current : 6.5 milliampere
Operating Current : 360 TBP
Overall Height : 5.3 millimetre
Alarm Current : 6.5 ampere
Conventional or Addressable : Addressable
Regulatory Approvals : AS7240.7: 2018ActivFire certificateNew Zealand Equipment Register Listing #NI/304ISO9001FS 520324 ampere
Brochure
Name
Description
File Size
Date
Size
Isolator Load Rating Table Brochure
application/pdf 38.09 KB
5/11/2023
38.09 KB
NOTIFIER Life Safety & Emergency Communications Systems Information Guide-Brochure
application/pdf 2.68 MB
5/22/2023
2.68 MB
Base - Detector Cross Reference (Legacy) Brochure
application/pdf 110.57 KB
5/11/2023
110.57 KB
Data Sheet
Name
Description
File Size
Date
Size
FSP-851(A) Data Sheet
application/pdf 83.69 KB
3/20/2023
83.69 KB
Name
Description
File Size
Date
Size
Name
Description
File Size
Date
Size
SKUs

FSP-851AUS-BK
Intelligent Plug-In Smoke Detector, 851 Series, 15 to 32V DC, -10C to 49C, Black

FSP-851AUS-IV
Intelligent Plug-In Smoke Detector, 851 Series, 15 to 32V DC, -10C to 49C, Ivory

FSP-851AUS-W
Intelligent Plug-In Smoke Detector, 851 Series, 15 to 32V DC, -10C to 49C, White

FSP-851AUS-BK
Intelligent Plug-In Smoke Detector, 851 Series, 15 to 32V DC, -10C to 49C, Black

FSP-851AUS-IV
Intelligent Plug-In Smoke Detector, 851 Series, 15 to 32V DC, -10C to 49C, Ivory

FSP-851AUS-W
Intelligent Plug-In Smoke Detector, 851 Series, 15 to 32V DC, -10C to 49C, White