Linear Valves
V5013E Series 3-Way External Thread Linear Control Valve PN16
V5013E Series linear control valves are 3-way mixing control valves suitable to regulate hot and chilled water flow across a wide range of KVS requirements.
Overview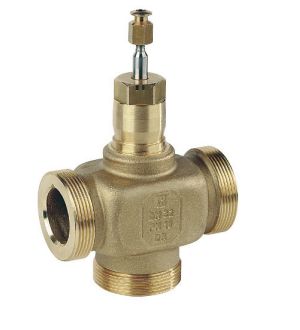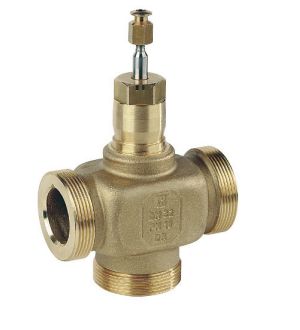 V5013E valves are used primarily for modulating control of hot and chilled water in closed loop hydronic systems with up to 50% glycol.
They are 3-way mixing, and can be operated by linear actuators with 20mm stroke, such as ML6420, ML6425, ML7420, ML7425, ML6421, or ML7421, or by pneumatic actuators MP953.
Brass body with external threaded end connections, flat seals. Low seat leakage rate with self-adjusting packing. Accurate positioning to ensure first rate temperature control. Equal percentage flow characteristic port A-AB and linear flow port B-AB. PN16 pressure class, connection size range DN15-50.
Others
Media Temperature Range

120 - 170 °C @ 1490 kPa

2 - 120 °C @ 1600 kPa

Brand
Actuator Stroke Length
Nominal Pressure
Port Connection
Valve Series
Application

Air Conditioning

Heating

Open Circuit Hot/Cold Water Quality VDI2035

Ventilating
Others
Media Temperature Range

120 - 170 °C @ 1490 kPa

2 - 120 °C @ 1600 kPa

Application

Air Conditioning

Heating

Open Circuit Hot/Cold Water Quality VDI2035

Ventilating
Media Temperature Range : 120 - 170 °C @ 1490 kPa|2 - 120 °C @ 1600 kPa
Actuator Stroke Length : 20 millimetre
Nominal Pressure : PN16 bar (air pressure)
Port Connection : External Thread
Application : Air Conditioning|Heating|Open Circuit Hot/Cold Water Quality VDI2035|Ventilating
SKUs

V5013E1063
3-Way Mixing Linear Valve, External Thread Connection, PN16, KVs 2.5, DN15, 20mm stroke

V5013E1071
3-Way Mixing Linear Valve, External Thread Connection, PN16, KVs 4.0, DN15, 20mm stroke

V5013E1089
3-Way Mixing Linear Valve, External Thread Connection, PN16, KVs 6.3, DN20, 20mm stroke

V5013E1097
3-Way Mixing Linear Valve, External Thread Connection, PN16, KVs 10, DN25, 20mm stroke

V5013E1105
3-Way Mixing Linear Valve, External Thread Connection, PN16, KVs 16, DN32, 20mm stroke

V5013E1113
3-Way Mixing Linear Valve, External Thread Connection, PN16, KVs 25, DN40, 20mm stroke

V5013E1121
3-Way Mixing Linear Valve, External Thread Connection, PN16, KVs 40, DN50, 20mm stroke

V5013E1063
3-Way Mixing Linear Valve, External Thread Connection, PN16, KVs 2.5, DN15, 20mm stroke

V5013E1071
3-Way Mixing Linear Valve, External Thread Connection, PN16, KVs 4.0, DN15, 20mm stroke

V5013E1089
3-Way Mixing Linear Valve, External Thread Connection, PN16, KVs 6.3, DN20, 20mm stroke

V5013E1097
3-Way Mixing Linear Valve, External Thread Connection, PN16, KVs 10, DN25, 20mm stroke

V5013E1105
3-Way Mixing Linear Valve, External Thread Connection, PN16, KVs 16, DN32, 20mm stroke

V5013E1113
3-Way Mixing Linear Valve, External Thread Connection, PN16, KVs 25, DN40, 20mm stroke

V5013E1121
3-Way Mixing Linear Valve, External Thread Connection, PN16, KVs 40, DN50, 20mm stroke