Rotary Actuators
MNxx05 44 lb-in. and MNxx10 88 lb-in. Non-Spring Return Direct Coupled Actuators
MNxx05/10 Series non-spring return direct coupled damper actuators providemodulatin, 2-position and floating control for air dampers, VAV units, air handlers, ventilation flaps, and louvers.
Overview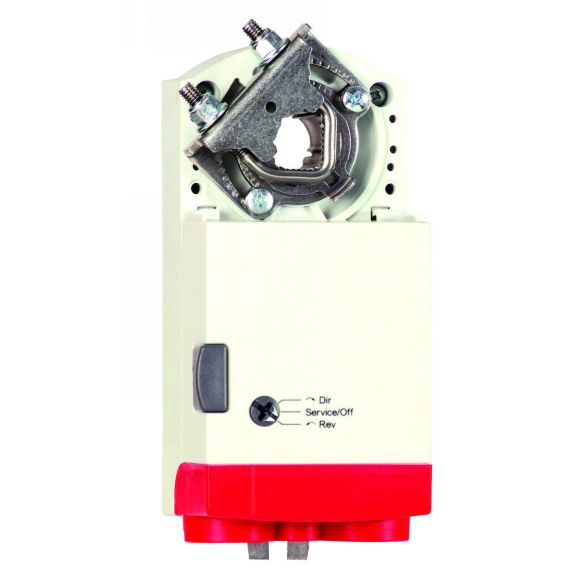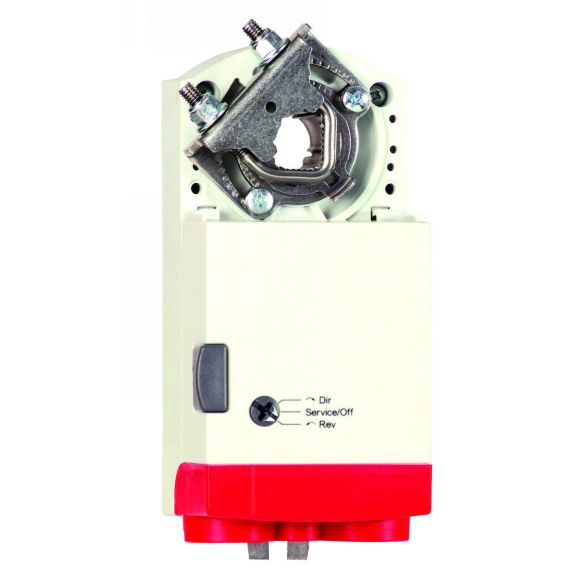 MNxx05 44 lb-in. and MNxx10 88 lb-in. Non-Spring Return Direct Coupled Actuators (DCA) are used within heating, ventilating, and airconditioning (HVAC) systems. They can drive a variety of quarter-turn, final control elements.
Applications include: Volume control dampers, mounted directly to the drive shaft or remotely (with the use of accessory hardware). Quarter-turn rotary valves, such as ball or butterfly valves mounted directly to the drive shaft. Linear stroke globe or cage valves mounted with linkages to provide linear actuation.
Features & Benefits:
Declutch for manual adjustment
Adjustable mechanical end limits
Removable access cover for direct wiring
Mountable in any orientation
Function selection and service/off switch
Certifications:
UL/cUL
UL873 Plenum Rating, File No. E4436; Guide No. XAPX
CE
Others
Minimum Operating Humidity
Maximum Operating Humidity
Runtime
Minimum Operating Ambient Temperature
Brand
Power Loss Action
Angle of Rotation
Mounting Type
Application
Others
Minimum Operating Humidity

Maximum Operating Humidity

Minimum Operating Ambient Temperature
Minimum Operating Humidity : 5
Maximum Operating Humidity : 95
Runtime : 95 second (time unit)
Minimum Operating Ambient Temperature : -20|-5
Power Loss Action : Fail-in-place Percentage
Angle of Rotation : 95 degree
Mounting Type : Direct Coupled inch
Others
Name
Description
File Size
Date
Size
MN6120/MN6134 Non-Spring Return DCA Product Data
application/pdf 821.06 KB
6/26/2023
821.06 KB
MN6110/MN7510 88 lb-in. DCA Specification Data
application/pdf 507.4 KB
6/26/2023
507.4 KB
MN6105/MN7505 44 lb-in. DCA Specification Data
application/pdf 507.99 KB
6/26/2023
507.99 KB
Installation Instructions
Name
Description
File Size
Date
Size
MN6105VAV Replacement Actuator Installation Instructions
application/pdf 960.46 KB
6/26/2023
960.46 KB
Data Sheet
Name
Description
File Size
Date
Size
MN7505/MN7510 Non-Spring Return DCA Product Data
application/pdf 1.04 MB
6/26/2023
1.04 MB
MN6105/MN6110 Non-Spring Return DCA Product Data
application/pdf 701.25 KB
6/26/2023
701.25 KB
Name
Description
File Size
Date
Size
Name
Description
File Size
Date
Size

MN7505A2001/U
Direct Coupled Actuator, Non-Spring Return, 44 lb-in, 5 Nm, 24 Vac, Modulating (02-10 Vdc), Floating

MN7505A2001/U
Direct Coupled Actuator, Non-Spring Return, 44 lb-in, 5 Nm, 24 Vac, Modulating (02-10 Vdc), Floating