Wall Switches
MK 3 Gang Wide Rocker Switch
MK 3 Gang Wide Rocker Switch 10 A Wide Rocker Switch with flush mounting by MK's Essentials. Comes with a screwless design and a high-gloss finish for a contemporary look and feel. Clean, simple and uncomplicated.
Overview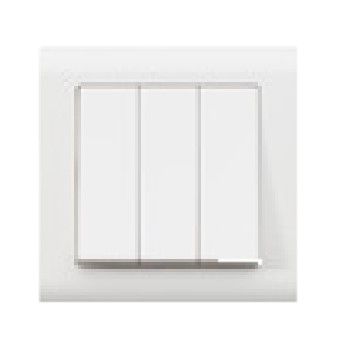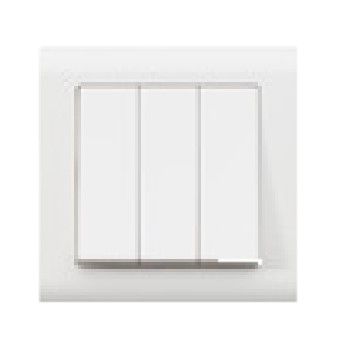 MK's Wide Rocker Switch is a 10 A Flush Mounting 3 Gang switch. Available in White and 5 more stylish colours including Matte Black, Champagne, Charcoal, Pearl and Titanium to compliment any modern interior design theme.
Essential 'fit and forget' solutions with the reliability and performance you'd expect. Backed by MK's quality. Fully compliant with British Standards, MK Essentials is tested in our independently accredited UK testing facilities, and each product undergoes 100 electrical and visual testing at the point of manufacture. Comes with a screw less frontplate for easy fitting and safety from paint splatter and abrasions.
Features & Benefits:
Backed out and Captive screws to ensure installation is both easy and convenient
Range of products to suit any modern interior
Smooth transition between device and surround prevents dust collection
Clip-on surround can be removed and clipped back on
High Gloss Finish
Certifications:
Others
Minimum Mounting Box Depth
Fixing Centers
Current Rating
Brand
High Current
Poles
Gangs
Others
Minimum Mounting Box Depth
Minimum Mounting Box Depth : 35 millimetre
Fixing Centers : 60.3 millimetre
Current Rating : 10 ampere
SKUs

MV4783CHA
Wide Rocker Switch, Flush, 10A, 3 Gang, SP, Two-Way, Charcoal

MV4783CHM
Wide Rocker Switch, Flush, 10A, 3 Gang, SP, Two-Way, Champagne

MV4783MBK
Wide Rocker Switch, Flush, 10A, 3 Gang, SP, Two-Way, Matte Black

MV4783PRL
Wide Rocker Switch, Flush, 10A, 3 Gang, SP, Two-Way, Pearl

MV4783TTA
Wide Rocker Switch, Flush, 10A, 3 Gang, SP, Two-Way, Titanium

MV4783W1CHA
Wide Rocker Switch, Flush, 10A, 3 Gang, SP, One-Way, Charcoal

MV4783W1CHM
Wide Rocker Switch, Flush, 10A, 3 Gang, SP, One-Way, Champagne

MV4783W1MBK
Wide Rocker Switch, Flush, 10A, 3 Gang, SP, One-Way, Matte Black

MV4783W1PRL
Wide Rocker Switch, Flush, 10A, 3 Gang, SP, One-Way, Pearl

MV4783W1TTA
Wide Rocker Switch, Flush, 10A, 3 Gang, SP, One-Way, Titanium

MV4783CHA
Wide Rocker Switch, Flush, 10A, 3 Gang, SP, Two-Way, Charcoal

MV4783CHM
Wide Rocker Switch, Flush, 10A, 3 Gang, SP, Two-Way, Champagne

MV4783MBK
Wide Rocker Switch, Flush, 10A, 3 Gang, SP, Two-Way, Matte Black

MV4783PRL
Wide Rocker Switch, Flush, 10A, 3 Gang, SP, Two-Way, Pearl

MV4783TTA
Wide Rocker Switch, Flush, 10A, 3 Gang, SP, Two-Way, Titanium

MV4783W1CHA
Wide Rocker Switch, Flush, 10A, 3 Gang, SP, One-Way, Charcoal

MV4783W1CHM
Wide Rocker Switch, Flush, 10A, 3 Gang, SP, One-Way, Champagne

MV4783W1MBK
Wide Rocker Switch, Flush, 10A, 3 Gang, SP, One-Way, Matte Black

MV4783W1PRL
Wide Rocker Switch, Flush, 10A, 3 Gang, SP, One-Way, Pearl

MV4783W1TTA
Wide Rocker Switch, Flush, 10A, 3 Gang, SP, One-Way, Titanium