Audio Amplifiers
DAX Series Digital Audio Amplifiers
Digital Audio Amplifier With Fiber Option Module, DVC Audio Loop, Backup Alarm, Multi-Featured Amplifiers That Provide An Economical Alternative For Applications That Do Not Require All Of The Features Of DAA2 or DAA Series Amplifiers
Overview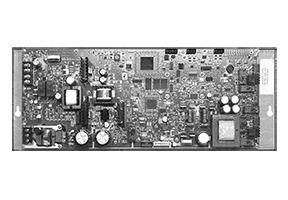 The DAX Series Amplifiers are multi-featured amplifiers that provide an economical alternative for applications that do not require all of the features of DAA2 or DAA Series Amplifiers. DAX amplifiers come in 35 watt and 50 watt models. The BDA Backup Digital Amplifier can be used with all DAX models to provide one-to-one amplifier backup.
The DAX has two wire digital audio ports to connect to wire DAL segments. Either or both ports may be converted to fiber using DS-FM, DS-SFM or DS-RFM fiber option modules. Up to 32 devices, such as DAX amplifiers, can be connected to the DAL (digital audio loop) on one DVC Digital Voice Command unit. DAX amplifiers may be mixed with DAA2 and DAA series amplifiers on the same DAL. DAX amplifiers can store backup alarm and trouble messages that can be activated in the event of loss of DAL communication.
Features & Benefits:
Supports one Class A high-level audio output, or two Class B outputs to distribute one channel of digital audio
Audio output activation via network control-by-event equations resident within the DVC
Two wire digital audio ports that can be converted to fiber using fiber option modules. Support Style 4 or 7 configurations
Isolated alarm bus input, to be used for backup activation of alarm messages when normal digital communication is lost
Programmable through VeriFire® Tools
Up to 106 seconds of backup digital message storage for use in the event of communication loss (from the VeriFire® Tools message library, or created by the installer)
Battery charger with disable function that provides battery sharing option for up to four DAXs.
Certifications:
UL Listed: S635
ULC LIsted: S635
CSFM: 7165-0028:0234 (NFS2-640/NFS-320), 7165- 0028:0224 (NFS2-3030)
Fire Dept. of New York: COA#6121 (NFS2-640/NFS-320), COA#6114 (NFS2-3030).
Others
Alarm Current
Product Type
Alarm Current : 20 milliampere
Product Type : Digital Voice Command
Data Sheet
Name
Description
File Size
Date
Size
DAX Series Data Sheet
application/pdf 247.15 KB
5/14/2023
247.15 KB
Name
Description
File Size
Date
Size
DAX Series Data Sheet
247.15 KB
5/14/2023
247.15 KB
Name
Description
File Size
Date
Size

DAX-3525
Digital Audio Amplifier: 120 VAC Digital Audio Amplifier (35 W, 25 VRMS)

DAX-3525E
Digital Audio Amplifier: 220-240 VAC Digital Audio Amplifier (35 W, 25 VRMS)

DAX-3570
Digital Audio Amplifier: 120 VAC Digital Audio Amplifier (35 W, 70 VRMS)

DAX-3570E
Digital Audio Amplifier: 220-240 VAC Digital Audio Amplifier (35 W, 70 VRMS)

DAX-5025
Digital Audio Amplifier: 120 VAC Digital Audio Amplifier (50 W, 25 VRMS)

DAX-5025E
Digital Audio Amplifier: 220-240 VAC Digital Audio Amplifier (50 W, 25 VRMS)

DAX-5070
Digital Audio Amplifier: 120 VAC Digital Audio Amplifier (50 W, 70 VRMS)

DAX-5070E
Digital Audio Amplifier: 220-240 VAC Digital Audio Amplifier (50 W, 70 VRMS)

DAX-3525
Digital Audio Amplifier: 120 VAC Digital Audio Amplifier (35 W, 25 VRMS)

DAX-3525E
Digital Audio Amplifier: 220-240 VAC Digital Audio Amplifier (35 W, 25 VRMS)

DAX-3570
Digital Audio Amplifier: 120 VAC Digital Audio Amplifier (35 W, 70 VRMS)

DAX-3570E
Digital Audio Amplifier: 220-240 VAC Digital Audio Amplifier (35 W, 70 VRMS)

DAX-5025
Digital Audio Amplifier: 120 VAC Digital Audio Amplifier (50 W, 25 VRMS)

DAX-5025E
Digital Audio Amplifier: 220-240 VAC Digital Audio Amplifier (50 W, 25 VRMS)

DAX-5070
Digital Audio Amplifier: 120 VAC Digital Audio Amplifier (50 W, 70 VRMS)

DAX-5070E
Digital Audio Amplifier: 220-240 VAC Digital Audio Amplifier (50 W, 70 VRMS)