Call Stations
Digital Call Station DCS plus
Digital Call Station DCS plus
Overview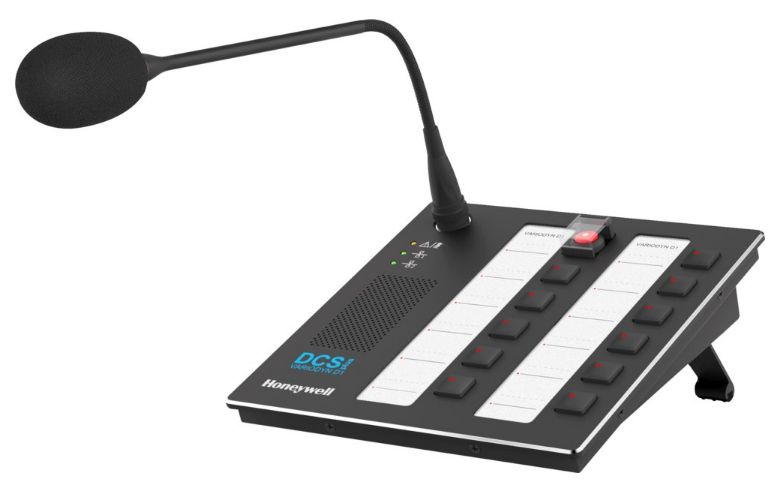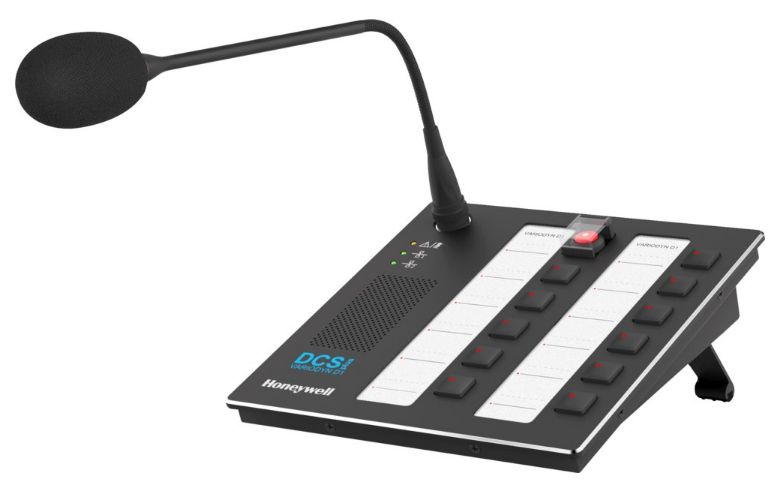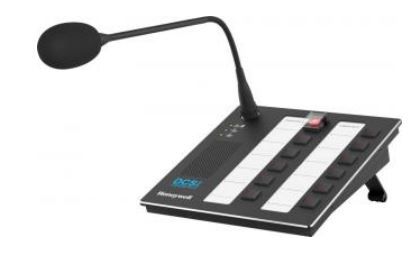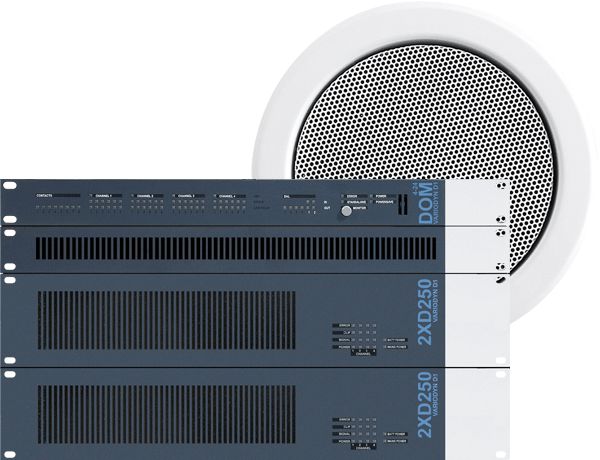 The digital call station DCS plus allow the selection of loudspeaker circuits, the transmission of voice announcements as well as various gongs and alarms. The digital call station is connectable via a standard CAT5 cable to the VARIODYN D1 control devices DOM and Comprio. All control signals, up to four simultaneous audio signals and the power supply are transmitted. This connection can be done by single or redundant cabling up to 300 m away. It can be increased to 20 Kilometers by using fiber-optic cabling.
The digital call station DCS plus can be expanded with up to six digital keyboard modules DKM plus, whereby the total number of available keys and LEDs increases to 120 per communication station.
The function of the microphone and the cable connection is permanently monitored. The DCS plus provides an additional external audio input and output, which can be used to connect audio devices such as CD players. A 3 m long CAT5 cable to connect the digital call station to a wall jack is included.
Features & Benefits:
High failure safety due to redundant transmission route
Cost-effective CAT5 cabling
Electret gooseneck microphone with cardioid pattern
Exchangeable gooseneck microphone with protection by using a specific tool to lock/unlock
Permanent monitoring of the microphone and cable
Mechanical protection against cable disconnection
Build-in loudspeaker for monitoring and for intercom operation between other paging stations
Independent additional audio input/output e.g. for audio player
12 freely configurable keys with independent programmable LEDs
Others
Minimum Audio Transmission Frequency
Maximum Audio Transmission Frequency
Brand
Maximum Operating Humidity
Audio Output Nominal Level
Audio Input Nominal Level
Operating Current Draw
Swan Neck Length
Microphone Type
AD/DA Converter
Sample Rate
Microphone

Electret Condenser

Uni-Directional

Indicators
Controls

12 Freely Configurable Key
Others
Minimum Audio Transmission Frequency

Maximum Audio Transmission Frequency

Maximum Operating Humidity

Audio Output Nominal Level

Audio Input Nominal Level

Microphone

Electret Condenser

Uni-Directional

Controls

12 Freely Configurable Key
Minimum Audio Transmission Frequency : 60 hertz
Maximum Audio Transmission Frequency : 22000 hertz
Maximum Operating Humidity : <15
Audio Output Nominal Level : 0 dB
Audio Input Nominal Level : 0 dB
Operating Current Draw : 70
Microphone Type : Gooseneck
Microphone : Electret Condenser|Uni-Directional
Controls : 12 Freely Configurable Key
Others
Name
Description
File Size
Date
Size
Digital Call Station Dcs Plus - Dkm Plus-Data Sheet
application/pdf 253.1 KB
6/1/2023
253.1 KB
Installation Instructions
Name
Description
File Size
Date
Size
D1 Voice Alarm Consultant's Specification Guide
application/pdf 1.28 MB
5/8/2023
1.28 MB
Name
Description
File Size
Date
Size
D1 Voice Alarm Consultant's Specification Guide
1.28 MB
5/8/2023
1.28 MB
Digital Call Station Dcs Plus - Dkm Plus-Data Sheet
253.1 KB
6/1/2023
253.1 KB
Name
Description
File Size
Date
Size
Digital Call Station Dcs Plus - Dkm Plus-Data Sheet
253.1 KB
6/1/2023
D1 Voice Alarm Consultant's Specification Guide
1.28 MB
5/8/2023
SKUs

583520
Digital Call Station DCS plus

583520
Digital Call Station DCS plus