Control Panels
Galaxy Dimension GD-48 control panel
Galaxy Dimension GD-48 control panel is a complete security solution, detecting intrusion and providing door control for mid to large installations. It supports a range of accessories and technologies while monitoring up to 48 zones
Overview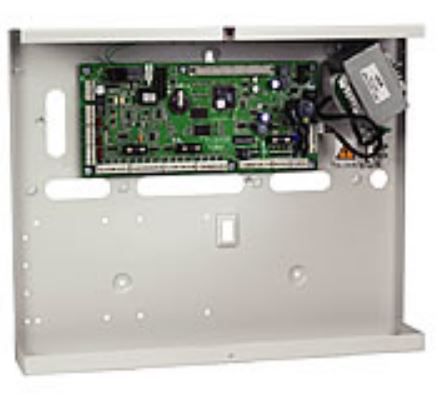 The Galaxy® Dimension series of security systems is a fully integrated intrusion and door control security solution for mid to large commercial security installations. It offers your customers a user-friendly system in a cost-effective and fully compliant Security Grade 3 package. With innovative wireless capability and user-friendly remote management options, the series provides high quality, reliable security solutions, with the flexibility to meet the needs of every commercial and industrial application.
The introduction of WIN-PAK for Galaxy end user software brings a new level of ease to managing up to five Galaxy systems simultaneously across multiple sites, from one central location. Designed to ease user management, the software manages user names, PINs, authority rights across sites, it automatically updates one or more Galaxy panels and allows users to be added and deleted in just a few mouse clicks. Improved command and control is achieved through specific Galaxy floor plans that clearly display alarms and other information which along with reporting and automation features provides users with a highly secure, powerful management tool that can be expanded to meet your security needs.
Fully managed and monitored integrated solutions. When the time is right, with WIN-PAK, the system can be expanded to include fully featured access control (NetAXS) and further expanded to a full management and monitoring system that includes multiple intruder systems, access control and CCTV surveillance all controlled by WIN-PAK.
Features & Benefits:
Events can be identified instantly using realistic floorplans with WIN-PAK for Galaxy
Door access controlled by access templates and group set status
Areas behind a door can be unset automatically via card reader
GPRS, Ethernet, PSTN, USB communications options
Groups can be set via door control readers
Evacuation control will allow doors to unlock in the event of fire
Multi-language interface
Compatible with all wiegand readers
Full bi-directional agile routing (patented technology)
Full range of wired and wireless intrusion and environmental detectors
Certifications:
EN50131-3:2009
EN50131-6:2008
PD6662:2010
HSFI-Dimension-14-EN(1015)DS-E October 2015
Others
Brand
Communication Protocols

Ethernet voltage alternating current

GPRS voltage alternating current

PSTN voltage alternating current

USB voltage alternating current
Others
Communication Protocols

Ethernet voltage alternating current

GPRS voltage alternating current

PSTN voltage alternating current

USB voltage alternating current
Brand : Honeywell Security
Communication Protocols : Ethernet voltage alternating current|GPRS voltage alternating current|PSTN voltage alternating current|USB voltage alternating current
Others
Name
Description
File Size
Date
Size
Tastiera Per Centrale Galaxy-Data Sheet
application/pdf 2.98 MB
6/1/2023
2.98 MB
Galaxy Dimension Gamma Di Centrali E Nuove Soluzioni Wireless-Data Sheet
application/pdf 514.91 KB
6/1/2023
514.91 KB
Sales Sheet
Name
Description
File Size
Date
Size
Galaxy Dimension Postcard comparison chart
application/pdf 105 KB
2/3/2022
105 KB
Brochure
Name
Description
File Size
Date
Size
Galaxy Dimension Architecture Chart
application/pdf 571.21 KB
2/17/2022
571.21 KB
Galaxy Dimension End user brochure
application/pdf 1.06 MB
5/11/2023
1.06 MB
GX Remote Control - Galaxy Mobile App
application/pdf 2.57 MB
5/11/2023
2.57 MB
Name
Description
File Size
Date
Size
Name
Description
File Size
Date
Size
SKUs

C048-D-E4-KPD
GD-48 KEYPAD KIT E4

C048-D-E4-KPD
GD-48 KEYPAD KIT E4