Enclosure Mounts & Hardware
ANN-RLY Relay Module
ANN-MBRLY mounting brackets are for use with NOTIFIER® NFW2-100 fire alarm control panel (FACP) applications.
Overview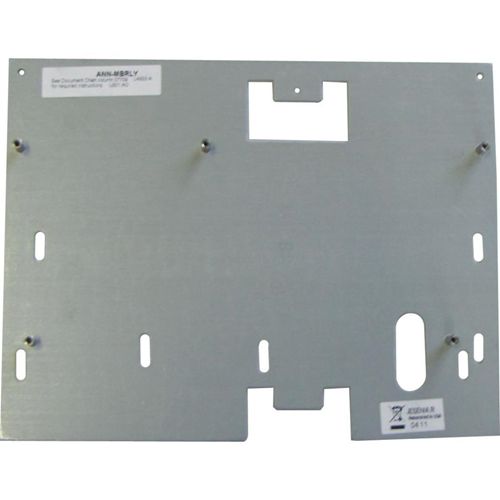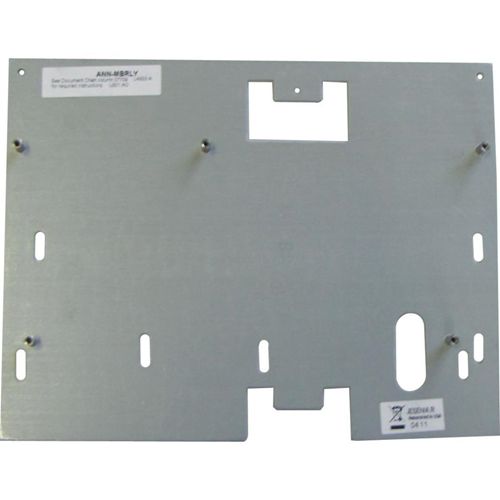 The ANN-RLY relay module provides 10 programmable Form-C relays when used with a compatible FACP (Fire Alarm Control Panel). The ANN-RLY module may be mounted inside the FACP main circuit board chassis or in the battery area of the enclosure using optional mounting bracket P/N: ANN-MBRLY.
The ANN-RLY and the FACP communicate over a two-wire serial interface employing the ANN-Bus communication format. An additional two wires are used for 24-volt DC power. A single four-conductor unshielded cable may be used for both power and data communications.
Features & Benefits:
ANN-RLY connects to the ANN-BUS terminal on the FACP and requires minimal programming.
Provides 10 programmable Form-C relays.
Ten Form-C relays can be programmed for various functions- Alarm, Trouble, Supervisory, AC Loss, Waterflow Delay, Input Zones and Silenceable Alarm.
Compatible with the MS9600LS, MS-9600UDLS, MS-9200UDLS, MS-9050UD, MS-5UD-3, MRP-2001, MRP-2002and MS-10UD-7.
May be powered by 24 VDC from the host FACP or by remote power supply
Up to eight ANN-BUS devices may be connected to the ANN-BUS of each FACP.
Certifications:
UL:S2424 FM Approved
Fire Dept. of New York: #COA 6177
CSFM: 7120-0075:0222
MEA: 333-07-E
Product Type : Mounts & Hardware
Others
Name
Description
File Size
Date
Size
Relay Option Module Enclosure Released Bulletin
application/pdf 64.33 KB
5/16/2023
64.33 KB
Lite-Configurator 2.5 Readme File
application/pdf 205.08 KB
4/25/2023
205.08 KB
Installation Instructions
Name
Description
File Size
Date
Size
ROME Series Relay Option Module Enclosure Product Installation Document
application/pdf 451.1 KB
5/8/2023
451.1 KB
Name
Description
File Size
Date
Size
Relay Option Module Enclosure Released Bulletin
64.33 KB
5/16/2023
64.33 KB
ROME Series Relay Option Module Enclosure Product Installation Document
451.1 KB
5/8/2023
451.1 KB
Lite-Configurator 2.5 Readme File
205.08 KB
4/25/2023
205.08 KB
Name
Description
File Size
Date
Size
Relay Option Module Enclosure Released Bulletin
64.33 KB
5/16/2023
Lite-Configurator 2.5 Readme File
205.08 KB
4/25/2023
ROME Series Relay Option Module Enclosure Product Installation Document
451.1 KB
5/8/2023
SKUs

ANN-MBRLY
Optional Mounting Bracket, Required For NFW2-100(C) Application

ANN-MBRLY
Optional Mounting Bracket, Required For NFW2-100(C) Application