Housings & Hardware
Intelligent Addressable Fire Alarm System DVC series CFFT-1 Dress Plate
The DP-CFFT is a dress Plate for CFFT-1, it has one open position for mounting an ACS annunciator or a BMP-1 Blank Module Plate.
Overview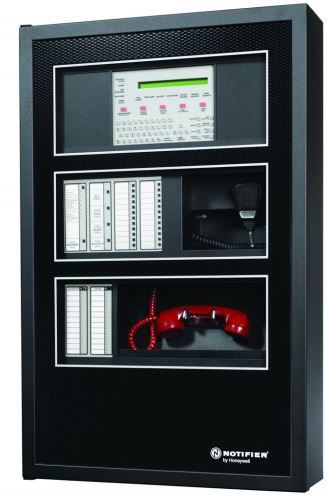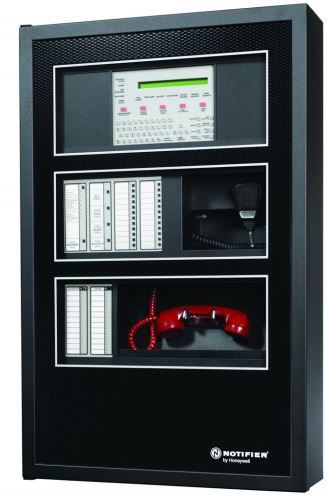 The NFS2-640 intelligent Fire Alarm Control Panel is part of the ONYX® Series of Fire Alarm Controls from NOTIFIER. In stand-alone or network configurations, ONYX Series products meet virtually every application requirement. The NFS2-640's modular design makes system planning easier. The panel can be configured with just a few devices for small building applications, or networked with many devices to protect a large campus or a high-rise office block. Simply add additional peripheral equipment to suit the application. A host of other options are available, including single- or multichannel voice; firefighter's telephone; LED, LCD, or PC-based graphic annunciators; networking; advanced detection products for challenging environments; wireless fire protection; and many additional options.
The DVC is the heart of an integrated, full-featured Audio Command Center. The DVC Digital Voice Command combines the capabilities of a powerful digital audio processor, an eventdriven audio message generator, and a router. Designed for use with Digital Audio Loop (DAL) devices such as DAA2, DAX and DAA series digital amplifiers as well as the DS-DB, each DVC supports a dedicated audio network with up to eight channels of audio, five channels of firefighter telephone communications, and control and supervision for up to 32 DAL devices. The DVC has two wire digital audio ports to connect to wire DAL segments. Either or both ports may be converted to multi-mode fiber or single-mode fiber using fiber option modules. Larger audio systems incorporating hundreds of amplifiers can be created by networking additional DVC units via NOTI
• FIRE
• NET™.
CFFT-1 chassis is to mount firefighter's telephone and one ACS annunciator in a CAB-4 row. Includes TELH-1 firefighter's handset for the DVC-EM, chassis, phone well and mounting hardware. Order DP-CFFT dress panel separately. DP-CFFT is a dress panel for CFFT-1 requires BMP-1 if no ACS annunciator is installed.
Features & Benefits:
CFFT-1 Chassis for Firefighters telephone mounts in the row directly under a DVC
DP-CFFT has one open position for mounting an ACS annunciator or a BMP-1 Blank Module Plate
Certifications:
The listings and approvals below apply to the basic NFS2-640 control panel. In some cases, certain modules may not be listed by certain approval agencies, or listing may be in process. Consult factory for latest listing status
UL/ULC Listed: S635
ULC Listed: S527-11
FM Approved
MEA: 128-07-E
Fire Dept. of New York: #6212
CSFM: 7165-0028:0243
City of Chicago
City and County of Denver
CCCF listed
Others
Brand
Product Type

Signs & Plates Degrees Celsius
Others
Product Type

Signs & Plates Degrees Celsius
Product Type : Signs & Plates Degrees Celsius
SKUs

DP-CFFT
Intelligent Addressable Fire Alarm System, DVC series, CFFT-1 dress Panel

DP-CFFT
Intelligent Addressable Fire Alarm System, DVC series, CFFT-1 dress Panel