Annunciators & Keypads
RA-1000 & RA-1000R Remote Annunciator
The RA-1000 is a remote annunciator used to operate and program IFP-series fire alarm control panels (FACP's).
Overview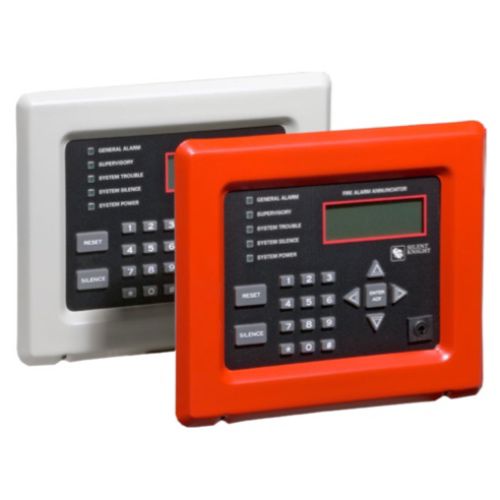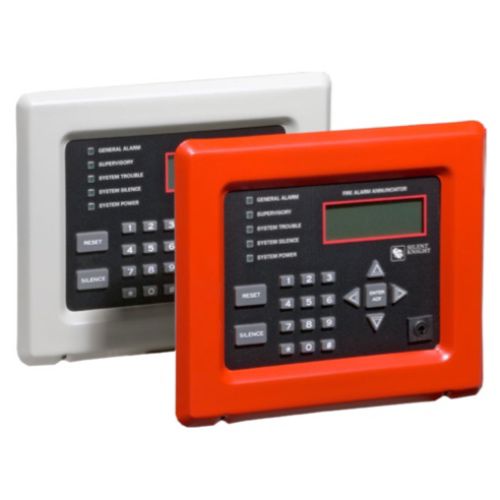 The remote annunciator connects to the control panel via the RS-485 system bus. When the system is in normal operation and has AC power, the Power LED is lit and all other LEDs are off. The other LEDs turn on as alarms, supervisories, troubles, system silenced and AC power losses occur.
The RA-1000's keypad and display match the built-in annunciator of the IFP-1000 control panel.
INSTALLATION
The RA-1000 can be surface or flush mounted. Use the optional trim ring for surface mounts. When flush mounting an electrical box is optional. If using an electrical box, use a 4S, single-gang, or double-gang box.
COMPATIBILITY
The RA-1000 is compatible with the following Farenhyt Series FACPs:
IFP-2100 / IFP-2100ECS
IFP-1000/ECS
IFP-100/ECS
IFP-300 / IFP-300ECS
IFP-75
IFP-50
Features & Benefits:
80-character backlit LCD display (4 lines with 20 characters on
each line)
Tactile/audible feedback
RS-485 SBUS interface to panel
Larger keypad buttons for system reset and silence
Initiate and end fire drills with a single key press
View current status by alarms, supervisories, or troubles
On-board piezo sounder audibly indicates alarms, troubles, and supervisories
Five Status LEDs for; alarms, supervisory, trouble, silence and AC power indications
Available in red or gray color
UL listed, complies with NFPA 72
Accepts user codes or fire fighter's key
Support for simultaneous use of multiple RA-1000s
Wiring lengths up to 6000 ft. from the FACP (depending on
wire gauge and number of devices on SBUS)
Certifications:
MEA Approved
CSFM Approved
FM Approved
UL listed
Others
Name
Description
File Size
Date
Size
RA-1000 Remote Annunciator Data Sheet
application/pdf 357.03 KB
5/14/2023
357.03 KB
RA-1000 Install Sheet
application/pdf 178.19 KB
3/13/2023
178.19 KB
Catalog
Name
Description
File Size
Date
Size
Engineering and Applications Catalog
application/pdf 131.74 KB
5/10/2023
131.74 KB
Name
Description
File Size
Date
Size
Engineering and Applications Catalog
131.74 KB
5/10/2023
131.74 KB
RA-1000 Remote Annunciator Data Sheet
357.03 KB
5/14/2023
357.03 KB
RA-1000 Install Sheet
178.19 KB
3/13/2023
178.19 KB
Name
Description
File Size
Date
Size
RA-1000 Remote Annunciator Data Sheet
357.03 KB
5/14/2023
RA-1000 Install Sheet
178.19 KB
3/13/2023
Engineering and Applications Catalog
131.74 KB
5/10/2023
SKUs

00RA-1000
Annunciator, Fire1000PT, Gray

00RA-1000R
Annunciator, Fire 1000PT, Red

00RA-1000
Annunciator, Fire1000PT, Gray

00RA-1000R
Annunciator, Fire 1000PT, Red