Monitor Modules
Multi-Mod-10 Input Module
The multi-mod ten input monitor module that provides ten (10) Style B (Class B) or five (5) Style D (Class A) supervised initiating device circuits (IDC)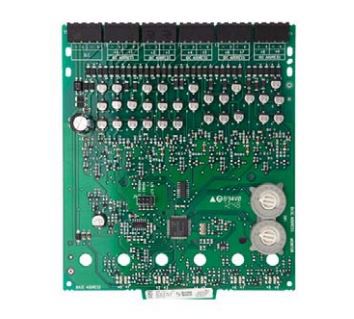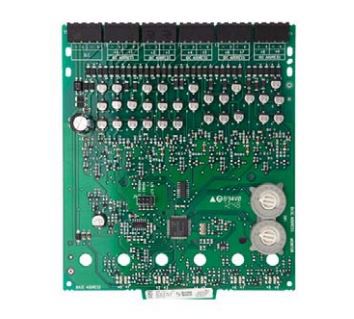 The Gamewell-FCI Velocity® Series, multi-mod ten input monitor module (MMI-10F) provides ten Style B (Class B) or five Style D (Class A) supervised initiating device circuits (IDCs) that are suitable for a wide range of monitoring applications.
The Velocity Series use a communication protocol that substantially increases the speed of communication between the sensors and certain Gamewell-FCI analog addressable fire alarm controls. These devices operate in a grouped fashion. If one of the devices in the group has a status change, the panel's microprocessor stops the group poll and concentrates on the single device. The net effect is response speed up to five times greater than earlier designs.
Features & Benefits:
Each MMI-10F monitor module provides ten (10), Style B (Class B) or five (5), Style D (Class A) individually addressable, individually programmable initiating device circuits.
Ideal for applications requiring monitoring of normally open contact devices.
Removable wiring terminal blocks allow ease of installation and servicing.
Terminal blocks can accommodate 12 to 18 AWG wire.
Flexible jumper configuration feature allowing one or two monitoring circuit addresses to be disabled.
Individual LED indicators.*
Ideal for retrofit applications.
As many as sixty (60), initiating device circuits in one (1), 12" x 24" x 6.5" cabinet.
Two (2), mounting cabinets available for two (2), (MBB-2 cabinet) to six (6), (MBB-6 cabinet) MMO-6RS.
Bicolor LEDs flash green whenever the sensor is addressed, and light steady red on alarm.
*Note: Only the red LED is operative in panels that do not operate in Velocity® mode.
Certifications:
UL: S1913
FM: 3023594
MEA FDNY: 219-02-E Vol VI
CSFM: 7300-1703:0124
ISO 9001 Certification
Others
Alarm Current
Maximum Operating Humidity
LED Current
Normal Input Current
End of Line Resistance
Maximum Operating Voltage

15 DC volt

15 - 32 DC volt

Number of inputs
Product Type
Mounting Type
LED Circuit-Status Indicators
Minimum Wire Gauge
Supported Wiring Configuration
Approved Location

FM 3023594

UL S1913

MEA FDNY: 219-02-E Vol VI

CSFM 7300-1703-0124

Module Type
Others
Maximum Operating Humidity

Maximum Operating Voltage

15 DC volt

15 - 32 DC volt

LED Circuit-Status Indicators

Supported Wiring Configuration

Approved Location

FM 3023594

UL S1913

MEA FDNY: 219-02-E Vol VI

CSFM 7300-1703-0124
Number of inputs : 10 Class B
Product Type : Monitor Module
Mounting Type : Cabinet-Mount
LED Circuit-Status Indicators : 10
Supported Wiring Configuration : Class B
Approved Location : FM 3023594|UL S1913|MEA FDNY: 219-02-E Vol VI|CSFM 7300-1703-0124
Alarm Current : 60 milliampere
Maximum Operating Humidity : 85 Percentage
LED Current : 55 milliampere
Maximum Operating Voltage : 15 DC volt|15 - 32 DC volt
Normal Input Current : 3.5 milliampere
End of Line Resistance : 47 kO
Sort
Others
Document Title
File Size
Date Added
Brochure
Document Title
File Size
Date Added
Data Sheet
Document Title
File Size
Date Added
Catalog
Document Title
File Size
Date Added
Document Title
File Size
Date Added

MMI-10F
Multi-Mod-10 Input Module, 15 to 32V DC, 3.5mA, 0 to 49C