Manual Call Point/Pull Station Parts
MPS-950B Series
MPS-950 Series Pull Stations provide manual fire reporting. The MPS-950 Series manual stations are non-coded, normally-open contacts, manual initiating alarm pull stations.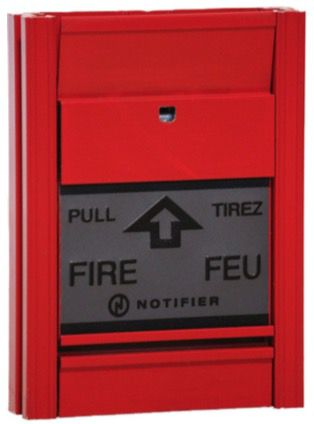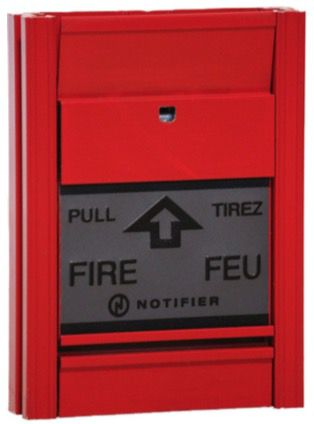 General
The Notifier MPS Conventional Series manual stations provide
reporting for the NFS-320C, NFS2-640, and NFS2-3030 fire
alarm control panels; NFW-MPS series manual stations provide
reporting for FireWarden series panels. These high quality, die
cast metal manual stations include screw terminal connections,
and integrated break-glass rod. The alarm contact for the manual station is rated for 1A, 24VDC. The contacts are gold plated
to avoid the risk of corrosion.
The MPS Series manual stations are available as single or twostage for conventional systems. Models N-MPS-SC/SCC are
single-stage manual stations. Models N-MPS-2C/2CC (twostage models) are similar to the N-MPS-SC (single-stage models) except they contain an additional 2nd Stage normally open
key-switch. A 2nd stage key is supplied with each unit to activate
the 2nd Stage key-switch.
All models are available with screw terminal connectors and a
hex key for reset. Two-stage models also include a key-switch
and 2 keys. All conventional models mount on a single gang
box or on a single gang box with a plaster ring.
For surface mounting, use Notifier surface back-box MPS-BB
with all conventional manual stations.
Operation
The Notifier MPS Series manual stations are operated by pulling
the handle on the front of the station. To reset the manual station, open the manual station with the hex key (provided) and
place the handle in the normal upright position. Replace the
break-glass rod, and close the manual station front cover.
The N-MPS two-stage models include a key switch which is
located above the handle. Operation of the key-switch, when
connected to a separate alarm initiating circuit, will activate the
second stage of a two-stage alarm signaling system.
To reset the second stage activation, return the key-switch to the
original position before resetting the fire alarm control panel.
Models provided with an ancillary contact for mag-lock release,
will simultaneously release the locally connected mag-lock upon
pulling the handle on the front of the manual station.
Features & Benefits:
Features
Constructed of high quality die-cast metal
Highly visible red enamel finish
English and French lettering
Single action pull lever design
Optional dual action lever kit
Integrated break-glass
Hex key resettable
Screw terminal connectors
Optional ancillary contact for local mag-lock release
Single-stage and two-stage models
Key-switch activation for second stage
Surface or semi-flush mounting
All conventional models mount on a standard single-gang
electrical box or a surface metal back-box
Certifications:
Others
Name
Description
File Size
Date
Size
MPS-950B Series Data Sheet
application/pdf 393.35 KB
2/17/2022
393.35 KB
Name
Description
File Size
Date
Size
MPS-950B Series Data Sheet
393.35 KB
2/17/2022
393.35 KB

MPS-950B
Single Stage Pull Station

MPS-950KB-20C
2 Stage Pull Station c/w 1 N/C extra cont for mag lock release

MPS-950B-20C
Single Stage Pull Station c/w 1 N/C extra contact for mag lock release

MPS-DALK
Pull station guard w. double action handle

MPS-950KB
Two Stage Pull Station

GL-004K
Glass rods for MPS-950 series (pk of 10)