Converters
Media Converter
The Media Converters are equipped with a multiple interface circuit that can handle RS-232 or RS-422/485 serial interfaces and multimode or single-mode fiber.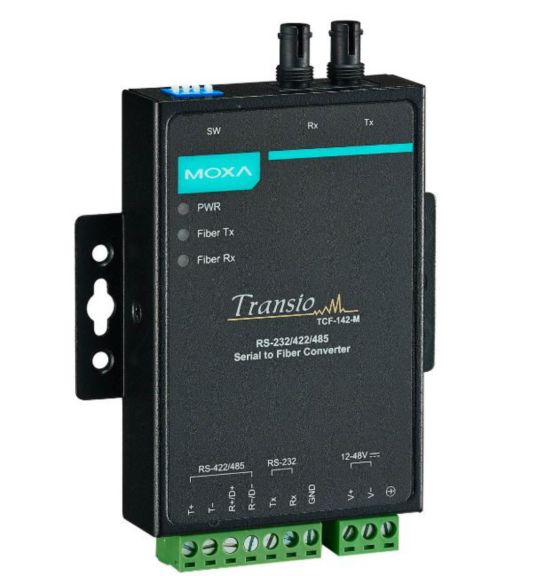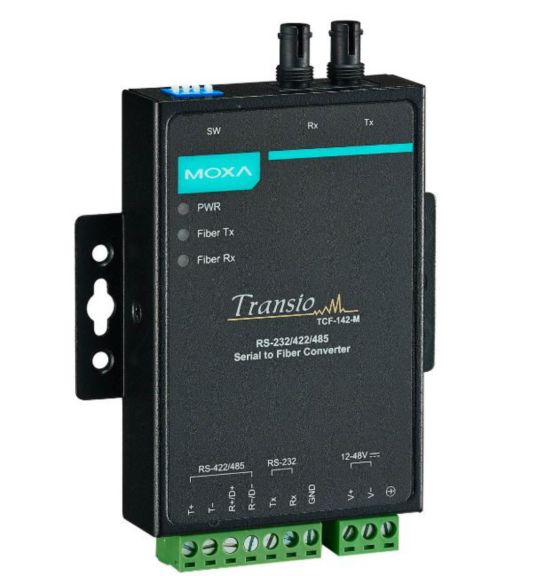 The Media Converters can automatically detect the serial baudrate so even if a device's baudrate is changed, the signal will still be transmitted through the media converter without any data loss. ADDC® senses and controls RS485 data direction automatically.
The converters can be used to connect serial devices to a fiber ring. Once the ring is set up, the DIP switch is used to configure the converters for ring mode. The converter is used to extend serial transmission up to 5 km (with multi-mode fiber) or up to 40 km (with single-mode fiber).
Features & Benefits:
Ring and point-to-point transmission
Extends RS-232/422/485 transmission up to 40 km with single-mode (TCF142-S) or 5 km with multi-mode (TCF-142-M)
Decreases signal interference
Protects against electrical interference and chemical corrosion
Supports baudrates up to 921.6 kbps
Wide-temperature models available for -40 to 75°C environments
Certifications:
Others
Maximum Input Voltage

48 voltage direct current

Minimum Input Voltage

12 voltage direct current

Minimum Storage Temperature

-40 degree Fahrenheit

-40 degree Celsius

Maximum Storage Temperature

185 degree Fahrenheit

85 degree Celsius

Brand

Honeywell Industrial Fire

Honeywell

Circuit Input Type
Communications Protocol
Maximum Operating Humidity

95 Non-Condensing Percentage
Others
Maximum Input Voltage

48 voltage direct current

Minimum Input Voltage

12 voltage direct current

Minimum Storage Temperature

-40 degree Fahrenheit

-40 degree Celsius

Maximum Storage Temperature

185 degree Fahrenheit

85 degree Celsius

Brand

Honeywell Industrial Fire

Honeywell

Maximum Operating Humidity

95 Non-Condensing Percentage
Brand : Honeywell Industrial Fire|Honeywell
Circuit Input Type : Fiber-Optic
Communications Protocol : RS-232|RS-485|RS-422
Maximum Operating Humidity : 95 Non-Condensing Percentage
Minimum Storage Temperature : -40 degree Fahrenheit|-40 degree Celsius
Maximum Input Voltage : 48 voltage direct current
Maximum Storage Temperature : 185 degree Fahrenheit|85 degree Celsius
Minimum Input Voltage : 12 voltage direct current
Sort
Document Title
File Size
Date Added

TCF-142-M-ST
Media Converter, Wall Mounting, Multi-Mode ST, 0 to 60C

TCF-142-M-SC-T
Media Converter: Wall Mounting: Multi-Mode SC: -40 to 75C

TCF-142-M-ST-T
Media Converter: Wall Mounting: Multi-Mode ST: -40 to 75C