USB Charging Sockets
EDGE USB Integrated SwitchSocket
MK's USB Integrated two gang switch sockets with smart dual port USB charger, Dynamic Device Recognition (DDR) and protection against short circuit and overload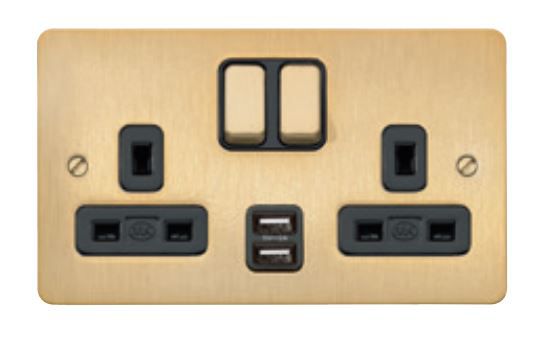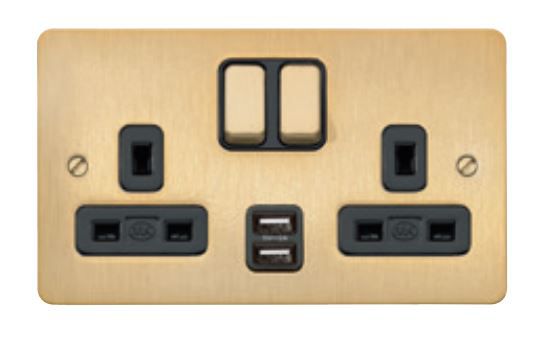 MK's USB Integrated two gang switchsockets with smart dual port USB charger, Dynamic Device Recognition (DDR) and protection against short circuit and overload features are perfect for homes, offices, airports, and the hospitality and education sectors. Users can charge most smart devices – optimally and safely without the need for additional plug-in chargers or socket adaptors, enhancing their user experience. This solution eliminates the need for bulky adaptors, making life so much easier when travelling, working or simply on-the-go, as well as offering protection from well documented, potential dangers such as house fires caused by using uncertified USB charging devices.
Features & Benefits:
Slim, 4mm metal frontplate
13 high quality finishes
Screwless, aesthetic finish
Choice of black or white inserts
3-Pin Child Resistant Shutter System
Dynamic Device Recognition
Vertically Stacked Central USB Ports
Certifications:
BS 1363-2 and IEC BS1363-2 (2016)
BS 5733
CE
IEC 61000-6-1 and IEC 61000-6-3

K14344MBBB
SwitchSocket, 2 Port USB, 13A, 2 Gang, DP, Metallic Brushed Bronze With Black Inserts.

K14344MBKB
2G DP S/S with 2-port USB Charger 2A/5V