Emergency Voice / Alarm Communications System
ECC-50/100(E) Emergency Command Center
ECC-50/100(E) emergency command centers are multipurpose emergency voice evacuation panels for fire applications, mass notification applications, or both.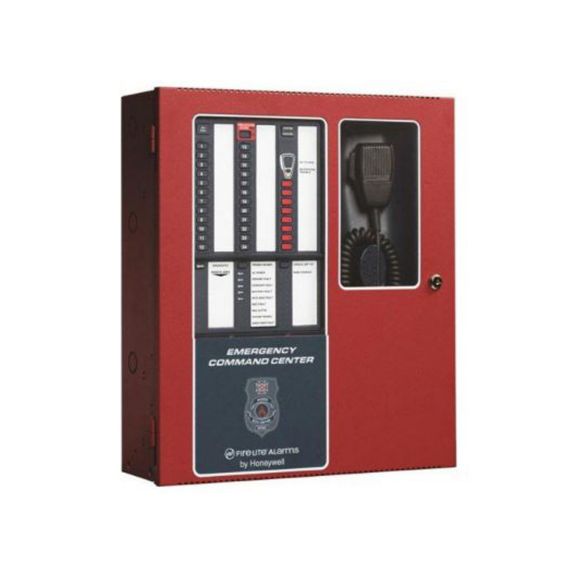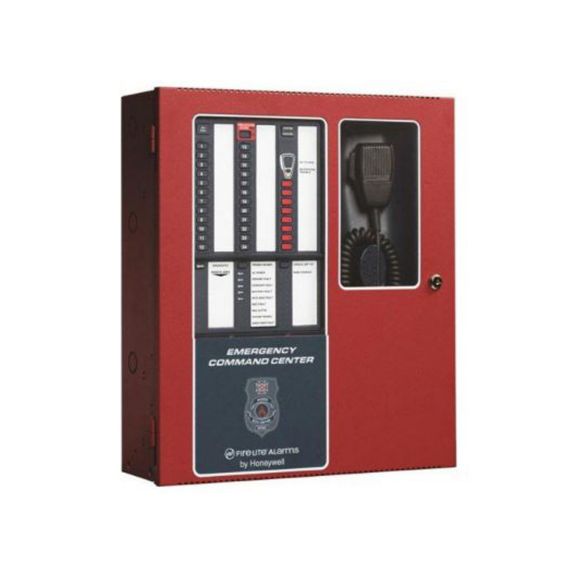 ECC-50/100(E) emergency command centers are multipurpose emergency voice evacuation panels&nbsp-for fire and mass notification applications. The primary operating consoles (POCs) deliver 50 or 100W of audio power for distribution to up to eight speaker circuits. Command centers come standard with a single speaker circuit and a built-in 25 Vrms, 50W amplifier. A secondary 50W amplifier can be added for single speaker circuit backup or to increase system capacity to two speaker circuits and an additional 50W of audio power. An optional ECC-CE6 module added to the command centers will upgrade the system to a maximum of eight speaker circuit outputs.
All speaker output circuits can be wired in either Style Y (Class B) or Style Z (Class A) configuration. Command centers have&nbsp-14 field-programmable messages (up to 60 seconds each), built-in field configurable pre- and post-announce tone generators and a fully supervised notification appliance circuit (NAC) with 2A of synchronized NAC power. The ECC-50/100(E) includes three built-in Form C relay contacts, a NAC follower input for triggering the onboard NAC circuit, and 500 mA special application power. A built-in power supply with switch mode technology delivers operational power to the panel and an onboard battery charger supports charging up to 26AH batteries.
For fire protection applications, the ECC-50/100(E) is an adjunct (slave) to any UL Listed FACP, providing reverse polarity or contact closure- can be used as a standalone unit for non-fire applications. For seamless integration between fire and mass notification, the ECC-50/100(E) can be directly activated via serial communication between the ES-200X, MS-9600(UD)LS, or MS-9200UDLS. Activation of the ECC-50/100(E) via other FACPs uses the eight onboard command input circuits (CMDs). Two of the eight CMD circuits can be individually field programmed for activation by an FACP notification appliance circuit reverse polarity and all eight can be activated by a contact closure. In addition, the ECC50/100(E) can be activated from a building's private branch exchange (PBX) with the integral night ring feature.
All programming is done by using a simple, built-in programming utility accessed from any laptop. For added flexibility, the ECC-50/100(E) supports both 25 and 70.7 Vrms speaker output operation. By adding a 70V transformer conversion module or an additional 70.7V secondary amplifier, the system supports 70.7V speaker devices. The ECC-50/100(E) can expand in order to accommodate larger or more complex installations. To add more control and increase system capacity, any combination of up to eight external remote consoles and up to eight distributed audio amplifiers can be connected on the external data bus and audio riser data bus to create a fully integrated command center. A fully-loaded system supports up to 1,100W of total audio power and up to 24 speaker circuit outputs.
Features &amp- Benefits:
Modular design for system flexibility and easy expansion
Removable terminal blocks for ease of servicing and module replacement
Certified for seismic applications when used with the appropriate seismic mounting kit
Integral supervised microphone
Microphone time-out feature which reverts back to prerecorded message if emergency page exceeds the programmed time
Field-selectable message and custom message recording capability using the local microphone, a USB port, or an external audio input- external audio input can be used for background music
Integral tone generators field-selectable for multiple tone types
Integral Dress Panel
Optional TR-CE semi-flush trim ring
System status LEDs (refer to "Controls and Indicators" in product manual LS10001-000FL-E)
Certifications:
UL/ULC Listed: S2424
CSFM: 6911-0075:0226
NYC Fire Department Certificate of Approval: #6152
FM Approved
UL 864
UL 2572
UFC 4-021-01
IBC 2012, IBC 2009, IBC 2006, IBC 2003, IBC 2000 (Seismic)
CBC 2007 (Seismic)
Sort
Others
Document Title
File Size
Date Added
Asset Language
Content Type
Sales Sheet
Document Title
File Size
Date Added
Asset Language
Content Type
Brochure
Document Title
File Size
Date Added
Asset Language
Content Type
Installation Instructions
Document Title
File Size
Date Added
Asset Language
Content Type
Manuals and Guides
Document Title
File Size
Date Added
Asset Language
Content Type
Data Sheet
Document Title
File Size
Date Added
Asset Language
Content Type
Document Title
File Size
Date Added
Asset Language
Content Type

ECC-50/100
Multipurpose Emergency Voice Evacuation Panel: Single Speaker Circuit: 25Vrms 50W Amplifier: 120V AC: 60 Hz: 3.5 amps

ECC-50/100E
Multipurpose Emergency Voice Evacuation Panel: Single Speaker Circuit: 25Vrms 50W Amplifier: 240V AC: 50 Hz: 2.0 amps