Smoke Detectors
2012JA Photoelectric Smoke Detector
2012JA smoke detectors are designed to respond to a broad range of fires while providing maximum stability. They feature low voltage wiring making them ideal for applications such as homes, apartment buildings, and nursing homes.
Overview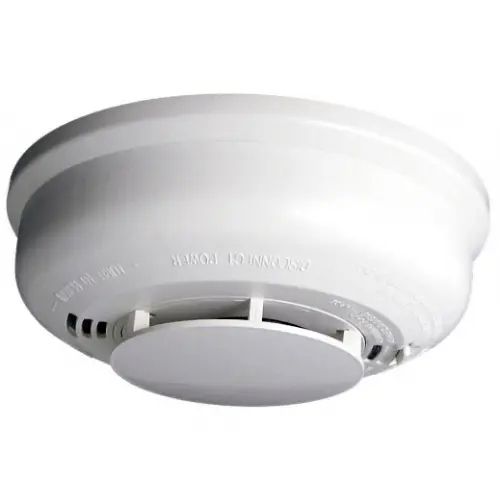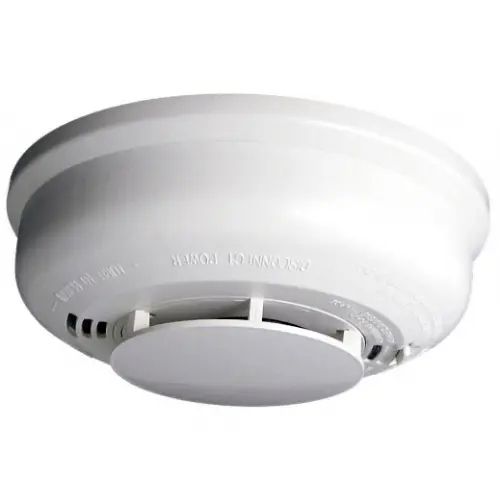 2012JA smoke alarms are photoelectronic detectors designed for applications where low voltage Class 2 wiring may be used. They are non-latching and offer an 85 dB alarm horn and Form C alarm contact. Their external pushbuttons allow for testing of the alarm function as well as silencing. Up to 12 units can be interconnected so that if one unit alarms, all units alarm. Form C alarm relays with an eight second delay are included for monitoring or controlling external functions. Interconnected units can be wired so that the alarm relays activate on any alarm or individually. A visible LED indicator flashes once every 40 seconds in standby and rapidly during an alarm when smoke is detected. On interconnected units, only the smoke alarm that detects smoke will flash, thus providing identification of the alarm source.
2012JA smoke alarms offer low voltage operations and have a tamper-proof feature. Screw terminals and a mounting bracket are provided for easy installation. The 2012JA contains a microcontroller which constantly monitors the integrity of the smoke chamber and provides a trouble signal if the chamber tests fails.
Features & Benefits:
85 dB electronic horn with a temporal three pattern
Form C relay contact for security panel monitoring
Interconnectable up to 12 units
Visual alarm and power indicator
Built-in eight second delay on relay activation
Built-in test/silence switch
Twist-on mounting bracket with tamper option for easy installation
Dirt-Alert feature helps prevent nuisance alarms by detecting dirt in smoke chamber
Removable chamber for easy cleaning
Microcontroller monitors for smoke chamber faults
Certifications:
Others
Minimum Operating Ambient Temperature
Minimum Operating Humidity
Maximum Operating Humidity
Maximum Operating Voltage
Maximum Standby Current
Maximum Alarm Current
Overall Width
Overall Depth
Brand
Conventional or Addressable
Detection Sensor Type
Regulatory Approvals
Detector Type
Product Type
Others
Minimum Operating Ambient Temperature

Minimum Operating Humidity

Maximum Operating Humidity

Maximum Operating Voltage

Conventional or Addressable
Minimum Operating Ambient Temperature : 0 degree Celsius
Minimum Operating Humidity : 5 Percentage
Maximum Operating Humidity : 93 Percentage
Maximum Operating Voltage : 24
Maximum Standby Current : 60
Maximum Alarm Current : 65 milliampere
Overall Width : 55 millimetre
Overall Depth : 135 millimetre
Conventional or Addressable : Conventional
Detection Sensor Type : Photoelectric
Regulatory Approvals : AS3786:2015
Detector Type : Photoelectric Smoke
Product Type : Smoke Detector
Sort
Brochure
Installation Instructions
Installation Manual
0.59 MB
Data Sheet
Installation Manual
0.59 MB
Part Number
Description
Add to list
2012J
Photo smoke alarm 4-wire, 12V no battery back-up

2012J
Photo smoke alarm 4-wire, 12V no battery back-up