Fire Alarm Control Panels
95 Series Intelligent Loop Interface
The E3 Series® from Gamewell-FCI is the most sophisticated, yet customizable and cost-effective fire safety system available.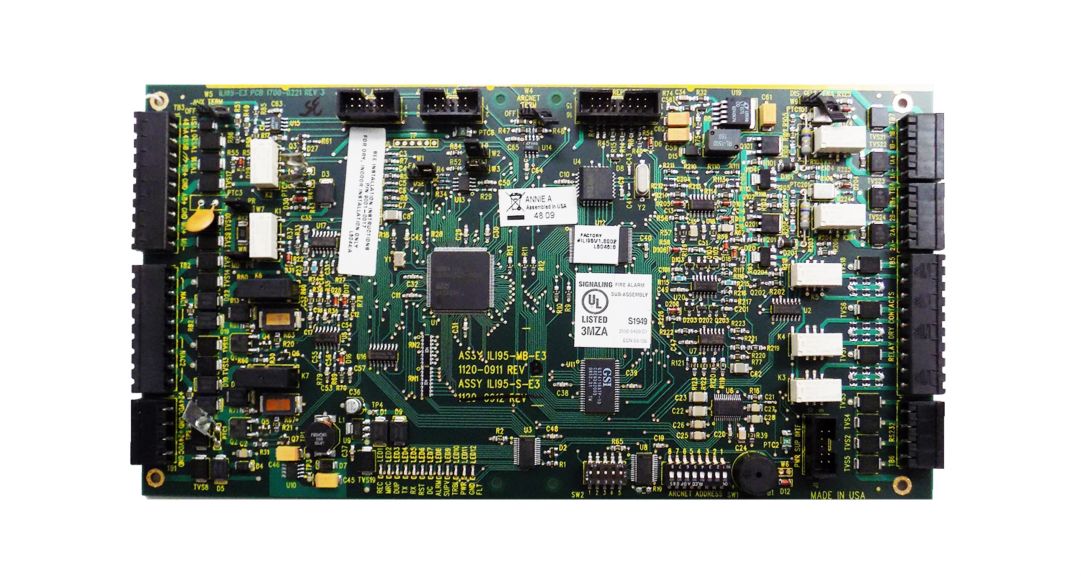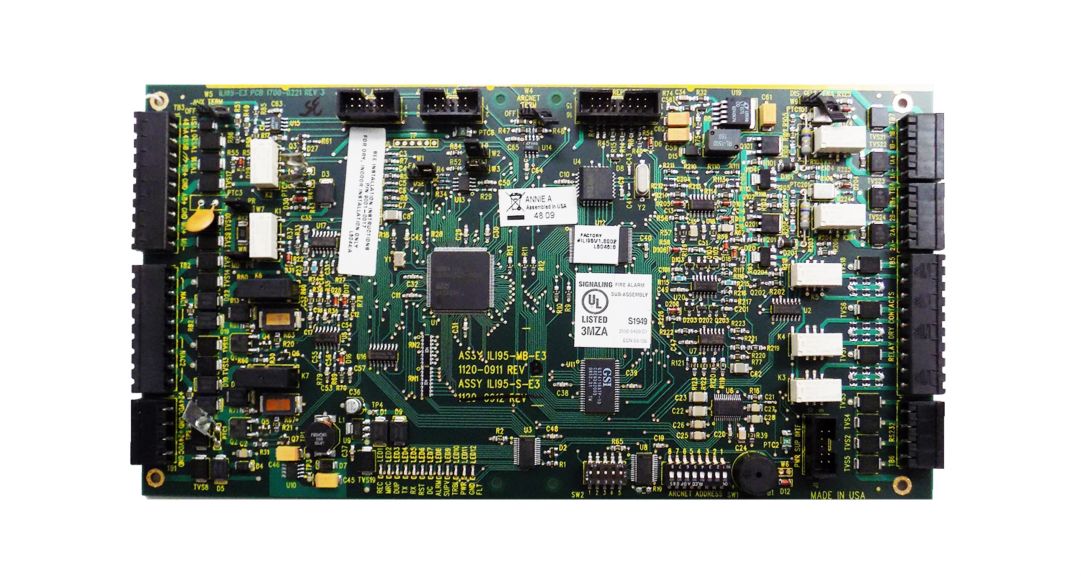 The E3 Series® Expandable Emergency Evacuation System by Gamewell-FCI is in the forefront of the latest generation of fire alarm control panels. The E3 Series System is designed for use in virtually any application because it features a modular assembly that is configured per project requirements. Employing the new high-speed Velocity® sensors, the E3 Series provides previously unattainable polling speed and response together with the flexibility demanded by
today's emergency evacuation systems. In addition to the sensors' high-speed polling rate, the Velocity Series of sensors feature bipolar LEDs that flash green for normal polling, and light red steadily to indicate an alarm.
Features & Benefits:
3 to 244 SLCs each supporting 159 sensors, 159 modules and 159 addressable sounder bases (In Styles 4, 6, or 7*)
625K baud ARCNET communications using wire, fiber, or mixed configurations for installation flexibility
High-speed 32 bit processor and 8100 event history log
Advanced Boolean logic-based programming such as AND, OR, NOT, time delay and calendar functions configurable via computer programming
Supports up to (16), ASM-16 addressable switch or ANU-48 LED driver modules per ILI-MB-E3/ILI95-MB-E3
Two Class A, Style Z or Class B, Style Y, notification appliance circuits rated at 2.0 amps. per circuit
Integral city connection
Flexible 115,200 baud high speed RS-232 interface
40 character user-defined text per device
15 LCD-SLP displays/annunciators, 6 LCD-E3 displays/annunciators, 5 LCD-7100/RAN-7100 remote LED annunciators per ILI-MB-E3/ILI95-MB-E3
UL Listed for smoke control (dedicated and non-dedicated) when properly configured
FM/UL Listed for Pre-action/Deluge use
Certifications:
UL: S1869, 2572 for Mass Notification
FM: 3025415
MEA FDNY: 6175, COA #: 231-06-E
CSFM: 7165-1703:0125
City of Chicago: Class 1, Class 2, High Rise
City of Denver Approved
The VMC Group, Reference Certificate of
Compliance: VMA-45894-02C (Revision 1)
ISO 9001 Certification
Others
Minimum Operating Humidity
Networkable or Standalone
Others
Minimum Operating Humidity

Networkable or Standalone
Networkable or Standalone : Networkable
Minimum Operating Humidity : 0 Percentage
Sort
Others
Document Title
File Size
Date Added
Asset Language
Content Type
Sales Sheet
Document Title
File Size
Date Added
Asset Language
Content Type
Engineering Specifications
Document Title
File Size
Date Added
Asset Language
Content Type
Manuals and Guides
Document Title
File Size
Date Added
Asset Language
Content Type
Data Sheet
Document Title
File Size
Date Added
Asset Language
Content Type
Catalog
Document Title
File Size
Date Added
Asset Language
Content Type
Document Title
File Size
Date Added
Asset Language
Content Type

ILI95-MB-E3
Intelligent Loop Interface-Main Board

ILI95-S-E3
Intelligent Loop Interface-Expansion Board