Aspirating Smoke Detector
Intelligent VESDA-E VEU Honeywell FlashScan SLC
The Intelligent VEU Series of aspirating smoke detectors are the premium detector of the VESDA-E range.
Overview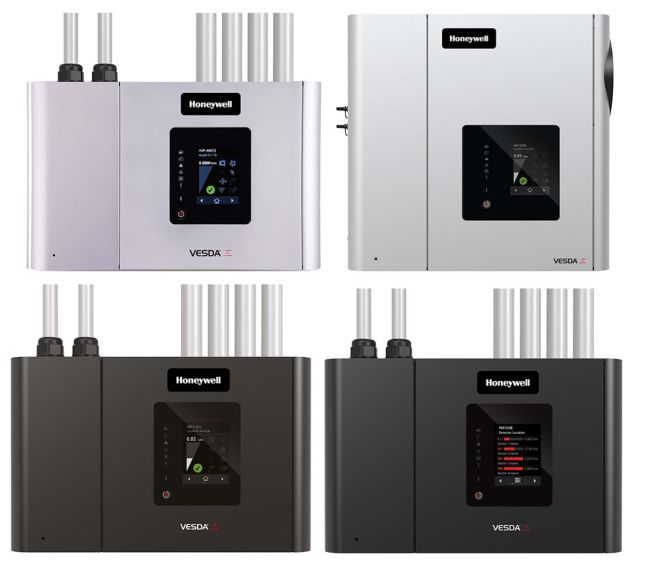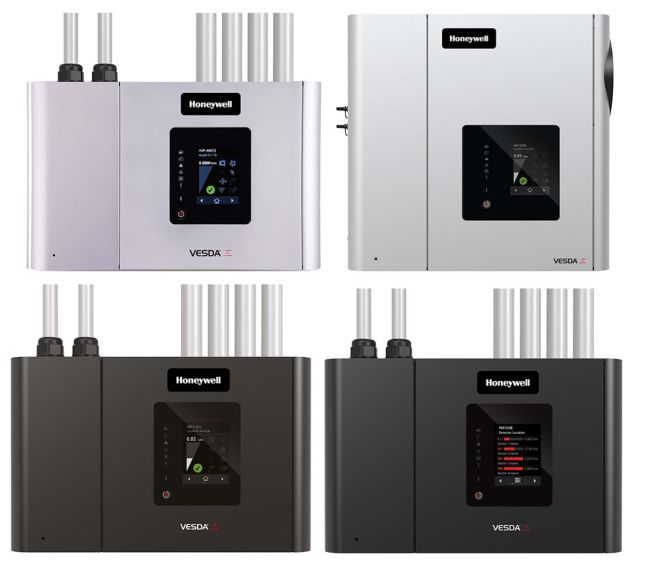 The VEU Series of aspirating smoke detectors are the premium detector of the VESDA-E range. An Ultra-wide sensitivity range; 15 times greater than VESDA VLP, and provision for more sampling holes provide an increased coverage in high airflow applications by at least 40%. Considerably longer linear pipe runs and extended branched pipe network configurations cater perfectly to applications with higher ceilings providing an increased coverage by up to 80% whilst allowing convenient detector mounting for ease of service and maintenance. A range of revolutionary new features provide unsurpassed detection performance, flexibility, field programmability, connectivity and reduced total cost of ownership.
Flair is the revolutionary new detection chamber that forms the core of the Intelligent VESDA-E VEU Series, providing better detection, fewer nuisance alarms, higher stability, increased longevity and particle characterization. Direct imaging of the sampled particles using a CMOS imager combined with multiple photo-diodes allow vastly more data about the observed particles. The Intelligent VESDA-E VEU Series features a robust IP40-rated enclosure and is equipped with a powerful aspirator that provides a total pipe length of 800 m (2,624 ft).
Features & Benefits:
Flair detection technology delivers reliable very early warning in a wide range of environments with minimal nuisance alarms.
Multistage filtration and optical protection with clean air barriers ensures lifetime detection performance.
Four alarm levels and an ultra-wide sensitivity range deliver optimum protection for the widest range of applications.
Intuitive LCD icon display provides instant status information.
Flow fault thresholds accommodate varying airflow conditions.
Smart on-board filter retains dust count and remaining filter life for predictable maintenance.
Extensive event log (20,000 events) for event analysis and system diagnostics.
AutoLearn™ smoke for reliable and rapid commissioning.
Referencing to accommodate external environmental conditions to minimize nuisance alarms.
Remote monitoring with iVESDA for system review and proactive maintenance.
Ethernet for connectivity with Xtralis® software for configuration, secondary monitoring and maintenance.
Industry first. Aspirating detector secondary monitoring and maintenance via WiFi.
USB for PC configuration, and firmware upgrade using a memory stick.
Two GPIs (monitored/unmonitored) with fix mapping to detector Reset function
Field replaceable sub-assemblies enable faster service and maximum uptime.
Certifications:
Sort
Others
Brochure
Data Sheet
Part Number
Description
Add to list
VEU-A00-HON
VESDA-E VEU w LEDs - HONEYWELL (XLS)
VEU-A10-HON
VESDA-E VEU w 3.5" Dis - HONEYWELL (XLS)

VEU-A00-HON
VESDA-E VEU w LEDs - HONEYWELL (XLS)

VEU-A10-HON
VESDA-E VEU w 3.5" Dis - HONEYWELL (XLS)