Fire Alarm Control Panels
eBus Delta Compact Apollo
Delta Compact Apollo is a modular, microprocessor based fire control for Apollo detectors designed mainly for use as an independent system. The compact cabinet contains a front panels with power supply, batteries and operating instructions.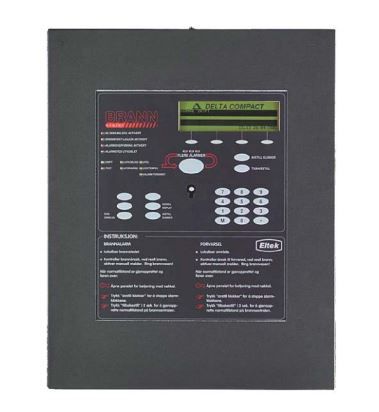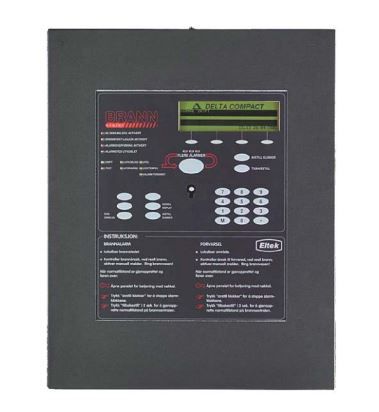 Delta Compact Apollo and Aces are 100% compatible in a network. The control panel can also be used for connection to compatible networks, together with existing Delta DA, Delta OP modules and ANX95 control panels (slightly reduced functionality on ANX 95, due to older central). The exchange is available in 3 editions, 2 loops stand alone, 2 loops for network and 4 loops for networks.
Features & Benefits:
Elegant 2 and 4 loops fire control panel with modern design
All Apollo detectors
Compatible with ANX95, Delta at central level
Configuration is easily done from connected PC. Advanced download of configuration parameters. Possibility of controls and detector sum directly on the detector loops
Certifications:
EN 54, Part 2/4 Certified
CE Approved
NS-EN54 Approved.

251070
Delta Compact Apollo, 4 Loop, With eBus, 230V AC, 24V DC, IP42, -5 to +50C, 508x380x125mm

251070.21
Delta Compact Apollo, 2 Loop, With eBus, 230V AC, 24V DC, IP42, -5 to +50C, 508x380x125mm

251077.4
Delta Compact Apollo, 4 Loop, With eBus, 230V AC, 24V DC, IP42, -5 to +50C, 508x380x125mm, Finnish

251075.21
Delta Compact Apollo, 2 Loop, With eBus, 230V AC, 24V DC, IP42, -5 to +50C, 508x380x125mm, Dansk

251074.4
Delta Compact Apollo, 4 Loop, With eBus, 230V AC, 24V DC, IP42, -5 to +50C, 508x380x125mm, Swedish

251078.4
Delta Compact Apollo, 4 Loop, With eBus, 230V AC, 24V DC, IP42, -5 to +50C, 508x380x125mm, English

251077.21
Delta Compact Apollo, 2 Loop, With eBus, 230V AC, 24V DC, IP42, -5 to +50C, 508x380x125mm, Finnish

251074.2
Delta Compact Apollo, 2 Loop, Without eBus, 230V AC, 24V DC, IP42, -5 to +50C, 508x380x125mm, Swedish

251070.2
Delta Compact Apollo, 2 Loop, Without eBus, 230V AC, 24V DC, IP42, -5 to +50C, 508x380x125mm