Ball Valves
VB6 Series 6-Way Control Ball Valve and Actuator
VB6 series 6-Way valves are equal percentage characterized control valves with modulating actuators. A single assembly provides positive shut-off, changeover, and controls both heating and cooling of single coil applications in four pipe systems.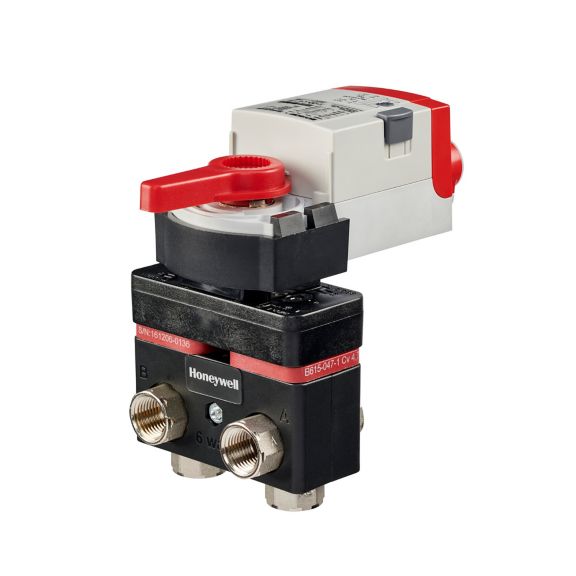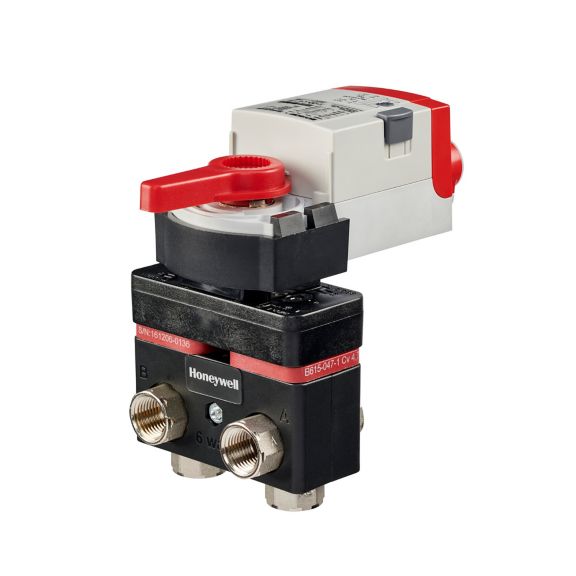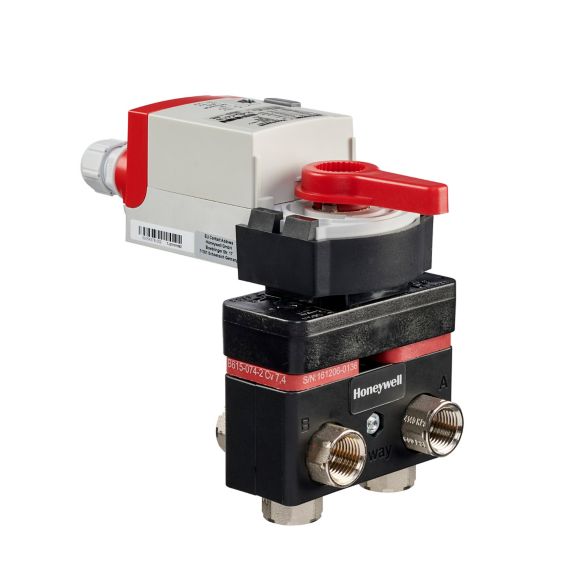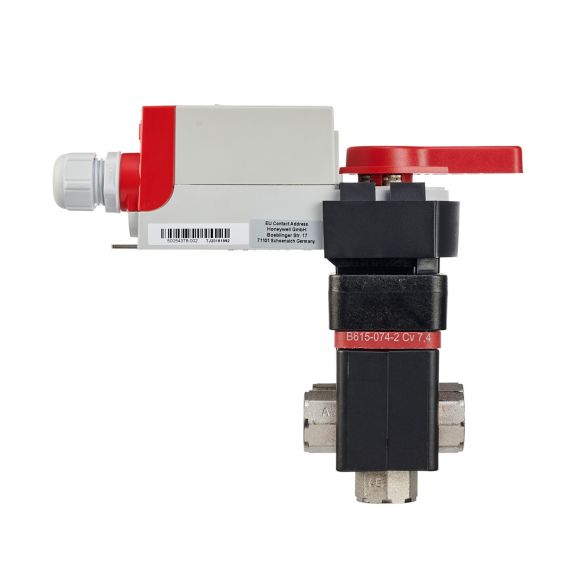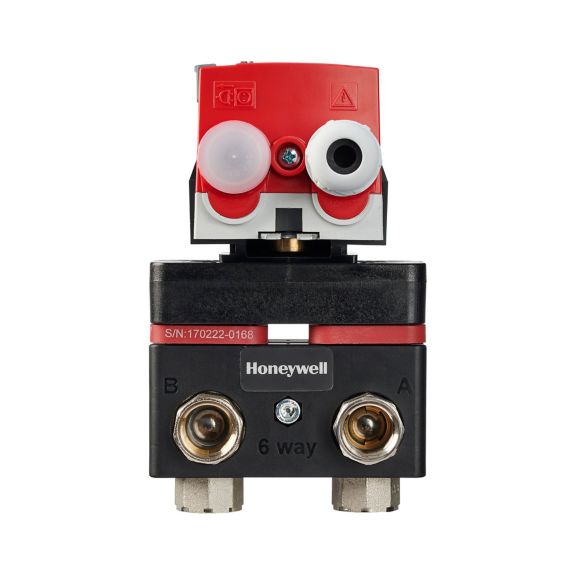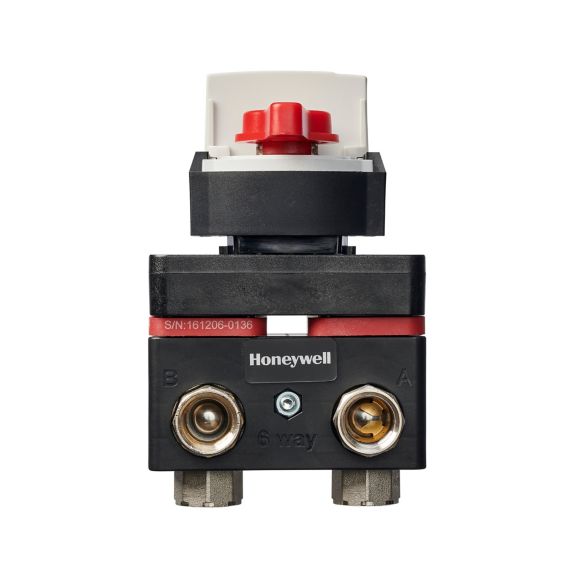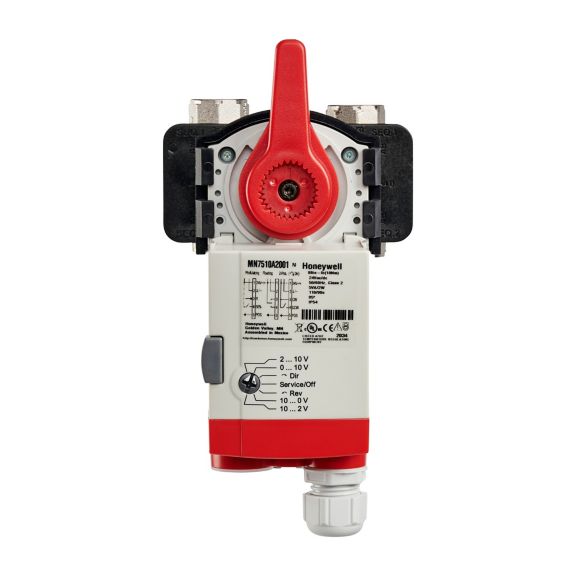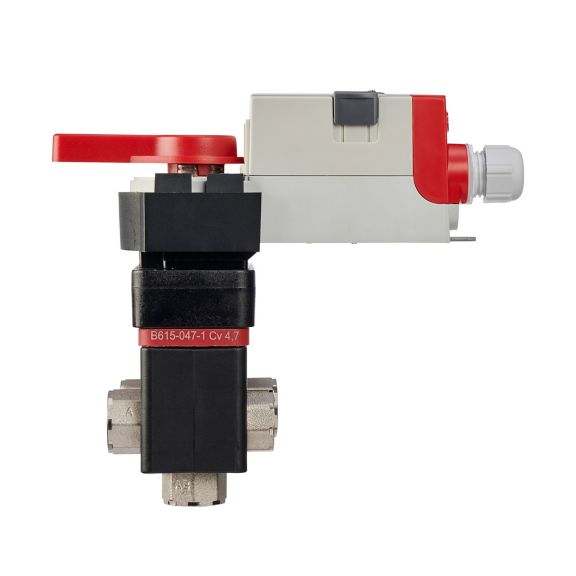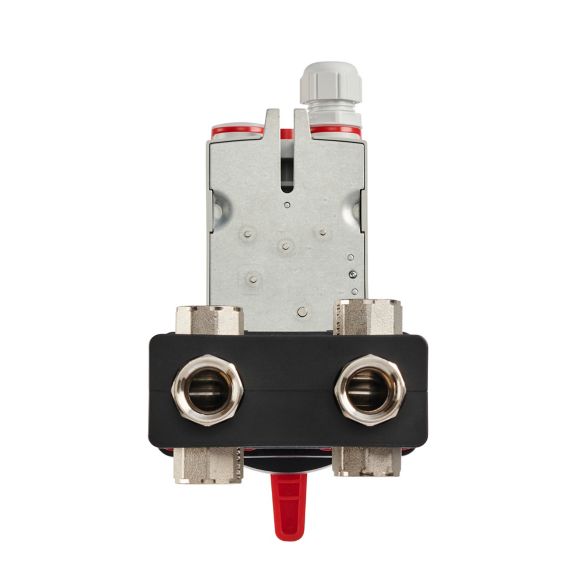 VB6 ball valves are designed to serve as both change-over valves and control valves in one, using only one modulating actuator to achieve both functions, connecting a single 2-pipe heat exchanger to 4-pipe systems. The simultaneous rotation of two balls, mechanically connected to one stem, opens supply and return ports on one control sequence (e.g. cooling), while keeping the second sequence closed (heating). This control scheme avoids mixing between flows and cannot be overridden. They reduce wiring and eliminate the need of a change over valve, while enabling the use of a single coil for heating and cooling. They are ideal for chilled beam units, fan coil units, small air handling coils, bypass piping, and other applications featuring a single heat exchanger in four-pipe systems to control chilled or hot water in closed loop systems.
Features & Benefits:
Very wide range of CV options from 0.3 to 14.0 for both control sequences for perfect valve sizing and flow control.
Actuator comes with removable access cover to provide direct access to terminal blocks for wiring. Actuator's declutch function for manual adjustment to provide easy installation.
Zero internal leakage – Energy savings due to prevention of energy waste caused by leakage. Control ball valves feature self-cleaning technology which helps to eliminate blockage and leakage caused by damaged surfaces.
Valve body comes with Nickel plated brass body to reduce stress concentration on the valve body.
Stainless steel trim - VB6 valves come with stainless steel balls and stems for maximum performance and life.
Manuals and Guides
Name
Description
File Size
Date
Size
VB6, VBN and VBF Control Ball Valve Guide Spec
application/vnd.openxmlformats-officedocument.wordprocessingml.document 38.05 KB
2/17/2022
38.05 KB
Brochure
Name
Description
File Size
Date
Size
VB6 Series 6-Way Valve Technical Bulletin
application/pdf 1.21 MB
2/17/2022
1.21 MB
Technical Note
Name
Description
File Size
Date
Size
VB6 Series 6-Way Valve Technical Bulletin
application/pdf 1.21 MB
2/17/2022
1.21 MB
Data Sheet
Name
Description
File Size
Date
Size
VB6 series 6-Way Control Ball Valves and Actuators - Product Data - (31-00392M-02, Rev 01)
application/pdf 332.49 KB
2/17/2022
332.49 KB
Installation Instructions
Name
Description
File Size
Date
Size
6-Way Valve Installation Instructions
application/pdf 4.15 MB
2/17/2022
4.15 MB
Sales Sheet
Name
Description
File Size
Date
Size
VB6 series 6-Way Control Ball Valves and Actuators – Sell Sheet
application/pdf 916.27 KB
7/16/2021
916.27 KB
Others
Name
Description
File Size
Date
Size
GFD Selection Guide
application/pdf 2.93 MB
5/16/2022
2.93 MB
Name
Description
File Size
Date
Size

VB6B100+047+AL
VB6 6-WAY CONTROL VALVE: 3/4 INCH: SEQUENCE 1 CV 10: SEQUENCE 2 CV 4.7: MN7510A2001 MODULATING ACTUATOR

VB6A074+047+AL
VB6 6-WAY CONTROL VALVE: 1/2 INCH: SEQUENCE 1 CV 7.4: SEQUENCE 2 CV 4.7: MN7510A2001 MODULATING ACTUATOR

VB6A012+030+AL
VB6 6-WAY CONTROL VALVE: 1/2 INCH: SEQUENCE 1 CV 1.2: SEQUENCE 2 CV 3: MN7510A2001 MODULATING ACTUATOR

VB6A047+019+AL
VB6 6-WAY CONTROL VALVE: 1/2 INCH: SEQUENCE 1 CV 4.7: SEQUENCE 2 CV 1.9: MN7510A2001 MODULATING ACTUATOR

VB6B074+074+AL
VB6 6-WAY CONTROL VALVE: 3/4 INCH: SEQUENCE 1 CV 7.4: SEQUENCE 2 CV 7.4: MN7510A2001 MODULATING ACTUATOR

VB6A012+003+AL
VB6 6-WAY CONTROL VALVE: 1/2 INCH: SEQUENCE 1 CV 1.2: SEQUENCE 2 CV 0.3: MN7510A2001 MODULATING ACTUATOR

VB6A008+012+AL
VB6 6-WAY CONTROL VALVE: 1/2 INCH: SEQUENCE 1 CV 0.8: SEQUENCE 2 CV 1.2: MN7510A2001 MODULATING ACTUATOR

VB6A047+005+AL
VB6 6-WAY CONTROL VALVE: 1/2 INCH: SEQUENCE 1 CV 4.7: SEQUENCE 2 CV 0.46: MN7510A2001 MODULATING ACTUATOR

VB6A005+047+AL
VB6 6-WAY CONTROL VALVE: 1/2 INCH: SEQUENCE 1 CV 0.46: SEQUENCE 2 CV 4.7: MN7510A2001 MODULATING ACTUATOR

VB6A074+012+AL
VB6 6-WAY CONTROL VALVE: 1/2 INCH: SEQUENCE 1 CV 7.4: SEQUENCE 2 CV 1.2: MN7510A2001 MODULATING ACTUATOR