Power Supplies
Silent Knight PS Series Remote Power Supply 6A
The PS Series 6A remote power supply with battery charger and 5 configurable outputs, gives A&Es, dealers, installers and end users more flexible and efficient options for meeting today's installation, set-up and servicing needs for power supplies
Overview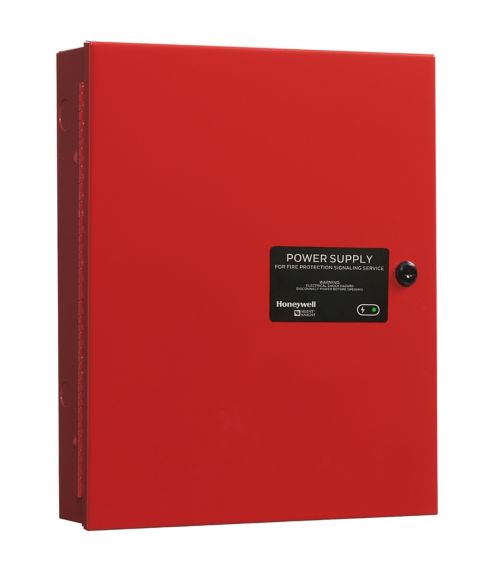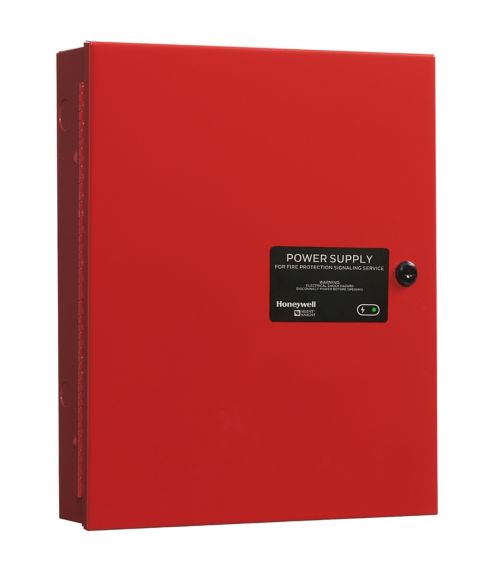 The PS series power supplies provides more power and higher number of inputs and output circuits with the flexibility to pair any input with any output and the ability to convert from Class B to Class A circuits by adding a ZNAC card without losing any circuits (unlike competition where class B to A conversion reduces your circuits by half). Each circuit can be individually programmed (using DIP switches) to be a NAC output, can used for resettable aux power, non resettable aux power or door holder power. This provides unprecedented flexibility in system design.
PS series supports SSD, wheelock, Gentec and Amseco sync protocol and it is UL listed to provide synchronized cascade upto 4 levels deep (unlike competition who provides upto 3) and through different configuration you may have upto 40 powersupplies in sync or upto 400A power. This helps to provide synchronized power expansion for larger applications.
The PS series is equipped with 3 system health LED indicators (Power, Batt/Chgr Fault, and Ground Fault). In addition each available output circuit also has 2 status LEDs - output status and trouble. The trouble LEDs flash in different blink patterns to indicate type of trouble such as open or short circuit. This allows faster diagnostics by pinpointing problematic areas and reason quickly. It also has "Display trouble history mode" which shows past history of troubles on the system
A removable door in PS series gives better access to wire up the unit, especially in tight spaces allowing reduced installation time and more knockouts provides more flexibility in cabling.
PS series accepts a wide range for EOL resistor values (2kohms to 27kohms) which means installers no longer have to go look for or change EOL resistors in a retrofit application which saves time and money
Larger cabinet space to house bigger batteries (7/18AH) and ability to mount SLC modules within the cabinet. It saves cost of additional mounting cabinets for batteries/ modules unlike competition where you have to mount and wire up modules external to the powersupply.
Features & Benefits:
Up to five independently- configurable, power-limited output circuits for:
– Class B and/or Class A NACs
– Class B and/or Class A resettable or non-resettable 24V auxiliary power
– door holder power
Converts from Class B to Class A wiring without losing any outputs
using the ZNAC-PS converter card (sold separately)
Optimal for powering four-wire smoke detectors, annunciators, and other system peripherals requiring regulated power
Configurable for ANSI® Temporal 3 or Temporal 4 coded output
UL-Listed NAC synchronization using System Sensor®, Wheelock®, Gentex®, or AMSECO® appliances
Synchronization can be triggered from FACP NAC/remote sync outputs, cascaded power supply, or a control module, single or multi, which may be housed within the power supply cabinet
Ability to cascade up to four levels
Two fully-isolated input/control circuits which can be programmed to any output
Two Form C normally-closed trouble relays for AC Trouble and General Trouble, Ground Fault relay available on Canadian models only
6 amp full load output, respectively, with 3 A maximum/circuit
Individual NAC power and trouble LEDs for diagnostic efficiency
Trouble history modes for diagnostic support
Wide range end-of-line supervision value (normal: 2K-27K ohms)
Selectable earth fault detection (enable or disable)
AC trouble report delay timer
Completely configurable via onboard DIP switches, no extra software
required
Self-contained in compact, locking cabinet constructed of heavy
gauge steel with a corrosion-resistant powder coat chip and
scratch-resistant finish
Cabinet designed with ten double knockouts and a removable
door for ease of installation and wiring
Includes integral battery charger capable of charging up to 33 AH
batteries
Cabinet can house two 7 AH or 18 AH batteries
Certifications:
UL Listed:
PSE-6/10(R)(E): S635, S674
HPF-PS6/10(B)(E): S24562
SK-PS6/10:S3511
FL-PS6/10: S2424
ULC Listed:
PSE-6/10C: S635
FL-PS6/10C: S2424
CSFM Approved:
PSE-6/10: 7315-0028:0513
HPF-PS6/10(B)-7315-1637:0505
SK-PS6/10: 7315-0559:0522
FL-PS6/10:7315-0075:0510
FDNY Approved
FM Approved
Sort
Others
Installation Manual
0.18 MB
Drawing or Diagram
1.01 MB
Data Sheet
Part Number
Description
Add to list
SK-PS6
PS Series Power Supply, Red Cabinet, 6 Amps, 5 Outputs

SK-PS6
PS Series Power Supply, Red Cabinet, 6 Amps, 5 Outputs